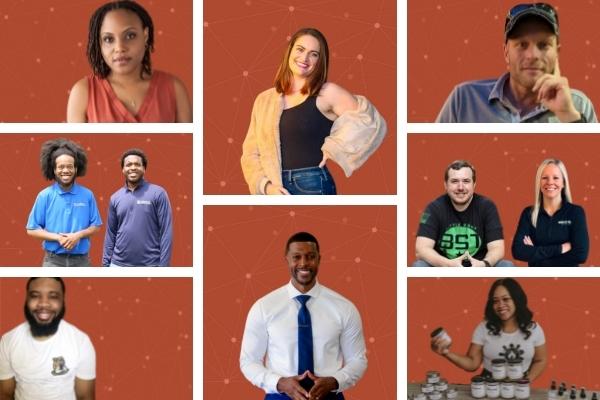 Here are the startup stories you read the most in 2021
December 22, 2021
We can't believe 2021 is nearly over! As we reflect and set intentions for 2022, we're taking a look back at the stories the Launch Dayton community read the most in 2021.
10. The Cookieologist whips up baked-to-order late night eats
Jonesing for a hot, fresh-baked cookie after hours? The Cookieologist has you covered. Isiah Davis is the founder of Cookieologist, formerly known as The Cookie Joint, located at 1106 Brown Street in Dayton. Wednesday through Saturday, he's baking your late-night eats, with pickup available as late as midnight on the weekend.
9. Candle bar owner crafts safe spaces
Locally-owned candle bar Wick Therapy Candle is a space where candle lovers can create their own scented candles, as well as sugar scrubs, salt scrubs, milk baths, bath teas, and more. Founder Jhazlyn Sanders walks customers through creating their scents, so they can enjoy using their product as much as they enjoyed making it.
8. New Battle Sight products slated to hit the market this summer
NightFall is an infrared maritime marker, designed so rescue planes can spot a downed pilot. ColdFire is an infrared phosphorous, like the material used in a watch, designed to soak in energy and emit an infrared light to make it possible to identify friendlies on a battlefield. These products join CrayTech, the world's first & only reusable infrared marker, in the Battle Sight Technologies suite of products to help the warfighter.
7. Tumble, Bailout Systems take top prizes at Startup Week Pitch Competition
Hands-free rappelling and on-demand wash + fold services took home first place honors (& $5K each) in the year's biggest pitch competition at Launch Dayton Startup Week.
6. Meet the woman highlighting 100 Black businesses in 100 days
Te'Jal Cartwright never wanted to be an entrepreneur — and she still doesn't, she jokes. But as long as she has to pay the bills, she wants to do it by supporting businesses and people she loves. She is the founder of What's The Biz with TJ, a web series that has grown into a platform to highlight, support and connect Black business owners across the Dayton region.
5. Bailout Systems offers pocket-sized hands-free rappelling device for first responders
Winner of the 2021 Launch Dayton Startup Week Pitch Competition's innovation category, Bailout Systems offers a hands-free, pocket-sized repelling device that uses a 6mm line and can hold 5,500 pounds. The device is a game-changer for first responders.
4. Ohio-based social media automation startup Inphlu closes half-million-dollar raise
The Launch Dayton community first met Inphlu founder Josh Reid in January 2020, when he pitched Early Risers the same morning his first child was born. In August 2021, he closed an oversubsribed $500K pre-seed funding raise. Inphlu is currently up to version 2.7 — and the company still owns every line of code, Josh said. Look for more growth from this startup in 2022!
3. Launch Into The Holidays will help you shop local this season
This year's Facebook Live holiday campaign featured 50 small, local businesses and racked up 12K+ views! The businesses on this list offer great products and gifts for holidays & birthdays beyond the winter season as well. Stay tuned for new editions for new holidays in 2022!
2. Connect over unconventional sports at Two Social
Kelsey Calderone dreamed of a space where young adults who struggle to make new friends could connect in the Dayton community, whether around a beverage, or an axe-throwing target. So she launched Two Social, a bar where folks can find their community and hang out with friends, sometimes around unconventional sports.
1. If you're looking to shop Black-owned businesses
We first pulled this list together in June 2020 to answer calls for a directory of Black-owned businesses to support in the wake of the social justice protests that followed the murder of George Floyd. It continued to be a resource in 2021, and we hope it will continue to be a resource for the community in 2022 and beyond.
Popular Categories
Related Stories