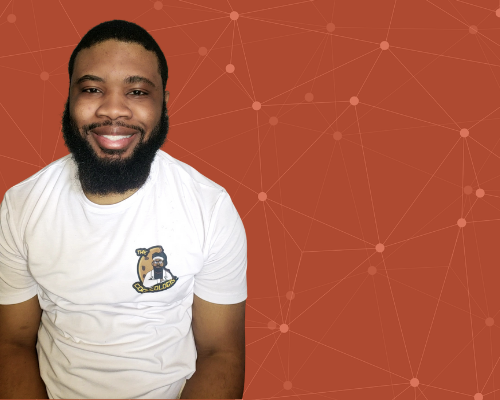 The Cookieologist whips up baked-to-order late-night eats
April 20, 2021
Jonesing for a hot, fresh-baked cookie after hours? The Cookieologist has you covered.
Isiah Davis is the founder of Cookieologist, formerly known as The Cookie Joint, located at 1106 Brown Street in Dayton. Wednesday through Saturday, he's baking your late-night eats, with pickup available as late as midnight on the weekend.
Isiah is a member of the current Retail Lab cohort, powered by Launch Dayton partner Downtown Dayton Partnership. We caught up with Isiah recently to talk about his company & his rebrand. Our conversation has been lightly edited for clarity.
Launch Dayton: So what do you offer at The Cookieologist?
Isiah: We bake cookies fresh to order, so they're hot when you swing by our pick-up window to get them. We're open Wednesday through Saturday, from 4:20p to 9p on Wednesday and Thursday, and from 4:20p to 12a on Friday and Saturday. Customers can order anytime, they just have to order at least 30 minutes ahead to give us time to bake the cookies fresh for you. We're building a cookie empire one bag at a time.
We also do nut milks and blended alternative milks. It tastes nothing like what you'll find at the grocery store. We came out with the milks to complement the cookies.
So where did this idea come from?
I was visiting Indianapolis when I experienced something like this for the first time, and I thought, why doesn't Dayton have this? We're able to provide a product for people after everything is kinda closed. There's nothing local open at 12a on the weekend, but people still get hungry, they want late-night eats. If I can order fresh-baked cookies at 11p, I'm all about that. They'll get there hot, and I don't have to bake.
What are your big goals for The Cookieologist?
Eventually we want to expand outside Dayton, to other cities and states. We want to build a new culture — most commercial kitchens are toxic environments — people are trained, if a chef isn't a jerk, he isn't good. But you don't have to mean to get results from people. We want to create jobs, and then have our folks expand out and franchise. Dayton will be the location where we produce everything. We'll ship the doughs to the other locations, and they'll bake them on the spot, but Dayton will always be the heart of it. And we want Dayton to be known for this. We're more than just cornfields and chili. So much talent and creativity exists here, we're making it happen, and we'll have a "fresh, hot-baked cookies' sign on all day.
Why cookies?
My favorite dessert has always been a cookie. It's a more consistent product, it can be shipped, so it's something I can make that can be distributed and still have a part of me in it. It's not too delicate, or too big, or too small. But mostly, it's the nostalgia. My mom made peanut butter cookies when I was a kid, it took 10 minutes, and they were there — it was easy. Cookies always made the most sense to me. And when I make a cookie, I always come back to tinker and see how I can make it better. There's always room for growth.
You had a hiccup early in your entrepreneurial journey that you want to help others avoid. Can you share more about that?
Trademark your business name. I started my business in June 2020 as The Cookie Joint. I got my LLC, I filed with the Secretary of State. I knew I wanted to expand, and I wanted to trademark my name, but I thought it would be awhile. But when I started to look into it, my lawyer found a company in Chicago with the same name, and he told me that I couldn't keep my name. It hurt. So don't think it's just about getting that LLC. It takes time to find the right name for your business, and you're not the only one who has that great idea. Get your trademark, so you don't have to go through a whole rebrand just as you're building your name.
Did you always know you wanted to be an entrepreneur?
I think I did always know. Growing up, my grandfather was a bricklayer, had his own construction company, built houses. He was the first person I saw in my life with that work ethic. The Cookieologist isn't my first business, I also had a food truck. When I went back to working in a restaurant, it didn't feel right working for anyone else anymore. I didn't make it two weeks. I thought, my kids are watching, they need to see this. Entrepreneurship isn't for everyone, but it works for me.
So what cookies can we look forward to tasting from The Cookieologist?
Hippie Potion is our unity cookie. It has peanut butter, semisweet chocolate and white chocolate — it doesn't matter what color you are, everyone can enjoy it. Wonder n' McCartney is our ebony and ivory cookie. Notorious C.H.I.P. is our classic chocolate chip cookie. A lot of our cookies have stories and cultural inspiration behind them.
Why do you love what you do?
My mom always said food is love made edible. I say, in order to be great, you have to serve great. I'm excited to cook the food. If I provide a source of joy for even two minutes, that's my legacy, that I provided those things for people.
Find The Cookiologist on Instagram @thecookieologistdyt or online at thecookieologistdyt.com to order. Also connect on Facebook @thecookieologist.
Popular Categories
Related Stories