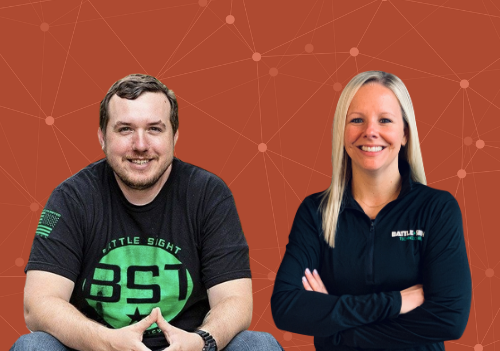 New Battle Sight products slated to hit the market this summer
March 29, 2021
Dayton defense startup Battle Sight Technologies is putting final touches on two new products in its suite of tools to serve the warfighter.
NightFall is an infrared maritime marker, designed so rescue planes can spot a downed pilot.
ColdFire is an infrared phosphorous, like the material used in a watch, designed to soak in energy and emit an infrared light to make it possible to identify friendlies on a battlefield.
Sales of both products will come online sometime this summer, said founder Nick Ripplinger.
Sunny Kapka, Director of Programs at Battle Sight Technologies, is one of eight participants who graduated last week from the OEA Defense Accelerator, powered by Launch Dayton partners Parallax Advanced Research and the Entrepreneurs' Center. Participants gathered virtually for nine weeks to identify commercial and Department of Defense uses of their technologies; develop plans to move their technology products to market; and position their companies to create jobs and generate revenue to support growth of the regional economy.
We caught up with Nick & Sunny to learn more about what's in store for the company and their experience with the Defense Accelerator. Our conversation has been lightly edited for clarity.
Recap for us — how did Battle Sight Technologies get started?
Nick: I served in the military until I was injured in Iraq in 2009. A few years later, my wife and I were back in Dayton, and Scott from the Entrepreneurs' Center reached out to share a new Air Force Research Lab technology with me. My business partner, Bennett Tanton, and I formed Battle Sight around that tech and created CrayTech, the world's first, and only, reusable infrared marker. These new products build on that original technology.
Do the new products pull tech from that same license agreement with AFRL?
Nick: NightFall is a derivative from the core chemistry of that first license. The chemistry for ColdFire is all new. We developed it with help from outside partners.
What are the commercial applications of these products, outside the defense space?
Nick: We're looking at applications for emergency management and first-responders. So, for NightFall, a prime example would be landing a Careflight helicopter in a field, being able to mark the landing spot. For ColdFire, it could help SWAT, FBI, those folks have more command and control on the ground, to know who is who from the ground and in the air.
Why do you love what you do?
Nick: It's such an amazing thing to show up every day, be creative, work with the world's best customers, and pour your heart and soul into solving problems for them. At Battle Sight, we've never done a SBIR that hasn't lead to a product. I don't think a lot of companies can say that. We've built a reputation for taking complex problems and boiling them down to pretty low-tech solutions that solve immediate problems. We have customers coming to us now, bringing us their problems, and it's awesome to work with these amazing men and women from across the Department of Defense.
So what's next for Battle Sight?
Nick: We have about seven projects in various stages of development, and they'll all be out in the next 18 months. We're still manufacturing in-house for now. We'll be launching a visual version of CrayTech in different colors designed for first responder scenarios. We just moved into our new office next door to the Avant-Garde building, so we've got about 5x more space. We'll add to our technical team, and in 10 years, we'll be a brand manager for a suite of products that serves warfighter needs.
How has the Defense Accelerator helped you grow?
Nick: It has been a great program to walk a new hire through, to get her tuned into the whole process, from R&D to working with the customer to commercialization.
Sunny: I was a civilian working for the Air Force before joining Battle Sight, so the small business side of the SBIR process was new to me. I learned a lot about how that works, how to craft a proposal, and I've been able to see in real time how Nick and Chris have addressed things we're learning about in class in our company. They're wizards at what they do.
How can the Launch Dayton community support you?
Nick: Keep making the connections the Launch Dayton partners are known for. We've made some cool peer-to-peer connections through this accelerator, too, that have the potential to expand into some pretty cool projects.
Learn more about Battle Sight Technologies and how you can connect with Nick here.
Popular Categories
Related Stories