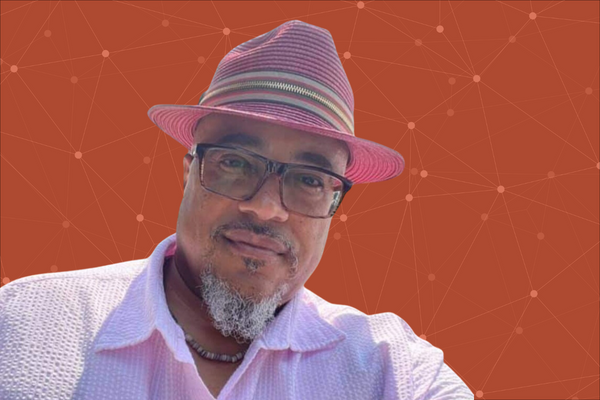 Christopher will design jewelry for your man
March 28, 2023
Christopher Campbell was a sheet metal worker for more than two decades before the entrepreneurial bug bit him.
When knee surgeries took him off his feet a few years, he began making men's jewelry to keep himself busy. He and his wife are now the owners and operators of S.I.L.C., a jewelry line that offers customized jewelry to the uniquely, sophisticated male.
Christopher is a recent graduate of Entrepreneur Rising Academy, a free, 10-week, cohort-based business bootcamp powered by Parallax Advanced Research. We caught up with him to learn more about his journey.
Launch Dayton: Introduce yourself — who are you and what is your company?
Christopher: My name is Christopher Campbell. I've been in sales for the last three years with a local clothing company ,and my wife and I own and operate S.I.L.C., a jewelry line that offers customized jewelry to the uniquely, sophisticated male.
How did your company start?
I came across a piece of jewelry in my travels I really liked and my wife told me I could make it for less. Then I had to have back-to-back knee replacement surgery and was off work for three months after our travels. So, I began making jewelry. Jewelry-making kept my mind active and allowed me to not sink into a dark hole.
Did you always want to be an entrepreneur?
I did not. I was a sheet metal worker for 20+years.
The Launch Dayton community values are: 1. Be Bold 2. All Are Welcome 3. People First 4. Give First 5. Remove Barriers. How do you embody one or more of these values?
I believe all of my designs are bold. I also frequently make jewelry and give as gifts, especially if I have an idea that commemorates an occasion or celebration.
What identities or life experiences do you bring to entrepreneurship that helped prepare you for this lifestyle?
My experience as a sales person and assistant manager at a clothing store have enhanced my ability to build relationships, which in turn helps me to be an excellent salesperson to determine a client's needs and deliver a quality product.
What is the biggest barrier you've faced on your entrepreneur journey?
Learning the lingo and the financials.
How was your Entrepreneur Rising Academy experience?
I learned a lot, especially in regards to finding my market niche. I would definitely recommend the program to others. The experience was invaluable.
Why do you love what you do?
I love seeing the joy on a person's face when their vision comes to life and they are adorned with their one-of-a-kind piece.
What advice would you offer fellow or aspiring entrepreneurs?
Go for it. Listen and learn.
Popular Categories
Related Stories