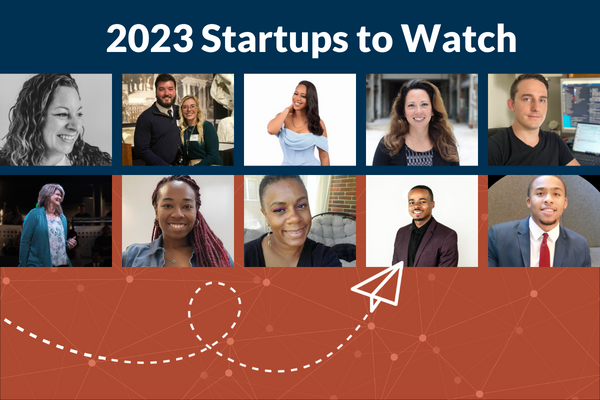 Startups to Watch in 2023
January 1, 2023
As the Launch Dayton startup community continues to grow, we're excited to see what's in store for these companies in the new year! (Startups listed alphabetically.)
After 5 (+ The Reserve on Third)
Erin Parrott launched her online boutique in 2019, then grew leaps and bounds during the pandemic, launching a have-to-be-there annual pop-up shopping event in 2020. In 2023, she's bringing that vibe to downtown Dayton permanently with a brick + mortar in the Fireblocks District, and we can't wait to check it out. She's also part of the team bringing The Reserve on Third to Life just down the block from her future boutique.
Axe.AI
In an era of increasing cybersecurity threats, an ethical hacker-turned-cloud security engineer is developing a new "FICO Score for cybersecurity" to help ensure your company has all the proper protections in place to protect both your own and your users' data. Brett Ewing is the founder of Axe.AI, a Dayton startup developing the AXE Security Score (AXESS Score), a public grade a company can use to show they are protected from cyber attacks.
Cheezcake Lab
Got a sweet tooth for cheesecakes? CheezCake Lab has you covered with 50+ flavors in rotation. Founder Vivian Wong took first place in her Entrepreneur Rising Academy cohort's pitch competition this summer. This year she also moved into a commercial kitchen at Spark Fairborn, started appearing on menus at cozy spots like the Coffee Hub, and she finished the year with a new space in Tae Winston's District Market. We can't wait to see where her cheesecakes go next!
MackBrand Clothing
Founder Chris Mack secured his first-ever investment through the new EC Angels. Follow @theofficialmackbrand_ to get your hands on his latest collection.
Open Bay Autos
The brainchild of founder Kameron Seabrook, Open Bay Autos currently operates as a subscription-based mobile car detailing business. But the 2022 Flyer Pitch contender is set to move his business forward toward his original goal in 2023 — to open DIY mechanic shop.
Performance Wraps
Husband-and-wife duo Andrew and Tanor Banks offer top-of-the-line custom vinyl wraps on vehicles ranging from sports cars to semitrailers in their shop in Miamisburg. They're eyeing the Cincinnati and Columbus markets next!
The ScRUMptious Dessert
Gabrielle has been bringing her dream of a drunken bakery to life over the past few years in her home kitchen and, more recently, Second Street Market. This year she graduated from Entrepreneur Rising Academy and she was part of 6888 Kitchen Incubator's first Sharpen the Axe cohort. She's ending 2022 by expanding her oven + baking capacity. We snag one of her rum cakes regularly at The Last Queen, and we can't wait to see where her desserts pop up next!
Seraphina Safety Apparel

This year's Launch Dayton Startup Week Pitch Competition innovation track winner, Seraphina Safety Apparel founder Kelly Franko is on a mission to level the playing field for women working in hot industries. The company's line of undergarments is flame-resistant. They're some of the first specifically designed to fit women's bodies. In addition to winning the Startup Week pitch and joining the Entrepreneurs' Center's ESP portfolio this year, Kelly also took Seraphina's products to their first tradeshow, and in 2023, Cintas will feature Seraphina's line in its uniform catalogue.
Traveling Pendants
For founder Lesley Jones, a piece of jewelry's value comes from the stories it carries. Her company, Traveling Pendants, offers jewelry that carry stories of strength, courage and hope, accessible via a unique hand-stamped number present on each piece. Lesley won the Launch Dayton Startup Week Pitch Competition Main Street track this summer, just in time for her company's relaunch. She's locked down a Cincinnati company to produce the pendants so she can scale up production while still stamping the final touch on each piece by hand. We can't wait to see how far her pendants travel in 2023.
UNLISTED
UNLISTED is a software platform that helps homebuyers connect with the owners of off-market properties they covet. Want-to-be buyers send a personalized mailing — complete with vanilla frosted cookies — inviting the owners to join the platform to chat one-on-one about their future buying and selling plans. Founder Katie Hill took first place at the Polsky Center's 4th annual Alumni New Venture Challenge in the spring. At the end of 2022, she announced she was stepping down from her role at the Entrepreneurs' Center to work full-time at UNLISTED. We will miss her, but we are thrilled to see how far her new venture will go!
Popular Categories
Related Stories