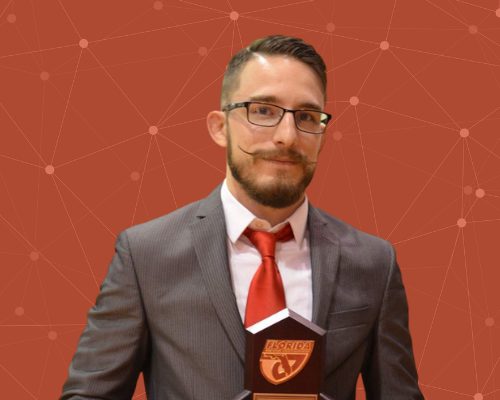 Dayton startup Axe.AI aims to reduce trillions lost to cyber crime
February 8, 2022
In an era of increasing cybersecurity threats, an ethical hacker-turned-cloud security engineer is developing a new "FICO Score for cybersecurity" to help ensure your company has all the proper protections in place to protect both your own and your users' data.
Brett Ewing is the founder of Axe.AI, a Dayton startup developing the AXE Security Score (AXESS Score), a public grade a company can use to show they are protected from cyber attacks.
"Everyone sees the problem," Brett said. "Every day, bigger and bigger hacks with larger and larger dollar amounts are being paid out."
The projected damage related to cyber crime is projected to hit $10.5T annually by 2025, he said, citing a study from Cybercrime Magazine. In 2021, the average cost to fix a data breach was $4.24M, according to IBM's annual report.
And small businesses are not immune — more than half of all cyber attacks are committed against small- and medium-sized businesses, and 60% of these businesses close their doors within 6 months of the attacks.
"These are the problems we're addressing," Brett said.
Trickle down security compliance
Axe.AI's first product will automate processes to help companies comply with the Department of Defense's new Cybersecurity Maturity Model Certification requirements.
From there, Axe.AI will build out its B2B model by pursuing insurance providers who will want, and eventually require, their customers to have high AXESS Scores, in order to reduce their own exposure, Brett explained.
The score could also eventually be a tool for a banker approving or denying loans, he continued.
"Say the owner of Joe's Auto Lot wants a loan. He's got 16 lots throughout three or four states. On paper, he's got good revenue and continuous growth — he looks like an ideal investment candidate," Brett said. "But then a company like us analyzes his security posture and discovers he's running off 20-year-old systems that are ripe for attack — what looked like a strong investment is actually a scary investment."
It's only a matter of time before hackers go after those softer targets — in fact, we're already seeing it, Brett said.
"Meat supply companies, companies that no one would think are big enough to get hit — hackers are looking for that low-hanging fruit," he said. "They're trickling down to small companies. We have to build companies with security in mind, to protect our customers."
A founder's journey
A former high-level competitive athlete, Brett is always looking for the next progression — and founder seemed the right step forward from a successful career, he said.
One of the first resources he tapped to make this move was Early Risers Academy, a free 10-week business-building bootcamp powered by Launch Dayton partners Parallax Advance Research and the Entrepreneurs' Center. Brett joined the fall 2021 tech cohort, led by Converge Technologies CEO Eric Wagner. Eric pulled in experts from around the region, as well as leveraging Converge Ventures partners from BX3, a firm providing expertise in capital raising, law, and business advisory.
"I really was at the very, very beginning stage when I started the program," Brett recalled.
Just 10 weeks later, Axe.AI had landed its first client and was prepping its first white paper.
"Early Risers Academy helped us accelerate very quickly," he said. "We made a lot of good connections and potential partnerships.  The program was wonderful, and I can't wait to support it and be a noted alumni."
Since winning his cohort's culminating pitch competition in December, Brett's company has been accepted into EC's Entrepreneurial Services Provider portfolio, and has moved through the first phase to pursue a $200K Department of Energy SBIR grant.
"I just get up with fire every morning since Ax.AI started to take off," Brett said. "We're right at the cutting edge where AI and cloud and cybersecurity are starting to meet. It's a very exciting time."
Curious how you can get involved and support Brett? Reach out at brett@strongcrypto.com.
Popular Categories
Related Stories