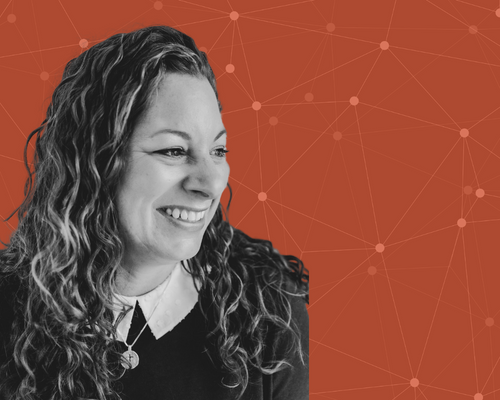 For Traveling Pendants founder, jewelry is about connection
October 25, 2022
For Lesley Jones, a piece of jewelry's value comes from the stories it carries.
Her company, Traveling Pendants, offers jewelry that carry stories of strength, courage and hope that are accessible via a unique hand-stamped number present on each piece.
Last month, Lesley won the Launch Dayton Startup Week Pitch Competition main street venture track — and its $3,000 in prize monies — just in time for her company's relaunch.
"I think connection is the key to everything," she said. "Being human is hard. When you share you story and connect in that way, we see so much of each other in ourselves. That's why I make these pendants — they're a vehicle for connection, and a reminder that you're never alone."
A chance encounter
The dream to create Traveling Pendants began decades ago, when her aunt was diagnosed with stage three cancer, Lesley shared.
At the time, her aunt was in her 30s, and had two little boys. She traveled to the Cleveland Clinic for treatments. One day, a woman sharing the elevator with her handed her a pendant that read "strength for the journey." She explained that it had been worn by many women before her, and asked Lesley's aunt to pass it on when the time was right.
Her aunt wore the pendant every day for five years, until she gave it to Lesley's mom when she received her own cancer diagnosis.
"It was so powerful, the idea that this pendent could carry these stories," Lesley recalled. "I thought, what if there was a way to track the pendent, to go read the stories of all the women who'd worn it?"
Flash forward to 2017, Lesley's husband was stationed in England, and she found herself without a work visa. She took the opportunity, and learned how to make her Traveling Pendants. She spun up a Shopify page and started spreading the word to test her proof of concept.
"Over the years, I sold several hundred of these pendants, but I didn't have the time to devote," she said. "It was a hobby, but it was making a real impact on people. People all over the world were buying them."
Eventually, it got to be too much, Lesley confessed. She found herself trying not to sell her pendants, because she wanted to spend weekends with her family rather than in the basement making jewelry.
A year ago, Lesley was about to shut her business down, when she began receiving messages from customers out of the blue sharing how special the pendants were to them. She followed up with prayer, and in December, she quit her job instead so that she could work full-time on scaling up her business.
A new start
Today, Lesley sources her pendants from a Cincinnati company and then hand stamps them with their number.
Her new website isn't a Frankenstein-ed Shopify page, but a fully-functional digital home with built-in capabilities for customers to shop and to submit, read and track stories associated with their pendants. Each new pendant also ships with a QR code in the box.
She's ready to roll into this year's holiday shopping season, with extra marketing dollars at her back, thanks to her Startup Week pitch win.
"To have those extra funds has been a game changer," she said. "I can enter the market with more gusto with extra resources for marketing, a launch party, paid advertising. The timing was perfect for me."
Though her dad and brother are both Dayton business owners, Lesley never imagine the life of an entrepreneur for herself, she said.
"I'm much happier behind the scenes," she said. "To do that pitch, I'm sure I drove my husband crazy, I was so nervous, over-practicing."
But in the end, she knew she'd regret it if she didn't give it a real go.
"If you feel like you're being pulled to do something, and you're able to work it out, do it," Lesley said. "Had I shut this down, I would have regretted it. Or when I saw someone else making it big in five years, I would have known I was doing it first."
And tap into local resources, she added.
"The entrepreneur community here in Dayton is pretty amazing," she said. "We're so lucky to live in city that really wraps arms around entrepreneurs in so many ways."
Support Lesley
Want you own pendant? Snag one at www.travelingpendants.com. You can also pick one up locally at Indie West in Oakwood. Lesley hopes to add more retailers to that list, possibly after the holidays. Stay tuned for the latest from her @travelingpendants on Facebook and Instagram.
Popular Categories
Related Stories