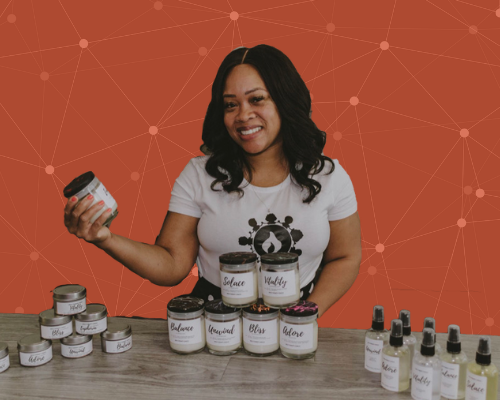 Candle bar owner crafts safe spaces
July 19, 2021
By Katie Aldridge
Locally-owned candle bar Wick Therapy Candle is a space where candle lovers can create their own scented candles, as well as sugar scrubs, salt scrubs, milk baths, bath teas, and more. Founder Jhazlyn Sanders walks customers through creating their scents, so they can enjoy using their product as much as they enjoyed making it.
Jhazlyn was a member of the second cohort of the Retail Lab, powered by Launch Dayton partner Downtown Dayton Partnership. We recently caught up with her to learn more about her company and her experience with the Retail Lab.
Launch Dayton: How did your company start?
I was an avid burner of candles. I love candles. I was spending so much money on candles, so I wanted to play around and see if I could create my own scents and see what could come about from that. I like creating, whether that's doing hair or painting. Coming up with scents has been the most fun thing that I have taken on, and that is what fueled the idea to manifest it into a business.
Why this idea?
When we first started this, it was a business that I could still maintain my 8-5 job as well as startup costs. I like making candles, coming up with scents, burning candles, and I found some cost-effective ways to bring it to fruition. People liked the scents I was producing, so it just became a business!
Did you always want to be an entrepreneur?
I don't know if I have a real answer. I didn't really learn about entrepreneurship until after college. The crazy part is, I've actually been an entrepreneur; I just didn't have that title because I didn't have articles of incorporation or anything that established a business. It was more so, I had a few hobbies and people would donate or pay me as I did them.
In college, a lot of my earnings came from braiding hair or selling hair. Not that I had a real business, but I used to wear a lot of extensions and people asked me where I got them. It was a good niche market because a lot of people on campus didn't know where to get stuff or how to do stuff, so I could just say, "I have it" or "I can do it!"
What identities do you bring to entrepreneurship that helped prepare you for this lifestyle?
One of my biggest strengths is looking for the way in. I can assess whatever market I'm entering and figure out what the need is. I can identify the opportunity and then create a business off of that. I can understand different markets and customer behavior. As demographics start to change, households start to change, and people are looking for new and different things. Understanding those changes is something I was able to bring to my entrepreneur side.
What is the biggest barrier you've faced in entrepreneurship?
Building a team. Before COVID hit, this was a new business, so I was the sole employee. As we started to create new opportunities, and it started to get busier, I needed to expand my team. I needed to make sure I was building a cohesive team. Now, there aren't many people that want to work. Trying to find people to help build a really good team has been our biggest barrier.
Why do you love what do you?
I don't think there is anything better than making yourself feel good, and that is one of the most valuable benefits of candles. Each individual scent is crafted for you to get a certain emotion when you burn that candle. It is important that you create a safe space no matter where you are, and when you light that candle or burn that wax melt, you are creating that space. I love to share that.
How was your experience in the Retail Lab?
I thought the retail lab was really good. I think they gave a lot of great resources and tools. I identified some gaps and some areas of opportunity in my business. It was great to be around a community of people that are experienced in entrepreneurship.
How can the Launch Dayton community support you?
Read the article, share our story, and come in and visit us! I think we offer something that is very unique. There aren't many places in Dayton where you can do this. I really feel like it goes beyond creating a candle for yourself. You can give it to someone, and the fact that you sat there and thought about what someone else might like speaks volumes because it takes time.
Connect with Jhazlyn & Wick Therapy Candle here.
 Have your own idea for a first-floor business in downtown Dayton? Apply here by July 22 for the third cohort of the Downtown Dayton Retail Lab!

Popular Categories
Related Stories