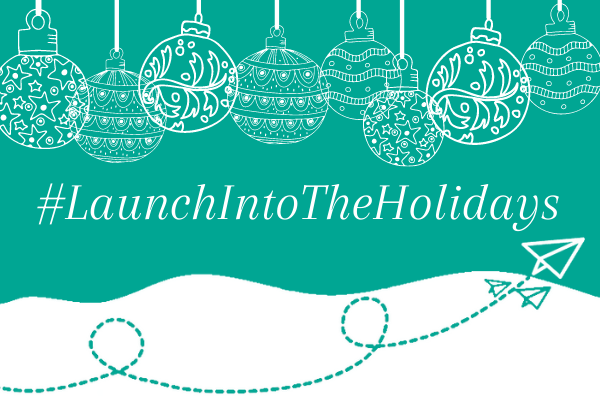 #LaunchIntoTheHolidays lineup will help you shop local this season
November 23, 2021
Make the greatest impact with your dollars this holiday season by shopping local and shopping small.
Launch Dayton's partner organizations are again collaborating to run the online #LaunchIntoTheHolidays campaign to promote Dayton-region small businesses this holiday season.
Beginning Cyber Monday, Nov. 29, 2021, and running through Friday, Dec. 17, tune in every weekday at noon to the Launch Dayton Facebook page to connect live with local businesses offering consumer goods perfect for your holiday gift list. The lineup will feature a range of products including baked goods, clothes, jewelry, beauty products, housewares, fair trade goods, handcrafted items, restaurant giftcards, CBD products + more.
You can use this lineup as your go-to resource for your local Black Friday, Small Business Saturday and Cyber Monday shopping this holiday season, too!
Launch Dayton is a collaborative effort of entrepreneurial resource provider organizations across the region to support and promote all Daytonians building businesses. Launch Dayton partners believe everyone, regardless of their background, should have the opportunity to determine their own economic prosperity. Several Launch Dayton partner organizations including Aviatra Accelerators — Dayton, Downtown Dayton Partnership, Miami Valley Small Business Development Center, Parallax Advanced Research, and Entrepreneurs' Center will also be sharing #LaunchIntoTheHolidays posts.
Confirmed in the lineup so far are:
Monday, Nov. 29
Third Perk Coffeehouse, the people's coffeehouse;
Urban Bliss, bath, beauty and metaphysical boutique.
Tuesday, Nov. 30
Savorista Coffee, offering astonishingly delicious decaf and half caf coffees;
Roberts Rockhounds, offering handmade, wire-wrapped crystal jewelry.
Wednesday, Dec. 1
Loc'd N Scent Candle Co, providing luxuriously fragrant products;
Poppets Coffee, roasting beans for all characters;
Studio Regina Glass, offering one-of-a-kind fused glass art.
Thursday, Dec. 2
Skeleton Dust Records, Dayton's newest indie record store;
Liv Naturally, providing eco-friendly, organic beauty and health products.
Friday, Dec. 3
Natural Livity, offering natural, handmade soaps and body care;
Hall Brothers Distillery, a small micro distillery using 100% local Ohio grown grain;
Tinka's Treats, coming through with the sweet potato pie for your holiday celebrations!
Monday, Dec. 6
Twist Cupcakery, bakes your cupcake and custom cake dreams come true;
New Season Wellness, your source for alternative health + CBD products;
Charmed by Riss, offering handmade jewelry and crafts.
Tuesday, Dec. 7
PippengerART, offering fine art collages, jewelry and notecards.
Home Cooked Vibes, as good as Grandma's…with a Chicago twist;
Home & Cozy Co, handmade gifts from our home to yours;
Handy Hats, offering hats with built in pockets to hold everyday items;
Gem City Laser, a custom laser-cut and engraved gift shop.
Wednesday, Dec. 8
Yetunde Rodriguez Design, offering products created with hand block-printed textiles.
Maraluna, your resource for fair trade products.
Concept N Design, meeting your custom apparel needs.
Thursday, Dec. 9
LynnJ Apparel & Customs, your supplier for vinyl and custom printing and design;
Lily's Dayton, a tropical-inspired, budget conscious eatery & drinkery in the Oregon district;
Ceremony, offering ceremony boxes to help people honor, heal and celebrate the events of life;
Hue House, providing fine art supplies and studio in downtown Dayton.
Friday, Dec. 10
Wick Therapy Candle, specializing in traditional soy aromatherapy candles;
Wagtown, a Dayton-born nonprofit  that helps communities become dog friendly;
Style Encore, offering gently used apparel, handbags, shoes, and accessories;
M & Company, a Miamisburg boutique offering home decor, baby products & locally-crafted gift items;
Besser Hair Care, offering quality healthy hair products for ALL curls, kinks, coils & wavy hair types & textures.
Monday, Dec. 13
Pink Moon Goods, sourcing ethically made home goods that are sustainable, practical, and beautiful;
Theze Dealz, offering gently used clothing;
Lisse Beauty Bar, a full-service salon + clothing & accessories boutique;
Whitney Brewer Photography, offering an all-inclusive, powerful and transformational photography experience;
Divine Touch Massage, offering the ultimate relaxation after a busy holiday season (937-248-8553).
Tuesday, Dec. 14
My Sister Health, offering handmade soaps;
Just Like Me Presents, offering representative childrens' books;
Discovery Tales, offering childrens' books & games;
Scattered Shop, curating art and decor from the African Diaspora;
Her Curves Lingerie Boutique, where you will find sexy lingerie to fit every curve of your body.
Wednesday, Dec. 15
House of Restoration Mental & Medical Oasis, offering transformational wellness services;
Lattation, offering products for the new mom in your life;
Undaunted Things, an inspirational apparel brand dedicated to encouraging people to live fearlessly;
Ivy, full service florist + gift shop offering local goods made by Dayton artists;
A+ Cleaners, tackling all of your holiday dry-cleaning needs.
Thursday, Dec. 16
Grace Lane Boutique, offering ethical, sustainable and fair trade woman's fashion;
Jars by Jas, a convenient and refreshing twist on classic dessert;
Vibez by SHE Candle Co, offering high quality candle and home fragrance items;
Gifted Hands Health Solutions, offering CPR courses + apparel for the healthcare worker in your life;
Baba Love Organics, offering plant powered beauty + body essentials.
Popular Categories
Related Stories