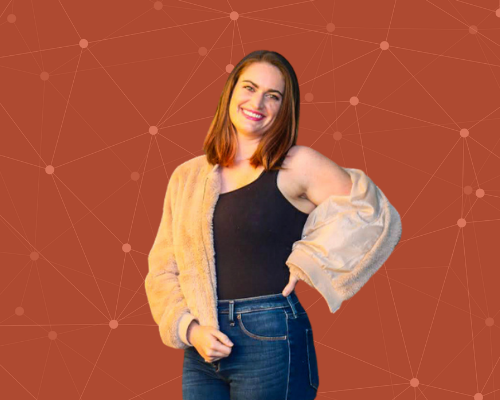 Connect over unconventional sports at Two Social
June 29, 2021
By Katie Aldridge
Kelsey Calderone dreamed of a space where young adults who struggle to make new friends could connect in the Dayton community, whether around a beverage, or an axe-throwing target.
So she launched Two Social, a bar where folks can find their community and hang out with friends, sometimes around unconventional sports.
Two Social was a member of the first cohort of the Retail Lab, powered by Launch Dayton partner Downtown Dayton Partnership. We recently caught up with Kelsey to learn more about her company and her experience with the Retail Lab.
Launch Dayton: How did your company start?
I moved here about five years ago from Florida. I didn't know anyone, and I just needed friends, so we started a kickball league. The other owner, Nathan, and I both played in other cities, and we were like, "let's try it." The first year there were eighty-something attendees and by the second year there were 225 people. After two years of that we thought, "why don't we expand this?" Two Social is the brick-and-mortar and home base of the league.
Why this idea?
It was just the right choice. I'm not a social person – I'm pretty shy and reserved – so to own a social company is a little strange. Once you start meeting people and start connecting those people with other people, especially in a relatively small city like Dayton, it's really awesome to give people that outlet and opportunity. People feel more connected to their community and plan on staying when they know people.
Did you always want to be an entrepreneur?
I did not. I was planning on going to medical school. I have a degree in chemistry and biology, so the bar industry was never on my mind! When I moved to Ohio, I taught chemistry for a couple years and it just wasn't for me. I found a really good opportunity with the league, and it progressed naturally from there. It definitely was not planned!
What identities do you bring to entrepreneurship that helped prepare you for this lifestyle?
The biggest thing is that I didn't really have a plan outside of med school. When I started teaching high schoolers, I learned that when you're dealing with people – across the board – if you talk to them and are kind, the rest will come. I'm approaching Two Social as someone who didn't plan on doing it, and I don't know what I'm doing, so I'm learning everything on the go. Sometimes that is better because you see things from an outside perspective. You notice that the way they've done it forever might not be the best way.
What makes Two Social different?
We're trying something fresh. We're really interested in giving back to our employees and to community. We want them to feel valued. Yes, it is a business, and you have to make money, but we feel like if you start by making people – your customers and your employees – feel at home and good, then the business side of things will come. We have a different perspective on the entrepreneurial spirit.
Why do you love what do you?
First and foremost, I have met the most incredible people. Dayton was not my home, but it is now. I love it and plan on being here for a long time. I love the flexibility to be creative and have my own ideas. I love putting out into the world what I want to see happen. I get to make my own rules and be my own boss.
How was your experience with the Retail Lab?
I loved it. In a time where you never get any face-to-face interaction because of the pandemic, it was really nice to continue building that downtown network and to have people that I wouldn't have otherwise met. The resources were amazing. I worked with Teresa to develop our whole employee handbook and hiring process. I have never opened a bar before, so to get an actual business and entrepreneurial perspective was very nice.
Wonder how the Retail Lab can help you advance your first-floor business concept? Learn more here — and apply for cohort 3 by July 22!
How can the Launch Dayton community support you?
Come out to the bar or join our leagues! We will open this summer, and we'll be having events either every weekend or every other weekend at the bar. There is always going to be something for somebody! We are super excited to be in the Fire Blocks district, so come down to that area and spread the word.
Popular Categories
Related Stories