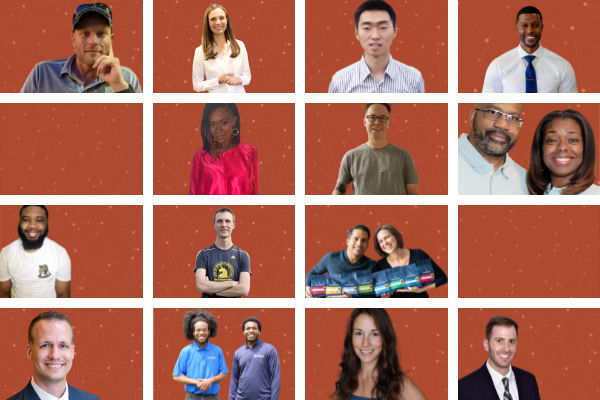 Startups to Watch in 2022
January 4, 2022
As the Launch Dayton startup community continues to grow, we're excited to see what's in store for these companies in the new year! (Startups listed alphabetically.)
Ahmic Aerospace
At Ahmic Aerospace, founder Ryan Meritt and his team are developing new hyper-sonic vehicle tech. Last spring, he won his OEA Defense Accelerator cohort's pitch competition, and last fall, Ahmic Aerospace was named a Veteran-Owned Business of the Year finalist by the Dayton Business Journal.
Bailout Systems
Michael Ragsdale and his team have developed the world's first pocket-sized, hands-free rappelling device for first responders. The device uses a 6mm line and can hold 5,500 pounds. Winner of the 2021 Launch Dayton Startup Week Pitch Competition's innovation category, Michael Ragsdale is also a graduate of the OEA Defense Accelerator.
Brixilated
Brixilated founder Adam Mullins wants to get LEGO into the hands of every kid across the world. The startup creates custom products and experiences with LEGO, and recently launched a LEGO Mindfulness Class — a curriculum that is poised to flourish as education is disrupted. "Play is purposeful and can be therapeutic," Adam explained. "With nontraditional education pathways starting to emerge, we're really excited about sitting there at the forefront of it."
Ceremony
Candace Dalmagne-Rouge wants to help you bring sacred space back into your life with the launch of her new startup. Ceremony offers DIY boxes with guided meditations and products curated to help you reflect and engage the senses to heal, honor and celebrate life. The former Startup Grind Dayton director decided to pursue this new venture
after her own experience of healing from and processing a miscarriage, she shares.
Cookieologist
Jonesing for a hot, fresh-baked cookie after hours? The Cookieologist founder Isiah Davis has you covered. And in 2022, The Cookiologist will join fellow Black-owned businesses Simply Savory by Rachel & Nimbus Comic Cafe at the new Chicken Head's restaurant, coming to 865 N. Main St., Dayton.
Horizon Healthcare

Founder Ryan Muhlenkamp has been working for years to develop a tamper-resistant device for PICC lines that will change the treatment process for patients with a history of intravenous drug use. The startup is part of the MedTech Launch Fund, and is poised for growth in 2022.
Inphlu
Inphlu founder Josh Reid closed his oversubscribed $500K pre-seed funding round last August & is gearing up for his next funding round this year. The social media automation startup also rolled out a new suite of enterprise solutions late last year. The startup still owns every line of code.
Lunnie
Mompreneur Sarah Kallile launched Lunnie one year ago with a simple mission — to reinvent the nursing bra for fellow breastfeeding moms. Moms wear these bras 24/7 while nursing, often for multiple years — but 84% of moms are dissatisfied with the products on the market, Sarah found. Sarah's new, stylish, patent-pending nursing bra should hit the market this spring.
MilesAhead
MilesAhead cofounders Yuxing Wang and Luis Estevez are bringing new solid-state battery technology to the market to power electric vehicles and enable electric aircraft. The duo won their Early Risers Academy cohort's pitch competition last spring, and continued to push through 2021.
New Season Wellness
Anikka Masey and her husband, Thomas, launched New Season Wellness in a bid to help their community be well. They specialize in CBD-infused products, but they also make and sell other alternative, holistic wellness products. On April 20, 2021, they opened their brick-and-mortar storefront in Englewood, and in 2022, they'll be launching their very own line of CBD products.
Noorah Labs
Noorah Labs is the first majority-minority owned marijuana processing lab in Ohio. In 2021, they closed their initial $2.5 million funding round and started their first production run. Watch cofounder Nickole Ross's Launch Dayton Startup Week talk with What's The Biz founder Te'Jal Cartwright here, and stay tuned for more moves from Noorah Labs in 2022!
Savorista
In 2021, Savorista launched a new personal pour-over product, and landed it's first retail account on the shelves of Dorothy Lane Market, the same store where founder Kait Brown worked her first job as a barista 20 years ago. We can't wait to see how Savorista grows in 2022!
Tumble
Let Tumble cofounders Jeffrey Caldwell and Charles Wheeler handle your laundry with their on-demand wash + fold services! Tumble's on-demand laundry & dry-cleaning service is now serving serving residential + commercial markets in the Dayton region. The duo took first place in the Main Street category of the Launch Dayton Startup Week Pitch Competition.
Zora
Zora (formerly Illume Fit) is developing a wearable SOS device for endurance athletes and adventurers who are often out training without their phones. Cofounder & University of Dayton alum Jack Randall has been sitting with the idea since college, when a friend collapsed and had a seizure in the middle of a run. "Luckily it was a very populous area, and there were some bystanders who were able to call for help, but I started to think, what would I do if someone was not around to help?" Jack recalls.
Popular Categories
Related Stories