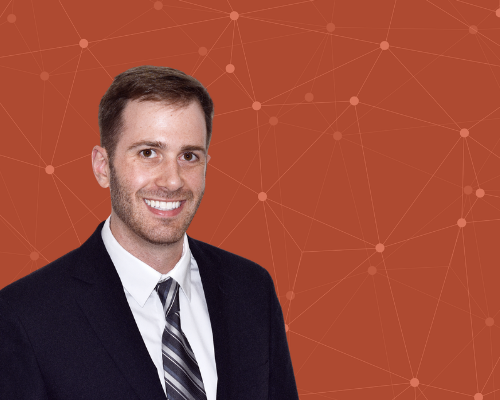 Defense Accelerator pitch winner eyeing commercial space market
March 29, 2021
The U.S. is falling behind in the arms race for hypersonic vehicle tech, says one veteran entrepreneur — and his aerospace company has a solution.
Dr. Ryan Meritt, founder of Ahmic Aerospace, left the Air Force in 2014 to transform the way aerospace test data is collected in challenging environments. Today, the aerospace startup offers a suite of instruments and sensors that can measure data for vehicles traveling 15x the speed of sounds, and it aims to serve both the U.S. defense and commercial space markets.
Ryan is one of eight Ohio founders who graduated last week from the OEA Defense Accelerator, powered by Launch Dayton partners Parallax Advanced Research and the Entrepreneurs' Center. Participants gathered virtually for nine weeks to identify commercial and Department of Defense uses of their technologies; develop plans to move their technology products to market; and position their companies to create jobs and generate revenue to support growth of the regional economy.
We caught up with Ryan, who won the cohort's pitch competition, to learn more about his company and his experience with the Defense Accelerator. Our conversation has been lightly edited for clarity.
What do you do at Ahmic Aerospace?
We develop measurement techniques for high-speed aerodynamic applications — typically anything faster than Mach 5. When you get up to those speeds, making physical measurements is challenging. Mach 14 is about 7,ooo miles per hour — at that speed, the air just rips itself apart. Computer simulations are pretty amazing, but we have to always challenge the assumptions we build into the models. Testing occurs in facilities like wind tunnels, because that's a lot cheaper than sending up a rocket to see what happens. A good suite of instrumentation is fundamental to any wind tunnel. You need to have confidence that the instruments will provide good data, and that's what we strive for at Ahmic.
What are you measuring with these instrument suites?
We measure things like skin friction, which can be very challenging data to capture. The sensor has to be sensitive enough to pick up the equivalent of a butterfly landing on it, but robust enough to handle the extreme pressures, temperatures and vibrations of supersonic speeds.
Who needs these instruments?
We know our target audience is in the defense market, which has 60+ hypersonic test facilities and research organizations and the nation's top aerospace contractors. We also want to reach the larger space community and tackle hypersonic transportation, space access and re-entry challenges. We're also looking at auto, maritime and green energy applications.
How did you get into this industry?
Since I can remember, I've had a passion for aviation. As far back as grade school, I always loved model rockets, model airplanes. I started engineering classes in high school, got a private pilot's license, participated in civil air patrol, ROTC and eventually, I landed at Virginia Tech. At one point, I had to decide if I wanted to be a pilot or an aerospace engineer. I chose engineer, and I love the balance between theoretical and practical sciences. It's exciting to get up every day and help invent the tools of tomorrow.
Did you always know you wanted to be an entrepreneur?
A part of me did always want to be an entrepreneur. I'd always sketch inventions when I was little, and in college, I started a drop shipping coffee company out of my dorm room.
Today, Ahmic Aerospace is in its awkward teenage years. We've tripled our workfoce and expanded to a 5,000+ square foot facility. I really do love the leadership aspect and the work of owning a company. But I also still love the days I can put my engineering hat on and go in and just work in the lab. We built our own wind tunnel last year, which was a significant investment of time and money, but now we can run tests whenever we need. We're professional problem solvers. It's fun to just go in and try something and see what we learn. A lot of times, it doesn't work, but it's fun to come up with new ideas.
What has your experience been with the Defense Accelerator?
The Defense Accelerator program has been absolutely incredible. Ahmic's marketing coordinator, Kristina Molinaro, participated with me, and we would usually talk about the class exercises for another hour or so after the accelerator sessions ended. They triggered the right thought process to push us to think about new directions for the company. The knowledge shared by the guest speakers was incredibly valuable as well. I only wish we'd discovered this sooner.
How can the Launch Dayton community support you?
Connect with us. This accelerator has been wonderful at connecting us to resources that would have been hard to seek out on our own. We're looking at the Arcade and the ESP program now. Dayton is a city rich in history, originality, and innovation. And there's a wealth of industry to work with through the area's strong machine shops. We are excited to be part of Dayton. We are constantly challenging ourselves to live up to this community's aviation heritage and legacy.
Learn more about Ahmic Aerospace and how to connect with Ryan here.
Popular Categories
Related Stories