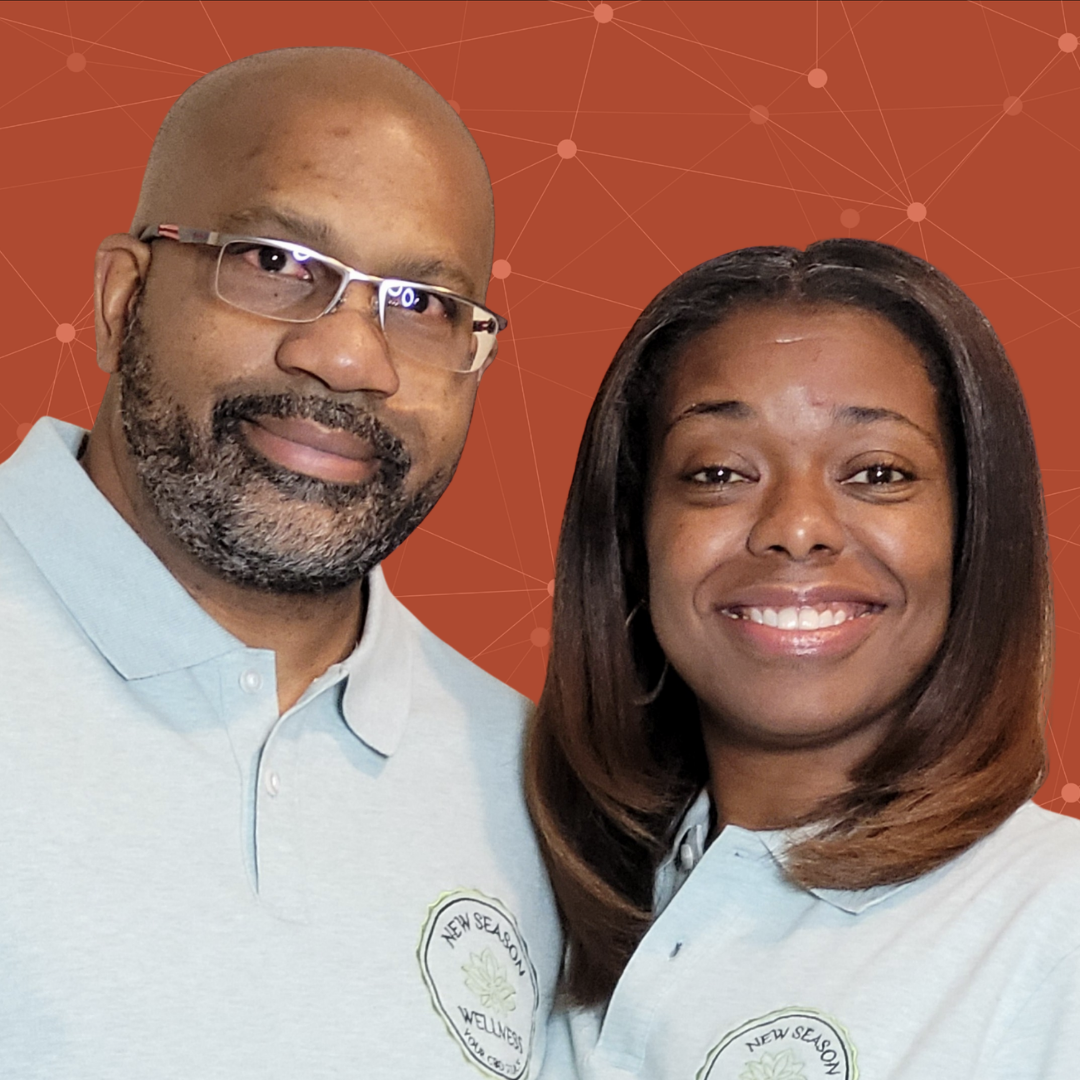 New Season Wellness founders eyeing physical retail location
March 22, 2021
Anikka Masey and her husband, Thomas, launched their online CBD store, New Season Wellness, in 2020 because they wanted to help their community be well.
This year, they're working toward business growth goals, including launching a physical retail location and a new custom product.
We recently caught up with Anikka, Early Risers Academy grad and winner of her fall 2020 cohort's pitch competition. Our interview has been lightly edited for clarity.
Launch Dayton: How did you first start on your path to launch New Season Wellness?
Anikka: I first learned about CBD during my certification as a hair loss specialist. I first began researching when I needed to use it — my mother and father were both in the ICU, my grandmother was in the nursing home with Alzheimers, my son had an allergic reaction. I was under a lot of stress and I needed something to help me sleep, but I wanted it to be natural. I'm a wife, mom, salon owner, and I needed sleep to keep functioning.
After my mom's surgery, she came to live with me. She was depressed that she wasn't getting back to normal, so I suggested she also try some CBD. A few days later, the difference in her demeanor was night and day. So I started researching ways she could consume CBD other than as just another pill. I found myself ordering products from lots of different places, lots of credit card and shipping charges, I wanted a one-stop shop.
And New Season Wellness is that shop?
Yes, we're a retail space for various products in the cannabis industry. We offer topicals that help with pain, as well as CBD-infused teas, honeys, tinctures, nuts, chocolates and fruit chews. Right now, we're fully online, but I do offer local pickup at my salon, Girlfriends Salon, on Main Street in Dayton.
What challenges have you faced as you launched this new business?
People have to unlearn the idea that CBD is illegal. We have to educate our community that these are alternative therapies to deal with insomnia, topical pain.
Why do you love what you do?
I love what I do because I love to see people healthy. I've always had a passion or love for the health of the body. My husband and I come from long line of illness — blood pressure, diabetes are prevalent and in our family, we start taking medicine early. It has always been a goal of mine to avoid that, and I made it to 46 without having to take any regular medication. What I want for my family, my children, my community, is to be more educated overall to be healthy. To be able to make small changes on regular basis to get to a better way of living.
What's in store for New Season Wellness in 2021 and beyond?
New Season Wellness will grow into a full health store in the next five years. We're shooting to open a physical storefront next month, on 4/20. We are also working with a manufacturer in Kentucky to create our own product line. The first product will be a pain cream.
How was your experience with Early Risers Academy?
It was phenomenal! It was worth every bit of my time, and I was so shocked that it was free! Ke and Gail are so supportive and knowledgeable, and they don't make you feel stupid for not knowing. I've been in business 15 years, but I walked in nervous because I'd never taken business class, and I thought there were things that I should know, but they were open, supportive. I couldn't have asked for better program to be part of.
What identities do you bring to entrepreneurship?
I was raised by two single mothers — learning how to run a household is very reminiscent of running a business. You have to have a plan. That created a foundation for me right our of the gate. I was raised by a single mother, became a single mother, and became an entrepreneur to be the type of parent I want to be.
I'm also an African-American woman without a college degree. I've felt I wasn't good enough at times, even though my mother and grandmother raised me to know what strong Black woman looked like. Knowing I am enough is important. And it's important to let little Brown girls know that they can do it, too — what looks like a mess up to other people is OK, you can still do it.
How can the Launch Dayton community support you?
Be receptive and open to alternative, natural ways of doing things, and share them with others — maybe something isn't for you, but it could help a friend or coworker if you share it with them.
Learn more and shop New Season Wellness's current product lineup here.
Popular Categories
Related Stories