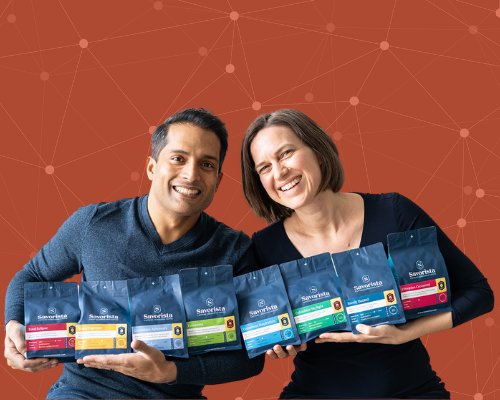 Dayton's caffeine-conscious coffee startup hits DLM shelves, launches new product
August 10, 2021
It has come full circle for Kait Brown, a Dayton coffee startup founder who is celebrating her company's first major retail account — on the shelves of the local grocery store where she got her very first job as a teenage barista.
In the two years since Kait pitched caffeine-conscious coffee company Savorista at Launch Dayton partner Parallax's monthly Early Risers pitch event, the company has won the University of Dayton's Flyer Pitch competition, been accepted into the Entrepreneurs' Center's ESP portfolio, rebranded, and landed on the shelves of Dorothy Lane Market.
"We couldn't be more excited, given that Dorothy Lane Market is the specialty, gourmet store in the region," Kait said. "It was definitely our first choice when we thought about where we wanted to see Savorista."
Launching Savorista
Kait's decaf journey began many years ago. She was living in Chicago, working a corporate gig. Her then-boyfriend had just moved to town to make a go of it when her father was diagnosed with cancer. She realized her caffeinated coffee habit was magnifying her stress and restless nights.
So she set out to find good decaf — a journey that ultimately took her around the world, meeting with coffee farmers and natural decaffeinaters, and Savorista was born. Today, the company offers a variety of decaf and half-caf coffees in whole bean or various grinds, including some limited-edition flavors.
These days you can also find Savorista's craft decaf and half-caf coffees at Butter Cafe on Brown Street and at Wholly Grounds on Wayne Ave.
"It's kind of cool — we've got girl power over here, and Butter Cafe and Wholly Grounds are also female-owned, so there's this team of powerful, ambitious women paving the way for caffeine-conscious coffee," Savorista's Dayton Sales Rep Kiki Huddleston reflected.
New arrivals coming summer 2021
This summer, Savorista hit its next milestone — the launch of its new line of single-serve pour-over coffees, available in both decaf and half-caf flavors.
"There's this broader interest among coffee lovers to be conscious about their caffeine intake," Kait said. "Sometimes they want a cup of decaf at night, sometimes they want to be able to drink more coffee throughout the day. Coffee is often seen as an energy drink, a way to do more, push harder, but that often leads to burnout. We're really trying to help people think about how they can enjoy coffee in a different way, take a moment for themselves, to savor the journey of life while they're getting things done."
The launch of the single-serve pour-overs gives Savorista's customers another way to be caffeine-conscious by offering the option to make, say, a quick cup of half-caf coffee in the afternoon, instead of needing to make a whole pot.
There's also growth opportunities in grocery and hospitality sectors, Kait said — restaurants are starting to seek strong offerings for customers that don't drink caffeine at all.
But don't worry, she adds — Savorista coffee lovers will always be able to order their coffee online, even as the company expands retail locations. The company was founded digital-first, a platform that helped them steadily grow, even amid a global pandemic.
"Launching digital-first allowed us to reach caffeine-conscious coffee lovers where they were," Kait said. "People are thoughtful about coffee everywhere, but they're not the majority. We knew we needed to be able to reach people wherever they were."
And as the company grows this summer, so, too, will Kait's family. She and her now-husband, Daniel Fernandes— that same boyfriend who moved to Chicago, and then traveled the world with her in search of great decaf — are welcoming their first little one.
"The nice thing is that, I'm already running a coffee company that's thoughtful about caffeine, so I've had great decaf and half-caf at an arms' length," she said with a laugh. "But yes, I'll be figuring out how to be a mom and an entrepreneur, and I'm not sure how to do that yet."
Want to try Savorista coffee for yourself? Order online at savorista.com, or snag a bag at your local Dorothy Lane Market.
Popular Categories
Related Stories