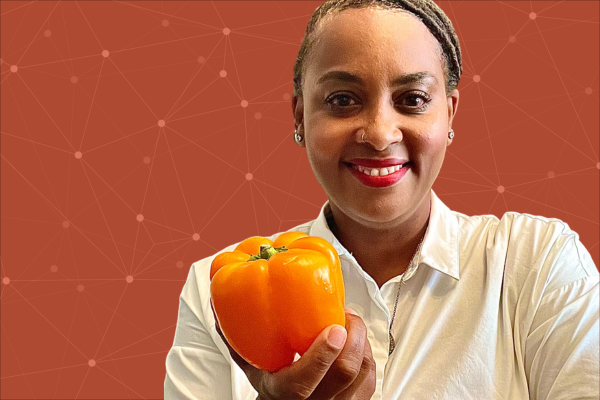 Valerie will spice up your plate
September 5, 2023
For Roxy's Soul & Spice founder Valerie Kemp, the kitchen is her happy place. She took particular inspiration from Caribbean and Creole cuisines when she launched her business. Valerie is a recent grad of the 6888 Kitchen Incubator's Sharpen the Axe cohort. (She's also a lunch vendor at next week's Launch Dayton Startup Week!)
Read on to learn more about her journey.
Introduce yourself — who are you and what is your company?
Hi, my name is Valerie Kemp. I'm a busy mom of twin boys from Ohio, and I love spending time outdoors, cooking, and entertaining friends and family. I started my own company, Roxy's Soul & Spice, LLC, in 2020. I named it after my middle name, Roxann, and because I cook with love and spice, inspired by Caribbean and Creole cuisines, using only the freshest ingredients.
How did your company start?
My love for attending food truck festivals, farmers' markets, and cooking inspired me to start my business. After attending the Apple Butter Festival, I realized that I could turn my passion and hobby into a business. I had several taste tests with friends, family, and work associates to get their feedback on possible menu items and dishes.
Why this idea?
The encouragement from my sorority sisters inspired me to turn my hobby into a business. They would attend every food truck festival with me, and it was their encouragement that pushed me forward.
Did you always want to be an entrepreneur?
Growing up, I never saw many entrepreneurs who looked like me, but as I gained more life experiences, the idea of starting my own business became more tangible. Although it takes a bold person to start a food business, I love what I do and feel it's my happy place.
The Launch Dayton community values are: 1. Be Bold 2. All Are Welcome 3. People First 4. Give First 5. Remove Barriers. How do you embody one or more of these values?
Be Bold- Starting a food business takes a bold person. You are opening yourself up for constant critique. Many catering companies do not offer dirty rice, but I offer it as one of my main staples. It's one dish that best describes Roxy's Soul & Spice.
What identities or life experiences do you bring to entrepreneurship that helped prepare you for this lifestyle?
My education has been beneficial in helping me prepare menus and other documents needed for advertising. Being a part of Alpha Kappa Alpha Sorority, Incorporated has helped me network with like-minded women and get possible referrals and give testimonials of my food.
What is the biggest barrier you've faced on your entrepreneur journey?
ME! I'm a barrier. I let fear get in the way of me pursuing my dreams. Also, a barrier has been having adequate resources and learning to scale costs. I've found that using community resources and programs can be a great help.
Why do you love what you do?
Doing what you love feels like something other than work. It's my happy place. I enjoy making a dish look appetizing as you eat with your eyes first. When I'm having a bad day or if someone needs to be cheered up, going to the kitchen to cook always makes me feel better. It also feeds into a mantra I borrowed from work: feeding the human spirit. The way I do that is from love with food on a plate.
What advice would you offer fellow or aspiring entrepreneurs?
My advice to others would be to "Do it Scared." You don't need to wait until everything is perfect to start your business. Utilizing community resources and programs can help you get your business off the ground.
Connect with Valeria @Roxyssoulandspice on FB & IG.
Curious what resources in the Launch Dayton community can help YOU grow your business? Check out our interactive resource guide here.
Popular Categories
Related Stories