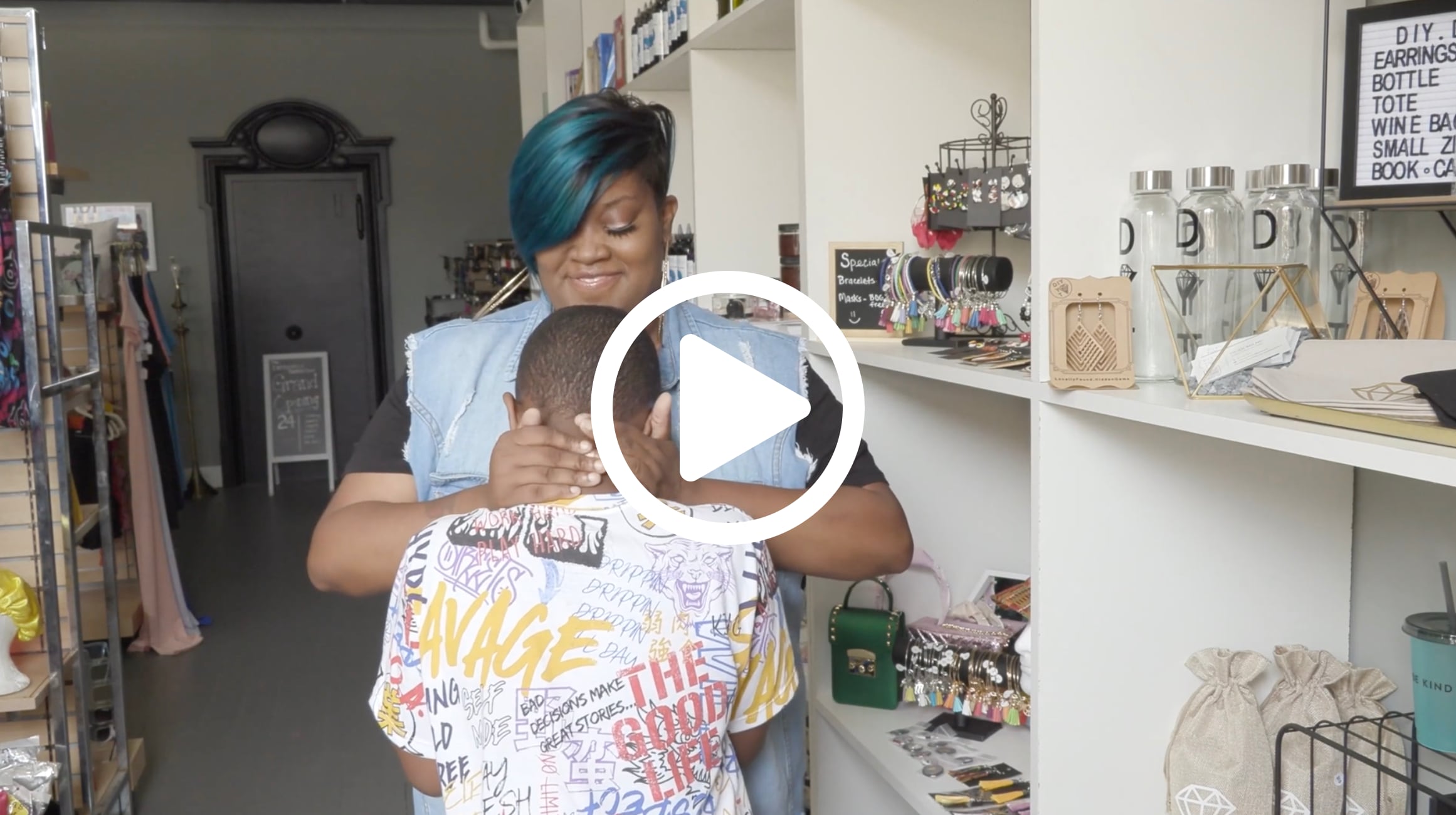 Tae Winston first feature in new "I Am an Entrepreneur" series
October 6, 2021
There's no one way to be an entrepreneur.
You don't have to look a certain way, operate in a particular industry, pursue specific education, grow up in a particular household, or spend your free time nurturing any particular hobbies — entrepreneurs grow from all walks of life.
In a new video series we are excited to launch today, entrepreneurs, founders, and small business owners from across the Dayton Region share their individual stories in order to break down those pervading stereotypes about who can or can't be an entrepreneur.
They proudly declare, "I Am an Entrepreneur" — and you can be, too.
"I like to be known as the hero for entrepreneurs," says Tae Winston, founder of the Entrepreneurs' Marketplace, Entrepreneurs Shoppe and Entrepreneurs Connection trio of Dayton retail storefronts. "I got here by just stepping out on faith and starting a boutique and started hosting events."
Tae's storefronts offer a range of retail shelf options for budding entrepreneurs, from pop-up space to long-term booth space. Most of the products in her stores are handmade, created with love in someone's living room rather than on a factory floor, she said.
"You're shopping small and it's going right back into that family and into the community," she said.
Tae first began helping others sell their wares at community garage sales her family hosted while she was growing up. Instead of one family selling items in their yard, 20-30 families would sell side-by-side in in big grass field.
"It's my passion, I love it," she said. "It's something I've always wanted to do. I've always had that love for entrepreneurs, and when I started hosting events, seeing how good entrepreneurs did just from setting up with me, I wanted to make a career out of it."
But that career didn't happen overnight, she said.
"A lot of people see Tae now and think it happened overnight," she said. "I've been doing this for 7 years. I've been told 'no' a lot, people not seeing the vision, I've had a lot of doors closed on me. I set up spaces I wasn't welcome, which is why I wanted to create a safe space where anyone can come, no matter how you are, what race, I'm opening my doors to you. My lowest place is where people made me feel small. It motivated me to open my doors for everyone."
You have to give up your fun nights for awhile to see that success, she said. She credits her autistic son for her motivation to push through.
"I had my eye on the prize. It was hard to keep hosting events, still going to work, having an autistic son and working in mental health, it came time I had to break free. But you've got to be willing to do the work," she said. "I just took my first vacation in six years. I haven't hung out and partied in a long time, but I knew what I wanted. Fun will be there."
A born-and-raised Daytonian, Tae is excited to run businesses that funnel money back into her community.
"Dayton is where the love is, where family is, where support is," she said. "I sat back and chilled and watched everyone else make money, and that made me excited. I know God will take care of me, just give back and do things from the heart, and you'll get where you need to be."
Her advice for aspiring entrepreneurs? Take notes, and think about those lessons from your childhood.
"Put all that back into starting your business right now, and you can make it happen. That's where I started, so I'm proof that you can do it," she said. "My name is Tae Winston, and I am an entrepreneur."
Watch Tae's video | Explore the "I Am an Entrepreneur" Series
Popular Categories
Related Stories