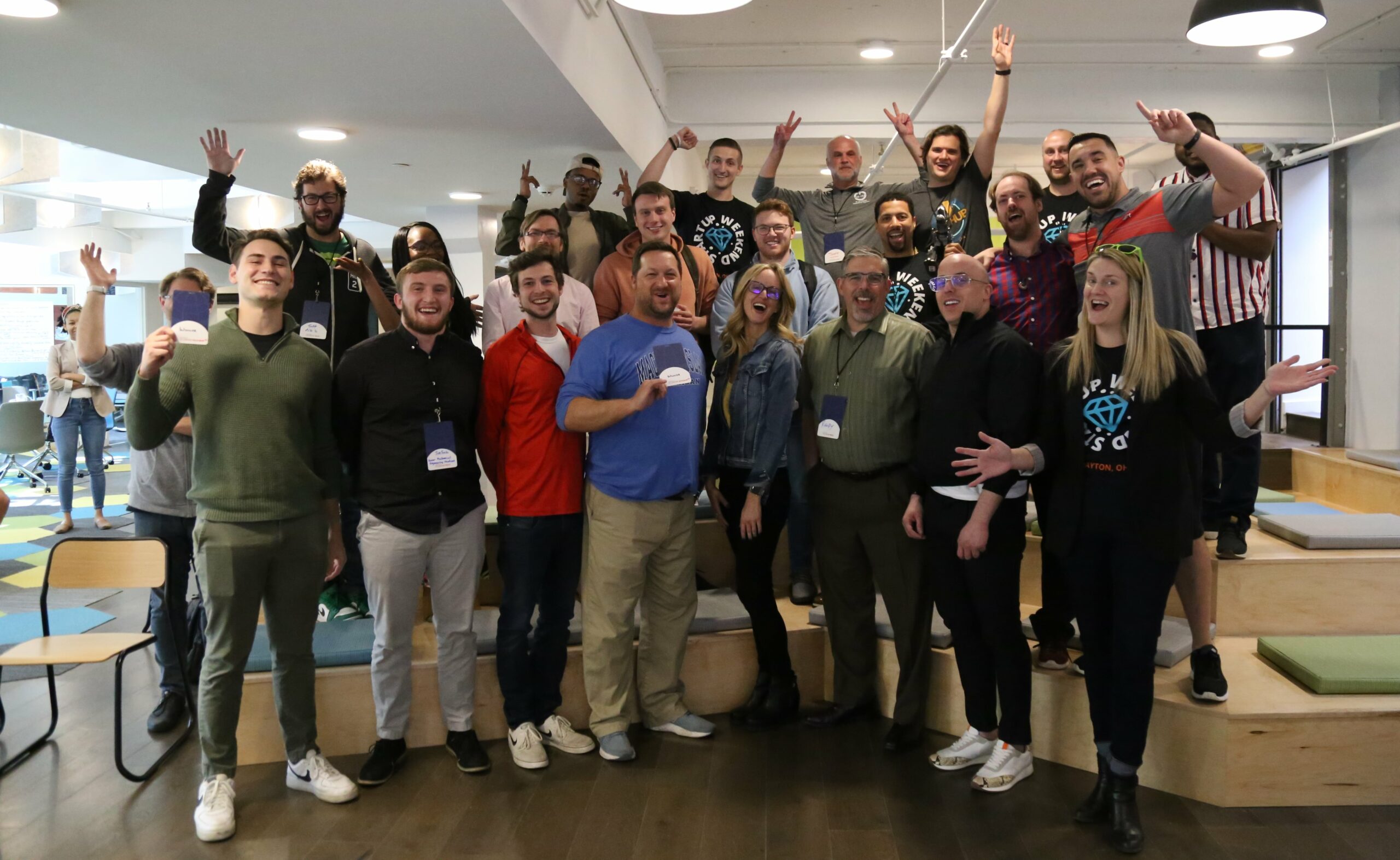 New startups addressing landscaping, remote employee engagement take top prizes at Startup Weekend 2022
April 12, 2022
Innovators from across the state gathered at The Hub this weekend at Launch Dayton Startup Weekend 2022 to pitch ideas and form companies around a range of issues from remote employee engagement to crowd-funded lobbying.
Powered by Techstars, Startup Weekend is a jumping off point for entrepreneurship. Over the 54-hour event, attendees share ideas, team up, and pitch startups.
Friday night, attendees pitched 30 60-second "half-baked" ideas for companies. Attendees then voted on the top ideas, and the teams formed around the five ideas that got the most interest and votes.
Saturday and Sunday, business leaders from across the community came to the Hub to mentor the teams and help them them nail down their value proposition. Teams also spent part of those days interviewing potential customers to validate their ideas.
Thank you to our sponsors Ascend Innovations, Entrepreneurs' Center, Mile Two, Parallax Advanced Research, and University of Dayton's Crotty Center for making this weekend possible!
The winners
The weekend's winning pitch came from Joe Fuchs, Waldo Rabie and Aaron Jones, pitching Greenly, an all-in-one landscaping solution designed to provide instant quotes and automated scheduling.
"This has been fantastic," said Joe Fuchs, University of Dayton engineering student and first-time Startup Weekend attendee. "I went into college to study engineering with no experience in entrepreneurship outside a few personal things I wanted to pursue. This contest has brought me a holistic idea of what it would look like to go into this space. I recommend a lot more students get involved in it."
Second place was awarded to the team of Nathan Minns, Dylan Rogers, Will Matz and Damiel Faxon pitching WePerk, an employee perks program designed to help companies engage and retail remote workers by connecting them with fun opportunities in their local communities.
Third place went to the team of Pablo Arellano, Trish Baxter, Randy Hinders and Kent Kaiser pitching 937Invest, a platform that will provide stock recommendations based on machine learning algorithms.
The crowd favorite award went to the team of Luther Palmer, Darius Dunson and Kameron Seabrook, pitching Office Hours, a platform to connect prospective college students with alumni in their fields to learn what the day-to-day work looks like for someone with their major, so they don't waste time and money pursuing a degree only to discover they hate the job.
Last but not least, the team of Justin Helt, TJ Richardson and Daniel Kuzikov pitched the Revere Foundation, a hybrid mobile app utilizing looped feedback technology to get citizens' issues in front of their local politicians.
Prizes for winning teams who decide to pursue their company idea include free coworking memberships at The Hub, advisor time from the Entrepreneurs' Center and Miami Valley SBDC, and a guaranteed spot in the Launch Dayton Startup Week Pitch Competition in September.
Save the date!
Interested in being part of the next Launch Dayton Startup Weekend?! Save the date, Friday, Feb. 24 to Sunday, Feb. 26, 2023, at The Hub!
Interested in helping to plan the next event? Reach out to [email protected].
Popular Categories
Related Stories