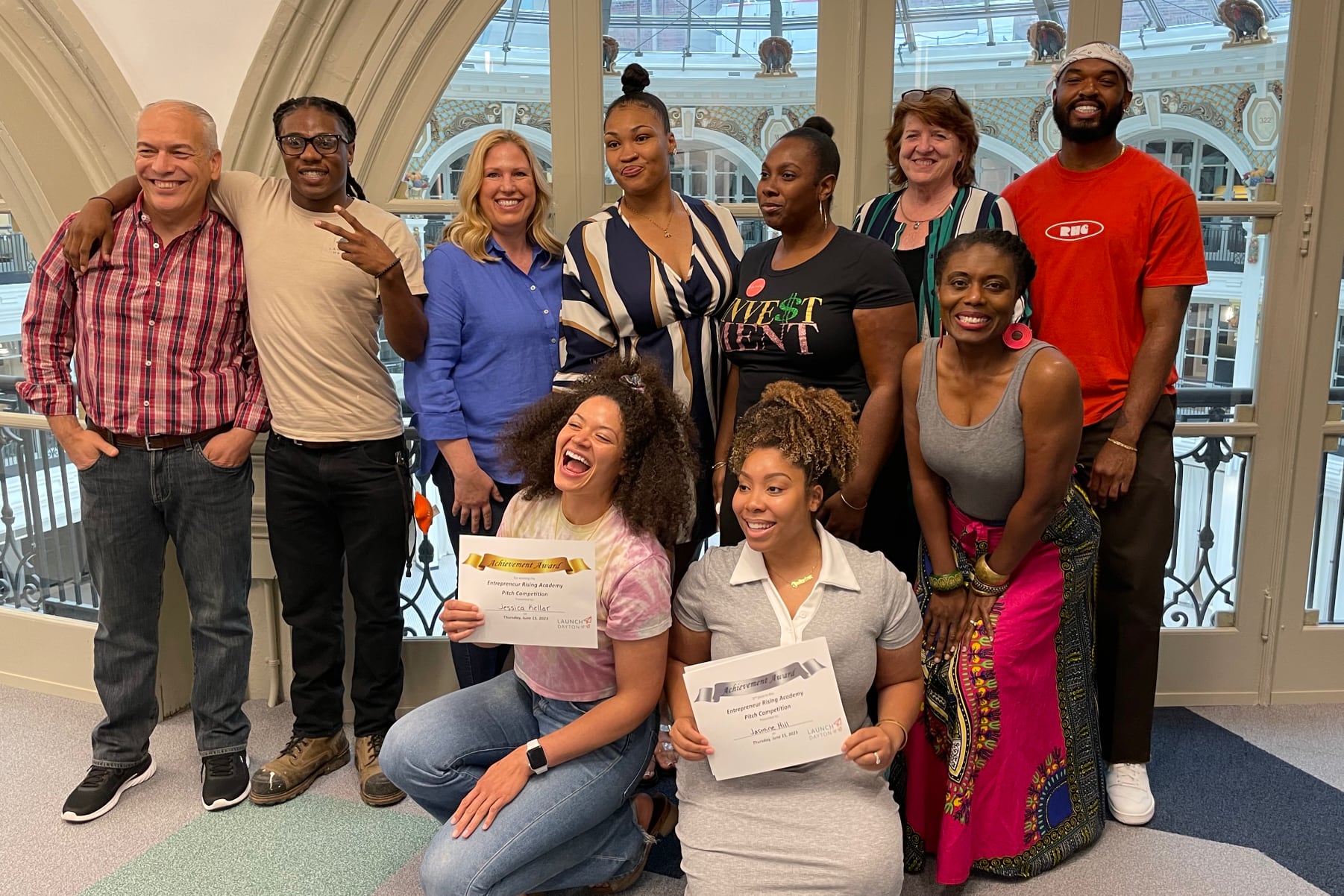 Bakers take the cake at latest Entrepreneur Rising Academy pitch
June 20, 2023
Bakers won the day last Thursday at the culminating pitch competition for the spring 2023 cohort of Entrepreneur Rising Academy!
First place went to Jessica Kellar, founder of The Heart Baker, whipping up nostalgic treats. Second place went to Jasmine Hill, founder of Jars By Jas, whipping up cheesecake in a jar.
"My favorite part was meeting everybody, the relationships, we're still chatting with each other, we got plans, we're working on building all of our businesses, and if we can do it together, we will be stronger," Jessica said.
"It was the whole journey, learning everybody's passions, reconnecting with my passion, my why, bringing myself out of the hustle culture of it all," Jasmine shared. "It was the whole package, 10/10 highly recommend!"
Tap into the Academy
Entrepreneur Rising Academy is a free, 10-week, business-building bootcamp managed by Launch Dayton partner Parallax Advanced Research. The next cohort kicks off July 12!
Participants complete Kauffman FastTrac coursework from the nationally-renowned Kauffman Foundation, receive pitch coaching and hands-on mentoring, weekly discussions with successful entrepreneurs and experts, & access to Dayton's business resource providers.
The bootcamp helps early-stage founders and business owners build the foundational knowledge needed to launch and grow successful businesses.
Other spring 2023 cohort graduates include:
Fadi Ibrahim, Fadi Barcode
Jenniffer Hrovat, Gem City Speech Therapy
Tina Donovan, Discovery Tales
Jevonte Samuels, Land & Hand Helpers
Jacqueline Lovett, ManifestLuxe
Kesha Beavers, My Life Investments
Da'Ves Malone, Sprouting Dreams
Imani Spratling, Legendz Den
Alicia Brown, Write with Mrs. Brown
Augustina DeLeon, Frios Gourmet Pops
Curious if Entrepreneur Rising Academy is a fit for you? Learn more & apply for our next cohort, kicking off in just a few weeks!
Popular Categories
Related Stories