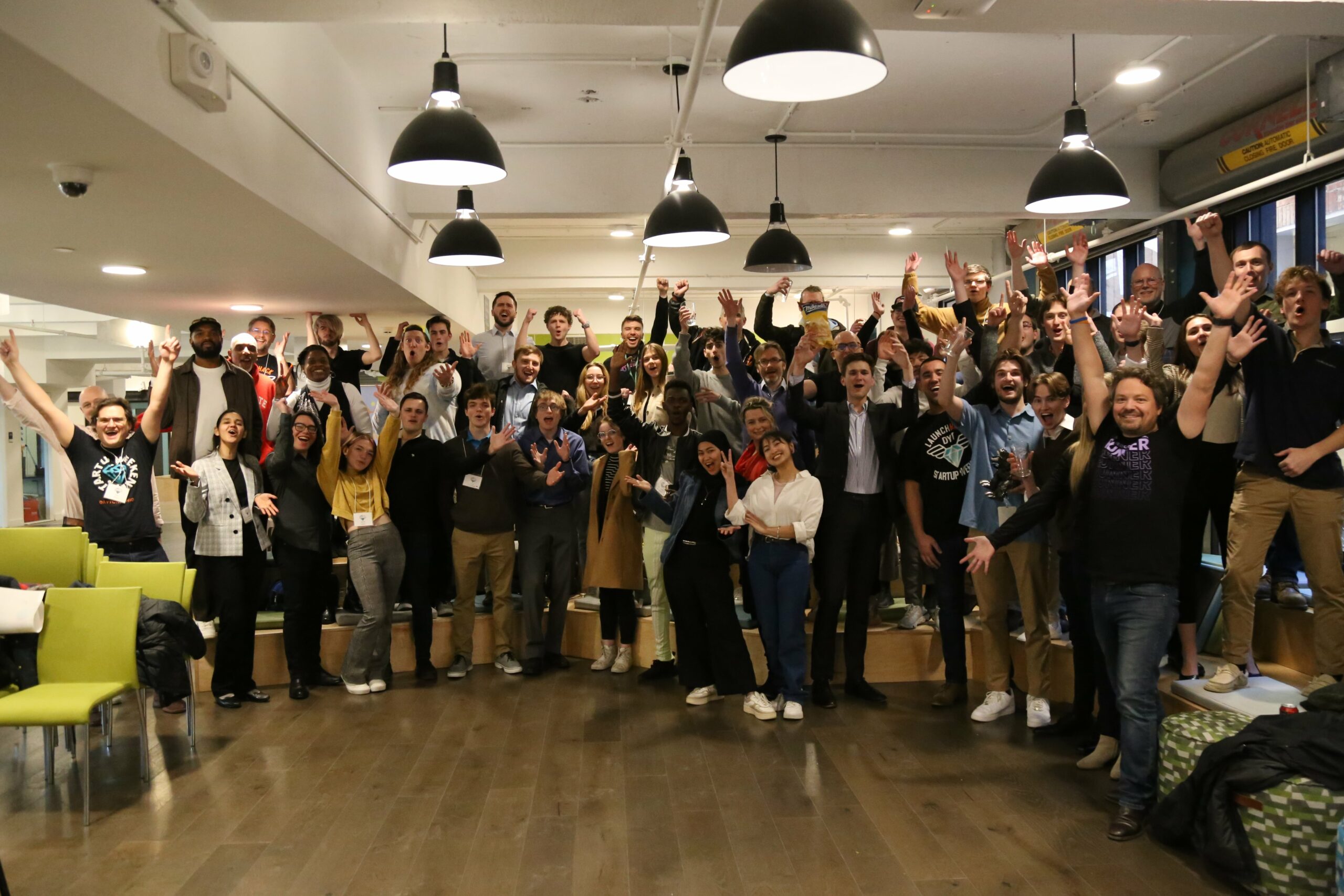 9 teams hack new startups at LaunchHack Startup Weekend
February 28, 2023
A new seasoning concept stole the show this LaunchHack Startup Weekend, which drew 50+ attendees from half a dozen cities and four area universities.
The 54-hour event starts Friday nights when participants pitch ideas, vote on their favorites and form teams. Saturday and Sunday, teams work on market research, customer validation, business models and presentations. Then Sunday afternoon, they pitch their concepts for new startup companies.
Team Kitchen Kanvas, which included students from Sinclair College, The Modern, University of Dayton & Cedarville University, pitched the winning concept for single-serving spices contained in edible, compost-able, tear-able rice sheets.
UD sophomore computer engineering student Brian LeCocq pitched the original idea Friday night.
"It's not like your typical classroom group project, where one person does all the work," Brian said of his Startup Weekend experience. "As someone very technically-minded, in computer engineering, doing something with food was completely out of my wheelhouse, my personal skill set, but I was able to wander outside of that, and that was really incredible."
Real-life lessons in entrepreneurship
The winning Kitchen Kanvas team included Cedarville University accounting student Annie Alexander, Sinclair digital marketing student Army Sutanningsih, Sinclair engineering student Nurrul Fitriani, The Modern graphic design students Christian Burlison & Micah Hermiller, and UD mechanical engineering student Loring Leitzel, as well as Brian.
"I didn't realize we were actually going to be making a company, and the fact that we've done it, too, it just blows me away," Micah said. "I learned that your team is the most important thing. Everyone brings a different skill set, and if you're missing any piece of the puzzle, it's not going to work, so your team is the most important part of starting something."
Annie is part of a team of students that are starting an entrepreneurship club at Cedarville University.
"Startup Weekend truly blow my socks off," she said. "It's so cool to see what we've accomplished in a short amount of time. Everyone's confidence has grown and abilities and skills have grown as well. This weekend has helped to have good ideas and be able to practice taking them to the next level."
Army & Nurral are both members of Young Entrepreneurs of Sinclair.
"My favorite part was the elevator pitch, how you can bring your idea in just 60 seconds and convince everyone in just 60 seconds," Nurral said.
Army's favorite part was brainstorming with the team and learning to generate new ideas.
"This is a really amazing program, especially for young people who are interested in being an entrepreneur," she said. "You meet a lot of people, get networks, get new ideas — this is cool!"
Awards season
In total, 9 teams pitched startup concepts on Sunday.
Team Sango took second place, pitching a concept for all-sports cleats with stracks that can be swapped out between soccer, football and baseball seasons.
Team Go Further took third place, pitching a concept for customizable seat cushions for adventure bikes.
Kitchen Kanvas picked up the crowd favorite award. Freelance Guru snagged the Best Hustle award for how many real-life freelancers they talked to while developing their pitch. Therapist.ai picked up Best Technical Hack for including a functional AI therapist recorded in their pitch. And Brilliance picked up Best Design for their concept of a privacy-conscious smart home that operates independently of WiFi.
"As a sophomore engineering student, I'm always in the back. Startup Weekend helped break me out of my shell," Brilliance team leader Jacob Bieller said. "I learned so much about communicating with a group, in front of a group, and completely being scared. As fearful as it is getting up in front, it has been so valuable to me, and I'm going to remember this for a long time."
This eventful was possible thanks to generous support from our sponsors. Thank you Mile Two, International Center for Creativity, Ascend, University of Dayton, Entrepreneurs' Center, Parallax Advanced Research, & The Hub!
Want to get in on the action? Mark your calendars for the next LaunchHack Startup Weekend, Feb. 23-25, 2024!
Popular Categories
Related Stories