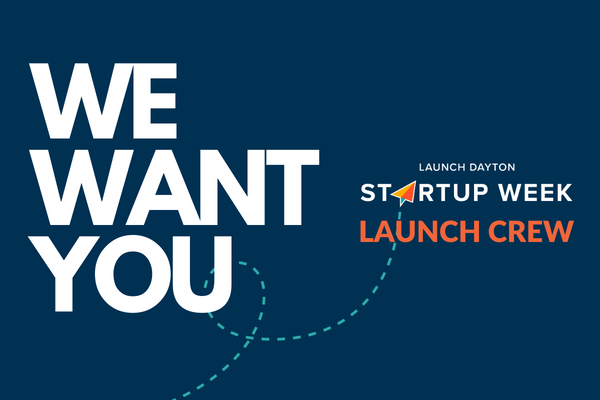 Join the first-ever Startup Week Launch Crew!
March 7, 2023
Are you passionate about Launch Dayton Startup Week? Join the first-ever Startup Week Launch Crew!
Launch Dayton Startup Week is the epic gathering of the year for Dayton's entrepreneurs and business owners.
From Sept. 11-15, hundreds of makers, innovators, dreamers, and doers will converge in downtown Dayton to be inspired and empowered at this community-driven conference. The week-long schedule includes powerful talks, impactful hands-on workshops, and vibrant networking opportunities, all designed to help entrepreneurs move their businesses forward.
We plan to make this year's event bigger and better than ever, and for that, WE NEED YOU to help spread the word!
We are looking for 10-12 dedicated members to:
HYPE STARTUP WEEK! Share the call for speakers, schedule + ticket link on social media, talk up the conference at networking groups and business meetups, stash flyers and postcards in all your favorite local spots, and possibly share your Startup Week story with local media
PHYSICALLY ATTEND STARTUP WEEK. We want to make sure everyone feels welcome and supported. We'll need crew members to take turns manning the registration table, introducing speakers, and mingling with attendees.
What you get:
EXCLUSIVE SWAG! We'll have t-shirts, hoodies, tank tops + more, so you can pick the swag you'll wear, carry, use most to help spread the word
PRIZES — every Launch Crew member will get a custom promo code to share with your networks. The folks who bring in the most attendees will win special prizes
THANK YOU PARTY! Details TBD
Members will be selected and notified by the end of March.
Questions? Email the team at [email protected].
Popular Categories
Related Stories