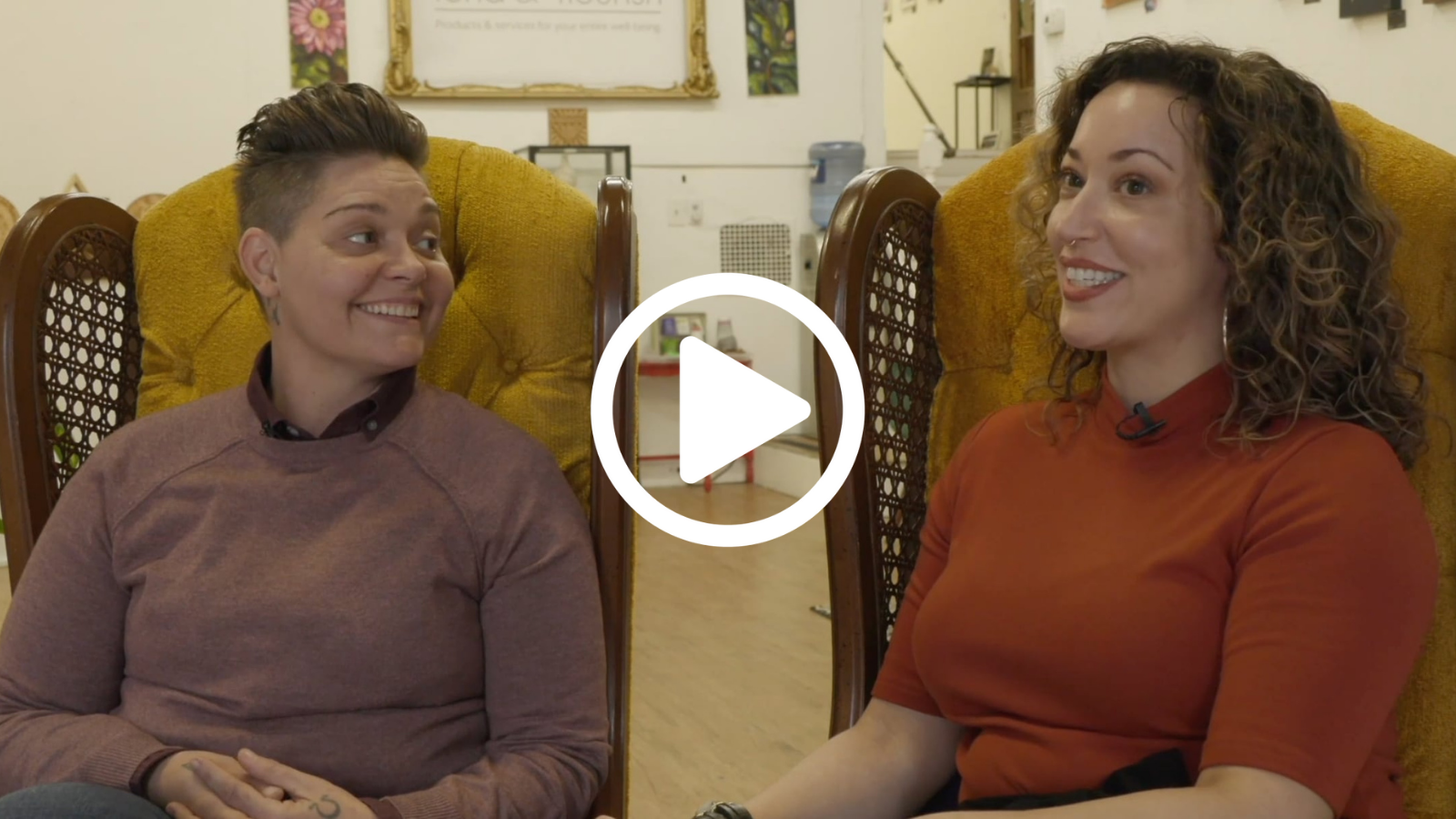 Meet Kate & Jes, partners in life + business
March 14, 2022
There's no one way to be an entrepreneur.
You don't have to look a certain way, operate in a particular industry, pursue specific education, grow up in a particular household, or spend your free time nurturing any particular hobbies — entrepreneurs grow from all walks of life.
In a new video series we are excited to launch today, entrepreneurs, founders, and small business owners from across the Dayton Region share their individual stories in order to break down those pervading stereotypes about who can or can't be an entrepreneur.
They proudly declare, "I Am an Entrepreneur" — and you can be, too.
Several years ago, Kate Edmondson walked into a benefit for Jes McMillan's nonprofit, The Mosaic Institute of Greater Dayton, hoping to win the gem mosaic she was raffling off to fund a mural on the train overpass at Keowee and 1st streets.
Kate didn't win the piece of artwork — but she did win the artist, she recalls today with a smile.
Kate is the founder of Tend & Flourish, a collective of small woman-owned businesses in fields of wellness. Today, she and Jes run both their businesses out of their shared space in a historic building at 1906 Brown St.
"Identifying as an LGBTQ safe space when I founded Tend & Flourish created an immediate call within the community," she said. "When we started hosting events, our community showed up. Many people we'd never met, they came out simply because they didn't have a place they felt safe, where they could identify themselves."
But there is space at Tend & Flourish for those outside these communities as well, she said.
"People who do not identify as LGBTQ appreciate that we are here, and share that," she said. "They feel very proud when they come in, even though living their non-LGBTQ lives, they are excited to be here knowing they are supporting a place like this."
How it started
The Mosaic Institute exists to inspire, empower and unify through art, a mission it achieves by inviting the community to help create mosaic murals that are installed across Dayton as long-term works of art.
"Through the process, the community gets to have a hand in creation of those pieces, but the important part is when the community is sitting together at the same table," Jes said. "We can push back social barriers of division and allow people to see each other and maybe find some empathy, which helps us take steps in unifying community, togetherness, understanding and moving forward."
Jes began creating mosaic works in college at Point Park University before returning home to Dayton, where she was further inspired by the K12 Gallery's community art-making processes.
"They had a process  that I really loved, and it felt like what I was supposed to be doing," she recalled. "Yet, at the same time, many of us feel we could do a better job having more control. That led me down the path of making it my own, starting my own company and taking this process to a whole new level."
Kate, a 20+ year licensed esthetician, was drawn to launch her own business because she "felt like a square peg in a round hole," she said.
"I wanted to create a space where numerous women who maybe felt the same as me could come together and have an alternative space for clients to come to," she said.
When she met Jes, that space didn't quite exist yet.
"I was in lease negotiations for this location, and I was very nervous. I'd never leased my own place, I'd always been someone else's tenant," Kate said. "We started meeting for coffee, walking our dogs together, and she helped me through the process, but what I really think she did was help me find my own confidence to move forward."
"We became friends. I really loved that she wanted to pursue opening a business that would benefit women," Jes said. "I have a nonprofit, my business benefits the community, so we were already aligned in several ways of giving."
Today, Tend & Flourish houses eight women-owned businesses, many of whom share clients, as well as the McMillan Gallery, which houses many Tend & Flourish events.
Yin & yang
In life and in business, communication between partners is key, Jes says.
"Most of the time, Kate and I automatically on the same page, it starts out that way, and I'm thankful for that, but every once in awhile, she says something, and I hear something completely different," she said. "Being able to meet on the same page, same space, and understand what her plan is, what she's asking, what she wants to pursue, actually understanding that and being there with her helps us to make decisions together and move forward. Clear and open communication is important."
Also key is understanding your own strengths and gifts, and what talents complement you, Kate said.
"I am a visualizer. I can see everything that we're going to do before we've even put pen to paper. Jes is an activator, she's a doer. When I dream it, she can build it, she can make it, and I do not have those same gifts as her," she said. "We refer to ourselves as yin and yang, our pieces line up perfectly when it comes to the personal and professional. If you're both visualizers, where's the action getting done? Having someone that can pick up what's coming out of your mouth and get that ball rolling, or vice versa, is a hugely important part of process."
"I am Kate Edmondson. I am Jes McMillan. We are entrepreneurs."
Popular Categories
Related Stories