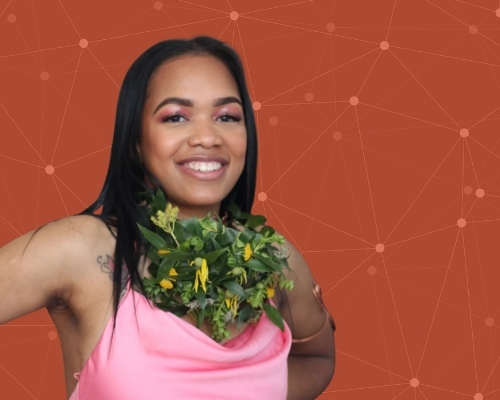 Baba Love celebrates one year downtown
September 28, 2021
By Katie Aldridge
The birth of her daughter inspired Vaniti Byrd to create easy-to-use and easy-to-travel baby care products. She founded Baba Love Organics, a plant-based beauty and body care company located in the heart of downtown Dayton.
In 2020, Vaniti not only smashed her sales goals & opened her storefront, she also graduated from the first cohort of the Downtown Dayton Retail Lab, powered by Launch Dayton partner Downtown Dayton Partnership.
We recently caught up with her to learn more about her experience and her entrepreneurial journey.
Launch Dayton: How did your company start?
Vaniti: It started three years ago from our kitchen. We started with four products. I was teaching full-time, at the time. It turned into a much larger scale; it took up my formal dining room and my kitchen. Last year, we got our retail space at the beginning of COVID, right before everything shut down. We celebrated our one-year grand opening on Sept. 18!
Why this idea?
I've always been into skincare; I've always had a love for all things beauty since I was a little girl. I just started becoming more conscious of what I was putting on my skin and what I was putting in my body. Having my daughter, Primrose, got me thinking about creating small products that moms could use on their babies that were easy to use and easy to travel with on the go. We have products that can be used for everyone in the whole house, not just babies. The ingredients are clean and clear-cut; most things people will recognize or even have in their kitchen.
Did you always want to be an entrepreneur?
Yes, I've always wanted to be an entrepreneur. Growing up, I had an old soul. I was always running things. I knew exactly what I wanted even at a young age. I had tons of small businesses – I think back to reselling things I bought from book fairs at my school! I just always wanted something that I could call my own; I didn't realize it was easier to do than I thought.
What identities do you bring to entrepreneurship that helped prepare you for this lifestyle?
The personal passion and knowledge of what I do helps me teach and educate other people on why these products are so important and why it's not just about being cute and smelling good, but actually being mentally and physically well. Being grounded in the work that I'm doing is a big thing for me. I think that helps me when I'm trying to explain or share what I do and why I'm doing it.
What is the biggest barrier you've faced in entrepreneurship?
The biggest barrier has been my own self with balancing everyday things with what I'm required to do for my business. The biggest barrier has probably been pushing through when I don't feel like it, when I feel like I don't have anything to give, but I still have to show up and do the work. Knowing my purpose and staying passionate is what has kept me.
How was your experience with the Retail Lab?

I loved it. It's beautiful what's happening and what continues to happen as more businesses move downtown.
Why do you love what do you?
It is part of who I am. I have, first of all, the most amazing following behind my brand. I think that is what keeps me going: knowing that I created this product that people want, that they love, that they come back for every time. I know I have a quality product that I made with my own hands while using my mind and a formula that I created. I've put a lot of thought into these products, and I've made them so many times; this is something that I have mastered.
How can the Launch Dayton community support you?
Come shop with us at 1116 W Fifth Street! For those who have shopped: keep your jars, keep your bottles – we host BYOB. Shop on our website, pop in and say hi, shoot us a DM, say "hey, what's up?" Follow us on Instagram and Facebook!
Wonder if the Retail Lab might be a fit for you? Learn more here.
Popular Categories
Related Stories