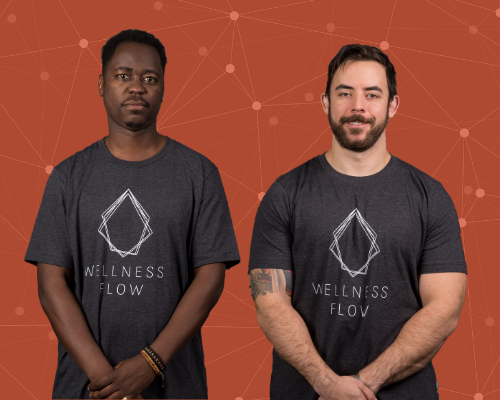 Wellness Flow launching new locations
March 29, 2021
Is IV hydration the new preventative wellness standard? Wellness Flow founders Paul Adongo and Sean Carroo say yes.
Paul & Sean launched their business in Oakwood last January, just months before the COVID pandemic swept the U.S. A year later, they're working on expansion plans.
We caught up with the founders recently to see what's in store for them 2021. The conversation has been lightly edited for clarity.
What is Wellness Flow?
Paul: Wellness Flow is an IV hydration company — essentially, IV hydration is a way of getting all vitamins and nutrition through an IV. Our store is located in the Shoppes in Oakwood.
Why do people seek out IV hydration?
Sean: IV nutrition is done for many different things in clinical, recreational and athletic settings. It's a proactive way to approach healthcare. You can get a B12 dose to boost your immune system to keep from getting sick. Or you could pick different protocols to help you boost performance. It's like taking vitamins — but where your body only absorbs 30 percent of vitamins taken by mouth, it absorbs 90 percent of vitamins taken by drip.
How did you discover IV nutrition?
Paul: There's a lot of medical research behind it, and on a large scale, it's used for cancer treatments, to treat addiction, to help pregnant women with deficiencies. We got into it through athletics — it's often used as a way to re-hydrate quickly after cutting weight, and Sean was an athlete. In Vegas, it's used as a hangover cure, in L.A. as a beauty treatment. We chose the drips we offer to focus on preventative health & wellness.
Who is your target customer?
Paul: Our primary customers are men & women, 25 to 60 years old, who are focused on alternative health and wellness.
Why do you love what you do?
Paul: I love what I do because it helps people. We have a lot of good conversations with people, the space is great, I like going into work. We hire a lot of folks with medical backgrounds and hear them say, this isn't something they ever thought they'd be part of — it's cool to help them realize different career paths.
Sean: I love it because it gives me an opportunity to help out my fellow man. We can see the benefits of what we do, and to get calls, texts, that prove we're providing something worthwhile for people is truly fulfilling.
How did they two of you become a founder team?
Paul: We came from different backgrounds — Sean was born and raised in Chicago, I was born and raised in Kenya. Sean was an athlete, I'm business and finance. We met attending Wright State University, and came together to fill this gap in health and wellness that people often don't recognize until they come and try the product.
What's next for Wellness Flow?
Paul: We're looking to bring new services in 2021, and to open a second location in Cincinnati or Columbus. We're also looking for a larger space for our Dayton store.
Popular Categories
Related Stories