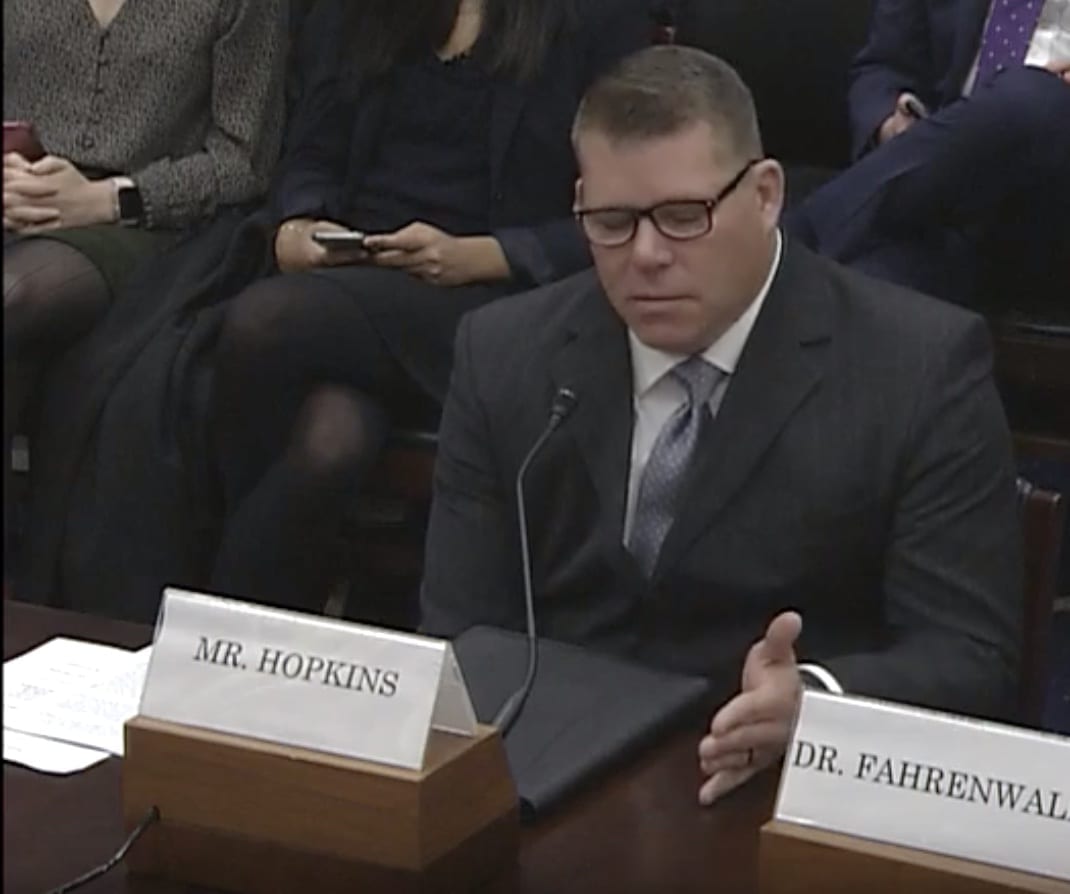 Startup founder Mick Hopkins testifies in front of Congress
November 26, 2019
Dayton startup founder Mick Hopkins testified in front of Congress earlier this month on the opportunities for innovation in healthcare.
"I was there to share how innovations from the bedside can have a global impact," he said.
The True Concepts Medical founder has invented a series of new syringe technologies capable of revolutionizing healthcare across the globe. The first of these technologies, Diversyn, has the potential to reduce false blood cultures by up to 92%. The second, S.A.F.E., can save lives during cardiac arrest by ensuring the proper saline flush automatically follows the administration of epinephrine. The third, RECON, can reconstitute dry powder medications to revolutionize vaccine delivery.
Mick spoke at the Committee on Small Business hearing, "Upskilling the Medical Workforce: Opportunities in Health Innovation," the morning of Nov. 13.
The U.S. faces a shortage of up tp 100,00 doctors by 2030, according to the committee. The panel focused on how to tap new technologies to provide access & healthcare to those in need.
"In rural areas in particular, the medical practices that provide care are small businesses, and as those practices go away, we have to figure out how to cut costs, but still provide quality care, to prevent citizens needing to drive hours to a big hospital system," Mick said.
While much of the testimony focused on teleheath and health IT, Mick encouraged the representatives to find ways to invest in new medical technologies, like Diversyn, that promise significant healthcare savings that could be re-invested into other areas of the healthcare system.
"This is the ideal public-private partnership," he said. "An investment by the government would be pennies on the dollar compared to healthcare savings."
Mick was tapped sit on the panel alongside Dr. Matthew Conti, Orthopaedic Surgery Resident at New York's Hospital for Special Surgery, testifying on behalf of the American Academy of Orthopaedic Surgeons; Dr. Ingrid Zimmer-Galler, Founding Clinical Director of the Office of Telemedicine at Johns Hopkins University School of Medicine; and Dr. Nancy Fahrenwald, Dean of Texas A&M College of Nursing, speaking on behalf of the American Association of Colleges of Nursing.
"It was a pretty amazing, surreal experience," he said of his trip to the capital.
Popular Categories
Related Stories