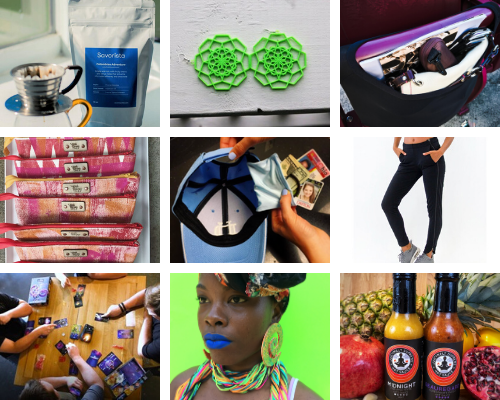 Shop local startups this holiday season — your 2019 gift guide
November 26, 2019
Looking to support Dayton entrepreneurs? Buy from Dayton startups this holiday season! Dayton's growing startup ecosystem offers something unique for everyone in your life, from the foodies & coffee lovers to the game night hosts to the gardeners and outdoors sports enthusiasts. Happy gift giving!
*Want to shop in-person? The asterisk designates local startups who will be participating in our Jingle & Co-Mingle Holiday Party + Holiday Startup Market at The Brightside on Dec. 12!
For that saucy someone:
*Mutt's Sauce — Veteran Charlynda Scales was stationed at Wright Patterson Air Force Base when she inherited her grandfather's secret sauce recipe in 2013. This tomato-based "sauce for every meal" comes in multiple flavors including original & ghost pepper. Snag it from your local Kroger or Dorothy Lane Market.
*JuicyMelt Supreme — Jeffrey & Tracy McElfresh launched their small-batch, hand-crafted hot sauce startup over the summer. They currently offer five flavors, mixing chiles with fruits ranging from peach & grapefruit to pineapple & pomegranate. Order online or catch them at a local market — see their event lineup here.
For the coffee lover:
The Wright Cup & Third Wave Water — The Wright Cup brings the best beans from Ohio roasters into a subscription box, while Third Wave Water — featured on Shark Tank — adds just the right combination of minerals to your water to help you brew the perfect cup of coffee. Purchase a one-time sample pack, or snag a monthly subscription for the coffee lover in your life.
*Savorista Coffee — Gourmet coffee for the caffeine-conscious coffee lover in your life. Founder Kait Brown & her husband, Daniel, traveled the world looking for the best beans for Savorista's craft decaf of low-caf blends. They're up to seven flavors in their online shop, plus gift packages that pair decaf coffee with sweet treats from other local startups like Ella Belle Gluten-Free, featured below.
For the foodie:
*Ella Bella Gluten-Free — Ella Bella began when founder Mandy Groszko's daughter was diagnosed with gluten intolerance. In her search for a chocolate chip cookie both daughter and husband would eat & like, Ella Bella was born. Snag your delicious, gluten-free flour and baking mixes online or at these local retailers.
*Maui Maes — Anna Borchers began her chocolate company on the island of Maui, shortly after the birth of her first child. She has moved to Dayton to be closer to family, but continues to grow the company and use ingredients like fresh macadamia nuts from Maui. Find the sweets in local retailers including Dorothy Lane Market, Whole Foods & Kroger.
*Pig of the Month BBQ — For the BBQ lover in your life, you can't do better than Pig of the Month. From crispy bacon and sausage, to savory pulled pork, to perfectly smoky, tender ribs, Pig of the Month offers it all. Order a one-time gift set or tasting platter, or gift someone a subscription to try a new meat each month. Shop online and remember founder Lea Richards' secret ingredient — the best BBQ is made with love.
For the fitness or outdoors enthusiast:
*SmithFly — Ethan Smith first began designing new outdoor gear in college. His Troy-based company now offers recreation gear ranging from fly fishing & whitewater rafts to floating tents & cabana rafts. Order online.
Edge Cycling Technologies — Physical Therapist Shane Page designed this bicycle seat with comfort in mind. The PhysioSaddle combines biomechanics and anatomical knowledge to create a bike seat that doesn't hurt. It's available online.
Airborne Outfitters — For the outdoorsman or outdoors woman in your life, consider veteran Jason Evatt's Bitterroot, the world's first three-in-one dry bag, that not only keeps gear dry, but also filters water and pumps up an air mattress. Snag one online.
RARE Active — Featuring a patented waistband, Patty Vanderburgh's athletic outerwear pants are designed to be slipped on and off quickly — over shoes, boots & shorts — to quickly get you where you want to go. Perfect for the active woman in your life, the pants are crafted from a fleece-lined, moisture wicking, anti-microbial Italian fabric that will keep her warm — on her way to the gym during a Midwestern winter, on the flight between cold and warm climates, and on the hiking trail before the sun rises to raise the temp. Snag a pair online or at Centerville's Up and Running store.
Neet Seat — Slip this beauty over your stadium seat to store your coat or purse so you can watch the game or enjoy the concert unencumbered. Clap, cheer, eat, and drink in comfort while keeping your personal items clean and protected. Available online.
Handy Hats — Handy Hats are a patented hat with a secret pocket to conceal your ID, credit card, key, chapstick etc. Dani Ruffolo developed the hat in an entrepreneurship class at University of Dayton. Grab one online.
For the gardener:
*Global Neighbor – Global Neighbor founder Jon Jackson is the creator of WeedErase, a new wand tool that uses directed lightwaves to kill weeds, instead of harmful chemicals and herbicides, making it perfect for the green gardener in your life! Order online.
For the game night hosts:
Galatune — For the gamer in your life who loves medieval fantasy and science fiction, snag a Galatune deck. Dreamt up by a 10-year-old Adam Wik, he launched the battle card game — think Super Smash Brothers and Overwatch — nearly two decades later as a student at Wright State. He raised more $20K via a Kickstarter campaign for the initial launch. Grab a copy online.
*Dolphin Hat Games — Founder Dave Campbell is passionate about party games that get people moving, interacting and laughing. Dolphin Hat's first release was Taco Cat Goat Cheese Pizza — stay tuned for a Christmas version! Order online.
For the health & wellness folks:
*Smooch Maquillage — For the lover of a vibrant, bold lip, snag a lipstick or gloss from Jordyn Calhoun's independent cosmetic line, Smooch Maquillage. Colors ranges from pink and red to blue and purple to nude and gray, with finishes from matte to gloss to glitter. Order online.
*Baba Love Organics — Founder Vaniti Byrd is passionate about plant-powered beauty. Her skincare products are made from 100% plant-based organic ingredients, and customers rave. Order online.
*Fox in Socks Soapery — Founder Katie Hall hand crafts small-batch milk & honey soaps. Her favorite part of her business is supporting other small business owners' dreams by sourcing locally. She also launched a storybook line in November to benefit Dayton Children's Hospital. Snag your bar online or at her shop at 2nd Street Market.
For housewares:
*Yetunde Rodriguez Designs — Yetunde Rodriguez's textile products are block-printed by hand. They range from pillows to purses in a variety of colors and patterns. Order online.
*tr3Designs — Trotwood native Trey Hope can whip you up a custom design, in addition to his line of 3D-printed home products and accessories. From earrings to phone cases to key chains to dishes, if you can dream it, he can make it.
Popular Categories
Related Stories