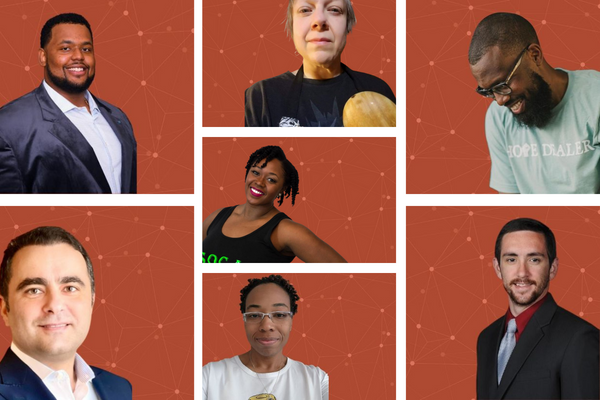 Seven business owners graduate summer 2022 business cohort
October 25, 2022
Seven founders graduated from the summer 2022 Early Risers Academy cohort, with Keenan Woods + Remarkable Ice taking home the win from the culminating pitch competition on Sept. 28.
Keenan fell in love with the summer treat — a twist of both creamy ice cream and refreshing shave ice — nearly a decade ago. But it wasn't until this summer that he decided to quit his day job and make a go of entrepreneurship.
His wife, Roe Wallace, was one of the first Early Risers Academy graduates, and raved about the program. So when he sought out resources to help him with his own endeavor, he too found himself in Early Risers Academy, a free, 10-week, business-building bootcamp managed by Launch Dayton partner Parallax Advanced Research.
"It was a great opportunity a lot of people should take advantage of," he said of the program. "What I really liked was the communication, the supportive environment, and the ability to apply the coursework to different industries. The one-day commitment is feasible for most people. There is a lot of love and compassion, and the feeling of camaraderie is definitely prominent."
Early Risers Academy participants complete Kauffman FastTrac coursework from the nationally-renowned Kauffman Foundation, receive pitch coaching and hands-on mentoring, weekly discussions with successful entrepreneurs and experts, & access to Dayton's entrepreneurial ecosystem.
The bootcamp is designed to take aspiring entrepreneurs from idea to business launch. These workshops can also be valuable for founders early in their small business journey, or who jumped right into their business without formally developing the plans behind it and are now discovering they need some of that paperwork in place to grow.
Other summer 2022 cohort graduates include:
Maranatha Watson, founder of Cabin Fever Confections, bringing you amazing, unique desserts, no matter your dietary restrictions;
Kandace Hunter, founder of Caribbean Sweat Dayton, a health and wellness company inspiring women and girls to reach their goals through Caribbean-inspired dance fitness;
Al Bagiro, founder of Cogo Insurance, an Insurtech product tailored for "Smart Trucking" operations, owner-operators, small fleets and select new entrants;
Omotayo Obayanju, founder of Chipmunk Chronicles, a clothing brand that builds social awareness by telling stories through wearable art;
Gabrielle Little, founder of The scRUMptious Dessert, bringing an old school island classic to the states to create a new cake experience;
Aaron Archibald, founder of Seven Customs, an investment casting business that provides a method of converting wax or plastic parts to a variety of metal alloys.
Curious if Early Risers Academy is fit your you? Learn more & apply for a 2023 cohort!
Popular Categories
Related Stories