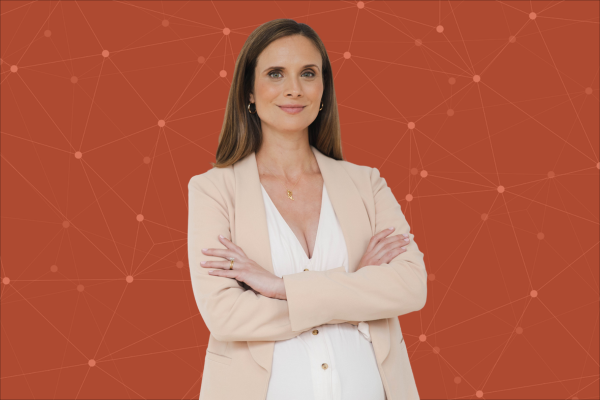 Sarah is changing the game for new moms
April 11, 2023
Lunnie is changing the game for postpartum moms with its new leak-proof nursing bra.
Founder Sarah Kallile was inspired to start her company by her own journey as a new mother. She is one of  eight entrepreneurs to share their stories, and the resources that helped them move forward, in the short documentary "Untapped: Navigating Dayton's Best-Kept Secrets for Entrepreneurs."
The film debuted at the 2022 Launch Dayton Startup Week conference, the region's annual gathering of entrepreneurs and business owners looking to grow their companies and communities.
Giving voice to moms
"There was so much emphasis on pregnancy and the first nine months. Then when I came home from the hospital, I was just clueless in this postpartum phase," Sarah recalled. "And you can kind of see it across the whole spectrum of society."
Moms have 15 prenatal appointments compared to only one 6-week checkup after giving birth.
Paid maternity leave isn't federal policy.
And moms still find themselves dropping out of the workforce due to lack of support, Sarah continued.
"There were all these different aspects of the postpartum experience that I was really frustrated about," she said. "I think sometimes that can be the hardest part for women, going through this and being like, nobody told me how hard it was going to be."
At Lunnie, Sarah wants to tackle this disconnect. And she's starting with a one-of-a-kind nursing bra.
Traditionally, moms — including Sarah — have hated the ugly, frumpy, bulky, beige nursing bras they've been trapped in for months, or sometimes even years, on end, she said.
"It looks like something their grandma would wear, and women don't want to wear this anymore. It kind of just illustrates the state of innovation in the postpartum space," Sarah said.
Enter Lunnie — the chic pink or black nursing bra with a lower neckline and a built-in, patent-pending, leak-proof layer.
In its first days, the prototype bra traveled from porch to porch around Sarah's Oakwood neighborhood in a cute little pink bag. Moms would try it on, then pass the bra to a friend, and the feedback on the bra to Sarah.
"The cool part about being a community-led brand is that moms have been part of this conversation since day one," she said. "Everything from crowdsourcing what my logo is going to look like, or what fabric to choose, or the fit. I haven't created this in a silo, it's very much a community, and I'm just I'm very grateful for that."
Take that first step
"I felt so much imposter syndrome to say, hey, I'm a stay-at-home mom, I've never designed anything before, I don't know anything about apparel manufacturing, but I'm going to make a leak-proof nursing bra, and I hope you all wear it," Sarah recalled.
But when she did finally take that first step, she found a network of business resource providers eager to support her:
Sarah had the idea for her business in January 2021.
In September 2021, Lunnie became a Prospect Academy client at the Entrepreneurs' Center.
Later that month, she pitched her company on stage at Launch Dayton Startup Week.
She went on to join the EC's ESP Portfolio in February 2022.
In March 2022, Sarah launched pre-orders for the first production run, which went on to sell out.
April 2022, she won the University of Dayton-backed Flyer Pitch, taking home $50K in cash + services to infuse into her company.
Then in June 2022, Sarah gave birth to her third daughter.
"It's super challenging, I'm not gonna lie. It is really hard to build a business and your family at the same time. There's just the reality of time constraints," Sarah said. "I think sometimes, as women, we feel a lot of mom guilt. Just recognize that you tapping into your passions, your kids see that, and that is just as valuable as spending time with them. I feel like I'm leading the pack. All these moms are saying yeah, we want something better, and so that's what gets me going every day. And being able to show my daughters that work ethic, and why mommy works.
You just have to take that first step."
Watch the documentary, and tap into the resources that can help you move your business idea forward, at https://launchdayton.com/business-resources/
Popular Categories
Related Stories