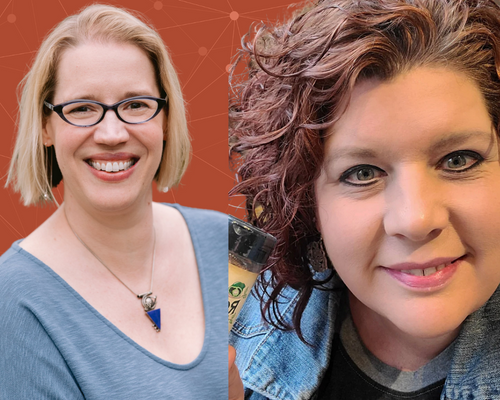 Rosebud's Real Food acquires Ella Bella GF
November 1, 2022
We tell budding entrepreneurs to build their business with an exit plan in mind, but most new business owners don't know what that looks like.
Ella Bella Gluten-Free founder Mandy Groszko wasn't sure herself — until she decided to sell her business after 11 years. Effective spring 2022, Ella Bella became a product line of Rosebud's Real Food and its founder, Amber Stephenson.
Covid took a toll on food businesses everywhere, Mandy recalled. It was becoming harder to find time with her kids as they got older. And she landed a dream job doing digital asset management for the Ohio State University.
It was time for a change.
"I didn't always know what my exit plan looked like, but I always knew in the back of my mind that there was a way out, that you don't have to continue forever and ever," she said. "I realized that it had been a good year and a half since I'd enjoyed Ella Bella, since I'd looked forward to going to the kitchen. I knew I couldn't take it where I wanted to. I could have just closed, but there was a good customer base for the product, and I didn't want to take that away from those customers."
So she pinged a few folks, including fellow founder and then-customer Amber.
"We had very similar business philosophies about our products, why we offer gluten-free, why we use clean ingredients," Mandy recalled. "The cosmos aligned, and she said yes."
Where Mandy launched Ella Bella to support her daughter, Amber similarly launched Rosebud after she learned how food was affecting her anxiety and depression. She began with a few seasoning mixes and butter. Her product line grew as a direct response to customer requests for new seasoning blends, she recalled.
Amber began carrying Mandy's products in her vendor space in 2nd Street Market. Amber's gluten-free daughter, Megan, said the Ella Bella mixes were the best gluten-free product she'd tried.
"When Mandy reached out, I was honored, I knew she had a great business," Amber said. "I feel like a big kid now — this is my first time purchasing another product line."
Amber plans to keep the Ella Bella name and brand. She's testing new packaging, but the products won't change, she said.
Amber is also looking at a larger processing facility for Rosebud, in part as a result of the Ella Bella acquisition.
"Most food entrepreneurs don't last past five years," Amber said. "Mandy made it past that, and built a wonderful brand and product."
Get your Ella Bella fix at the Rosebud's Real Food stand at Second Street Market, at Rosebud's Piqua location at 122. W. High St., and online at www.rosebudsrealfood.com.
Popular Categories
Related Stories