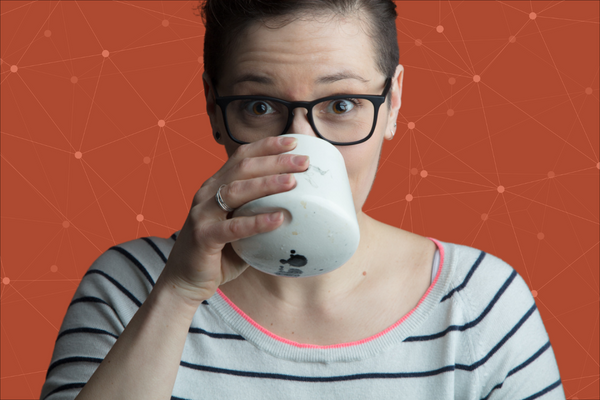 Réka will make your brand the best it can be
March 14, 2023
Paperreka founder Réka Juhász wants to help you make your brand so damn good you can't wait to share it with the world.
After connecting with the Launch Dayton community on IG, then following the weekly newsletters for awhile, she signed up for the fall 2022 cohort of Entrepreneur Rising Academy so she could spend some time working on her business, instead of just in her business.
We recently caught up with Réka to learn more about her journey and her program experience.
Launch Dayton: Introduce yourself — who are you and what is your company?
Réka: I'm Réka Juhász, and I own paperreka, a boutique branding experience that helps sort out your brand DNA with a compelling visual identity system through self-discovery, brand excavation work, and anti-hustle mindset.
How did your company start?
Paperreka started as a side gig to create invitations and stationery to make extra money while I worked at a non-profit museum. It quickly escalated to owning several letterpress machines and working around the clock, but it was a natural extension of my day-to-day graphic design job. I loved creating things from just an idea, all the way to selecting the paper and printing it, one color at a time. By the time I was a full-time designer at an agency in downtown Dayton, it was clear — I liked thinking about the beginning, middle, and end of a project. As designers, we are often just the people who make things look more organized or pretty. At my core, I knew I was part thinker, strategist, project manager, and designer. When I took on paperreka as my full-time job, the more brands I worked with, the more clear it became that I was able to help my clients get clear on their brands, and then I was also perfectly positioned to execute and implement their brands visually to match the value of their goods and services.
Why this idea?
When your brand and story have a beating heart, and a lung full of fresh air — it is impossible not to fall in love and connect with it.
Did you always want to be an entrepreneur?
I'm a rebel at the core, so I guess didn't always want to be, but makes sense that I am. My values are beauty and freedom, and there's nothing more amazing (to me anyway) than being my own boss.
How was your Entrepreneur Rising Academy experience?
As someone who has been working in my business for years, it was lovely to be working ON it. The community was real, sharing our struggles and triumphs was so powerful — we had the best cohort.
The Launch Dayton community values are: Be Bold; All Are Welcome; People First; Give First; Remove Barriers. How do you embody one or more of these values?
I have boldly branded some amazing local brands in Dayton, like Babalove Organics, Space 3, Rye Camp, Speakeasy. I have a niche with branding mostly eco and wellness brands, but if you dig my style — I'm happy to work with you.
What identities or life experiences do you bring to entrepreneurship that helped prepare you for this lifestyle?
I was born and raised in Hungary, so always being the underdog, or not your stereotypical xyz, has taught me to pay attention more so I can cut through the bullshit and do better. I am also a certified yoga teacher. To walk the walk of brand clarity, I no longer teach, but learning how to move my body, meditate, sit still, and feel the feels is pretty critical to being a balanced entrepreneur.
What is the biggest barrier you've faced on your entrepreneur journey?
I honestly feel really privileged. Whatever hardships I may have had, nothing pops into my mind as the biggest barrier, so I feel really lucky to be operating my business in a community like Dayton, Ohio.
Why do you love what you do?
It goes back to my core values. I love creating brand identities that are just so damn good that you can't wait to share them with the world.
How can the Launch Dayton community support you?
Send me all the people who want to rebrand themselves.
What advice would you offer fellow or aspiring entrepreneurs?
Popular Categories
Related Stories