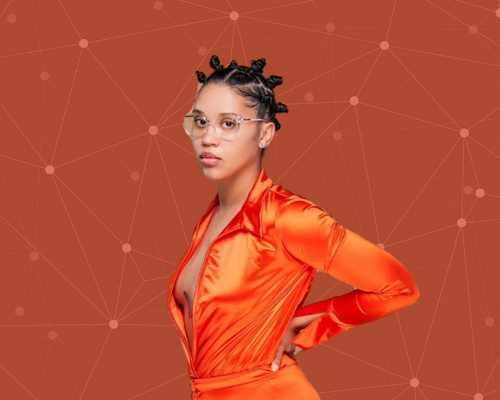 Paying Tribute and Paying it Forward: D. Foreman Frames 
November 1, 2022
By Meghann Naveau
Entrepreneur Ja'Cole Tabor has long believed sunglasses are one of the best accessories, and she turned a lifelong passion for beautiful eyewear into her business, D.Foreman Frames, in 2018. Ja'Cole was the second place winner at the spring 2022 Retail Lab Pitch Competition, and she's looking forward to bringing new options for eyewear to customers in Dayton and beyond. 
Meet Ja'Cole: Why Sunglasses and Who's D. Foreman? 
Ja'Cole: I got started in business because I wanted to pay tribute to my grandmother. She was a phenomenal woman, and as I thought about what to call this business I felt so passionate about, it seemed really fitting to honor her through the name.
Sunglasses and eyewear have always mattered to me. I started wearing glasses in second grade, and they were a way I could express myself and be creative. Even after I had corrective eye surgery, sunglasses still provided that creative outlet for me.
Retail Lab: Learning and Pitching
I discovered the Retail Lab program through a friend and former coworker; she's been a champion of my business and really helpful with sending me information she thinks might be useful for me.
Honestly, the Retail Lab program was even better than I hoped. I wasn't sure what to expect, but all of the instructors shared such good information, and even if I was familiar with a topic, there was still a lot I could learn about what resources were available and different things I could try to grow and evolve my business. I'm glad I did it!
I was pretty nervous before the pitch competition; I didn't want to overthink it, but I also wanted to do my best. A friend told me shortly before the pitch to go in and be myself. After all, I am my business in many ways. I went in as my authentic self — and it paid off!
I used my earnings from the competition to invest in additional banners and marketing materials for my popup shops, and I worked with another local business to produce the items. It feels good to be able to support other entrepreneurs and local founders!
Made for Everyone: A Comprehensive Offering and Collaborative Approach 
My business offers glasses for literally everyone. We carry glasses that are designed to be unisex, as well as some that are more traditionally for men and for women and even kids. I always encourage people to try on a few pairs so we can find what really works well and fits the look they want.
If you see me out in the community, please say hi! One of my favorite things about being a business owner has been connecting with other entrepreneurs and community members. I've had so many people champion me and my business, and I really love the collaborative spirit here in Dayton.
Check out Ja'Coles' latest offerings at her website: https://www.dffbyjrenaye.com/
Curious if the Downtown Dayton Retail Lab is a fit for you? Learn more and apply for a future cohort here.
Popular Categories
Related Stories