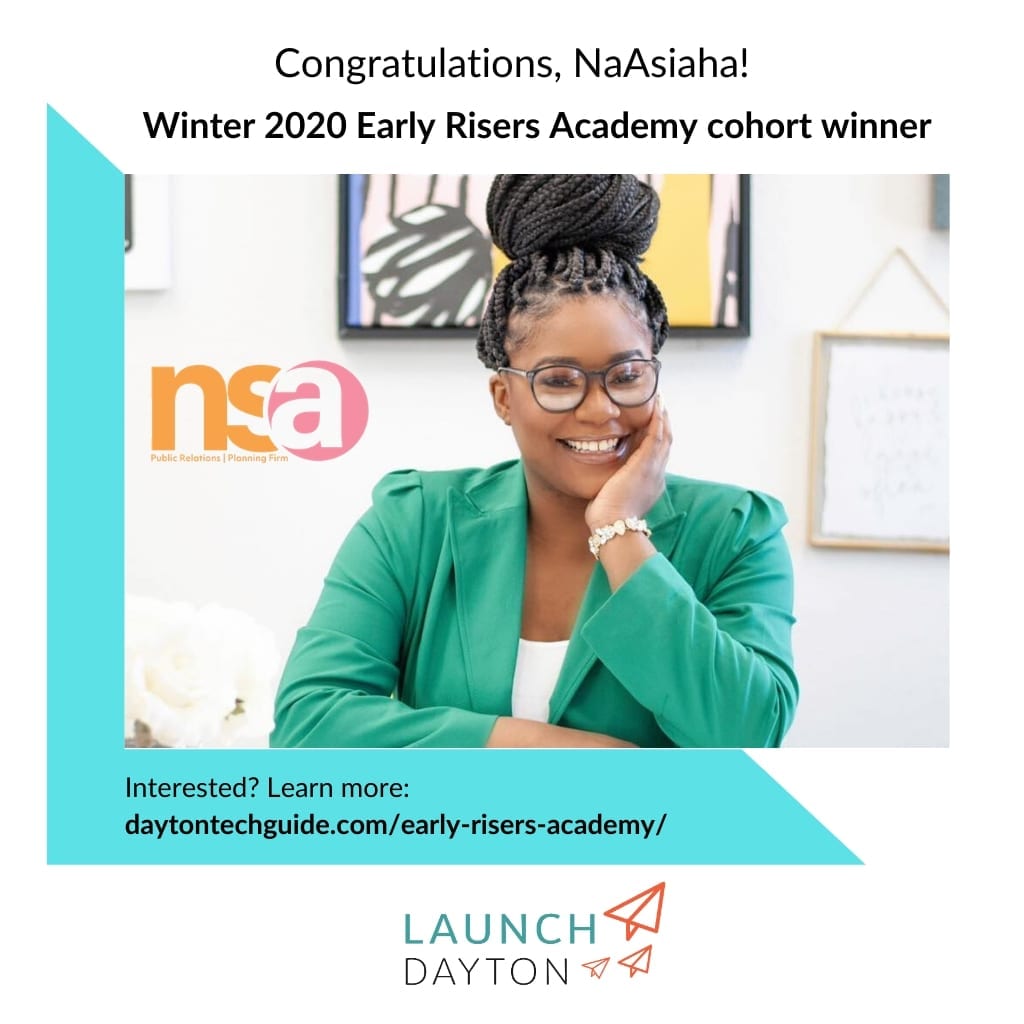 NaAsiaha Simon & Associates wins Early Risers Academy cohort pitch
May 22, 2020
Thursday night, NaAsiaha Simon, founder of NaAsiaha Simon & Associates won her Early Risers Academy cohort's virtual pitch night, taking home $1K.
NaAsiaha Simon & NaAsiaha Simon & Associates is a public relations and planning firm that represents businesses and organizations, using strategy and innovation to promote and protect each client's brand and reputation. She has worked with national brands including Basketball Wives of LA, as well as local brands including Canary Consulting, The Oregon District Business Association, Arcani Coil Care, Wilberforce University & the Dayton Young Black Professionals.
"This is the best crash course I've ever taken in my life," NaAsiaha said of the Early Risers Academy pre-accelerator program. "I recommend every business owner to do it."
Early Risers Academy is a free, 10-week, pre-accelerator program designed to take participants from business idea to business launch. It is run by a team from Launch Dayton partner Wright State Applied Research Corporation.
Participants complete Kauffman FastTrac coursework from the nationally-renowned Kauffman Foundation, receive pitch coaching and hands-on mentoring, weekly discussions with successful entrepreneurs and experts, & access to Dayton's entrepreneurial ecosystem.
These workshops can also be valuable for founders early in their small business journey, or who jumped right into their business without formally developing the plans behind it and are now discovering they need some of that paperwork in place to grow.
Other winter cohort graduates included:
• Dana Graham & Scripted in Black , an exclusive multi-disciplinary arts collective currently serving the Dayton area. We center the work + collaboration of unconventional creatives of color through the curation of experiential installments a year.

• Joanna McGuffey & Unconventional Works, a boutique consulting firm serving bold leaders and teams who desire meaningful impact and change for workplace wellness through custom plans and intensive workshops.

• Sonya Ware & The Ware Consulting Group, LLC (WCG) , an educational consulting, training, and coaching firm that provides entertaining educational workshops to educators in various fields within Ohio and the surrounding areas.

• Deandre Penny & Pinpoint Carpet Cleaning, LLC, a Dayton-based carpet cleaning company which aims to bring cleaner carpets, cleaner furniture, and cleaner homes to the Dayton area.
"Early Risers Academy is designed for aspiring founders in any industry," Project Manager KeAnna Daniels said. "We're particularly excited to work with more women and minority founders."
Learn more & apply for an upcoming Early Risers Academy cohort here.
Popular Categories
Related Stories