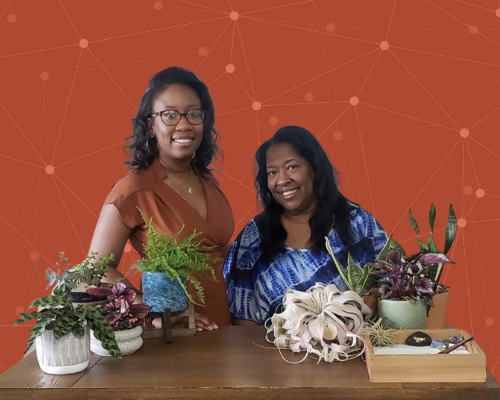 Mother-daughter duo achieve zen through plant-focused biz
June 15, 2021
By Katie Aldridge
Mother-daughter duo Paula Willis & Alleah Cooks partnered to bring a different, relaxing experience to the Dayton community — Now and Zen DIY Studio is a place where people can go to create terrariums, zen gardens, and fairy gardens with a variety of different vessels, plants, and embellishments.
Paula was a cohort member of the inaugural Downtown Dayton Retail Lab, a 12-week bootcamp designed to help business owners advance their first-floor concepts. The Retail Lab is powered by Launch Dayton partner Downtown Dayton Partnership.
We recently caught up with Paula to learn more about her business and her experience in the Retail Lab.
Launch Dayton: How did your company start?
Paula: Alleah and I started making terrariums as a relaxing hobby. After a while, we decided to set up a shop in 2nd Street Market to sell them. We only sold them on Saturdays, but after a couple years, we moved into a permanent, three-day vending spot. Within our time there, we started doing workshops. They were well received, but we were renting spaces to hold them. We saw that as an opportunity for our business to grow.
Why this idea?
I think it is a good, niche business idea for the Dayton area. There are businesses like this in larger markets across the country, but there is nothing quite like what we do here in Dayton. It's a place where people can really let their creative energy flow. We wanted a place where people could come, relax, and laugh with their friends. We saw an opportunity to offer the community something creative and interesting.
Did you always want to be an entrepreneur?
I have been an entrepreneur most of my life. My daughter has seen me be self-employed and an entrepreneur for many other businesses. I worked as an interior decorator many years ago, and I had my own design studio. I did that for a couple years and then I transitioned from that to real estate. I was a real estate investor for about 20 years. It's in my blood, so now it's in my daughter's blood, too.
What identities do you bring to entrepreneurship that helped prepare you for this lifestyle?
One is having an appreciation for nature and art and a combination of those two. I have always enjoyed the arts, and I raised my daughter to love them as well. We brought those interests to the table. Since I have a background as an entrepreneur, I brought some of the fiscal experience and business knowledge. I know what it takes to try and build a successful business.
What is the biggest barrier you've faced in entrepreneurship?
Dayton, especially downtown, does not make it easy for businesses to sustain themselves. Sometimes, it is just not enough customers. The different entities in Dayton do what they can to get people downtown and feel comfortable downtown, but we – collectively – do not receive a lot of traffic. It just isn't like what you would see in another major city.
Why do you love what do you?
It doesn't seem like work. Sometimes we work long and hard, but we enjoy it. We work with happy people. Our customers are happy people: they come in here to be happy and they're happier when they leave. We work with people who want to be here and it's relaxing. It's fun to create with nature! It is so much fun to see how creative people can be.
How was your experience with the Downtown Dayton Retail Lab?
It was great! We learned so much through all the different presenters they had. They were so wonderful with helping us grow as businesspeople while we were in the Lab. It was a really good opportunity for us. We were very grateful to be selected.
How can the Launch Dayton community support you?
Drop in and say hi! Once you come in and see what we do, our business speaks for itself. The whole concept can be explained but some people don't really get it until they come in. I think they'll be pleasantly surprised with what they'll find.
Learn more about Now and Zen DIY Studio online and follow Now & Zen DIY Studio on Instagram.
Curious if the Retail Lab is a good fit for your business? Learn more and apply here.
Popular Categories
Related Stories