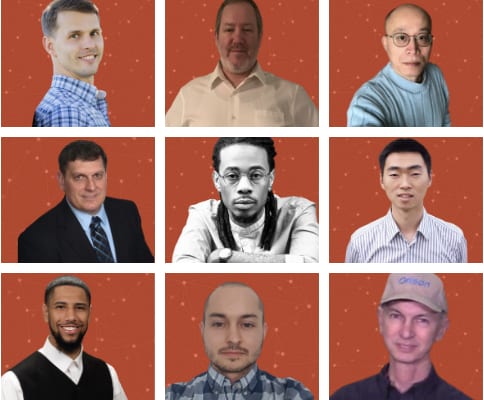 Meet the 2021 Early Risers Academy tech cohort
February 9, 2021
The 2021 Early Risers Academy tech cohort kicks off today with nine founders gearing up to move their startups forward.
Participants will meet virtually for the next 10 weeks to explore an array of topics specific to STEM-focused entrepreneurship, such as prototype development and how to design to appeal to end users and for large-scale manufacturing. The program will also cover facets of business management and financing pertinent to startups, such as how to secure seed and early-stage funding and different modes of venture capital investment, including non-dilutive capital acquisition. Cohort graduates will pitch for $1K.
The Early Risers Academy program is managed by Launch Dayton partner Parallax Advanced Research with funding from the Department of Defense Office of Economic Adjustment & Ohio Third Frontier's Entrepreneurial Services Provider program. One of the goals of the Early Risers Academy tech cohorts is to prepare area entrepreneurs for the Entrepreneurs' Center's Entrepreneurial Services Provide program.
"From Air Force and university research labs to urban kitchens and garages, innovation is a force in the Dayton region," program manager KeAnna Daniels said. "Our diverse entrepreneurs are developing new technologies and processes, and we're excited to offer these tech-focused cohorts to help them reach the world."
The Early Risers Academy tech cohort is helmed by Eric Wagner, Converge Technologies' founder and chief strategy officer, and CEO of Converge Ventures, a high-tech start-up model that helps early stage companies fund, develop, and commercialize their products.
An experienced instructor and mentor to engineers, Eric has served as the associate director for the Center for Design and Manufacturing at the Ohio State University and as an adjunct instructor for the I-Corps@Ohio program.
"The ultimate goal of the program is to identify burgeoning high-tech projects that have a strong fit with current market needs and help those programs come to fruition," Eric said. "The Dayton region is known for their innovation and we are excited to support the growth of technology start-ups in the region."
The first Early Risers Academy tech cohort ran in April 2020. Luis Estevez, founder of AIMM, won the cohort's pitch competition for his work to develop a self-disinfecting N95 mask.
"Early Risers Academy is what turned me from a scientist into an entrepreneur," Luis said. "People focus on the end of the story, how entrepreneurs break the mold, but you have to know the rules before you can break them. Early Risers Academy is this wonderful, concentrated course of entrepreneurship 101 that teaches you the lingo, how things are done. It brought different skill sets to give my company a higher degree of success."
Participating in this year's Early Risers Academy tech cohort are:
Trey Hope, founder of Critic, a social media app for the movie buff;
Yuxing Wang, founder of an as-yet-unnamed company developing next-generation solid state batteries for electric vehicles, aerospace and other applications;
Blair Jackson, founder of Orison Corporation, commercializing a product line of light, portable electric vehicles;
George Xiao, founder of Microcvd Corporation, developing a new process to 3D print metallic materials;
Matthew Weltman, founder of LightHouse Avionics, developing an integrated network of UAV command and control systems for commercial use;
Erich Zahn, founder of an as-yet-unnamed company developing a robotic chef that can mass produce meals;
Michael Doran, founder of Innovative Laboratory Solutions, providing safe and efficient disposal of laboratory test tubes;
Richard Lonado, founder of Defense & Energy Systems, LLC, developing a process for integrated sensors into printed molds;
David Maurer, founder of Green Zero Energy, developing a mobile auxiliary power station to generate green energy.
Wonder if Early Risers Academy might be a fit for your business? Learn more here.
Popular Categories
Related Stories