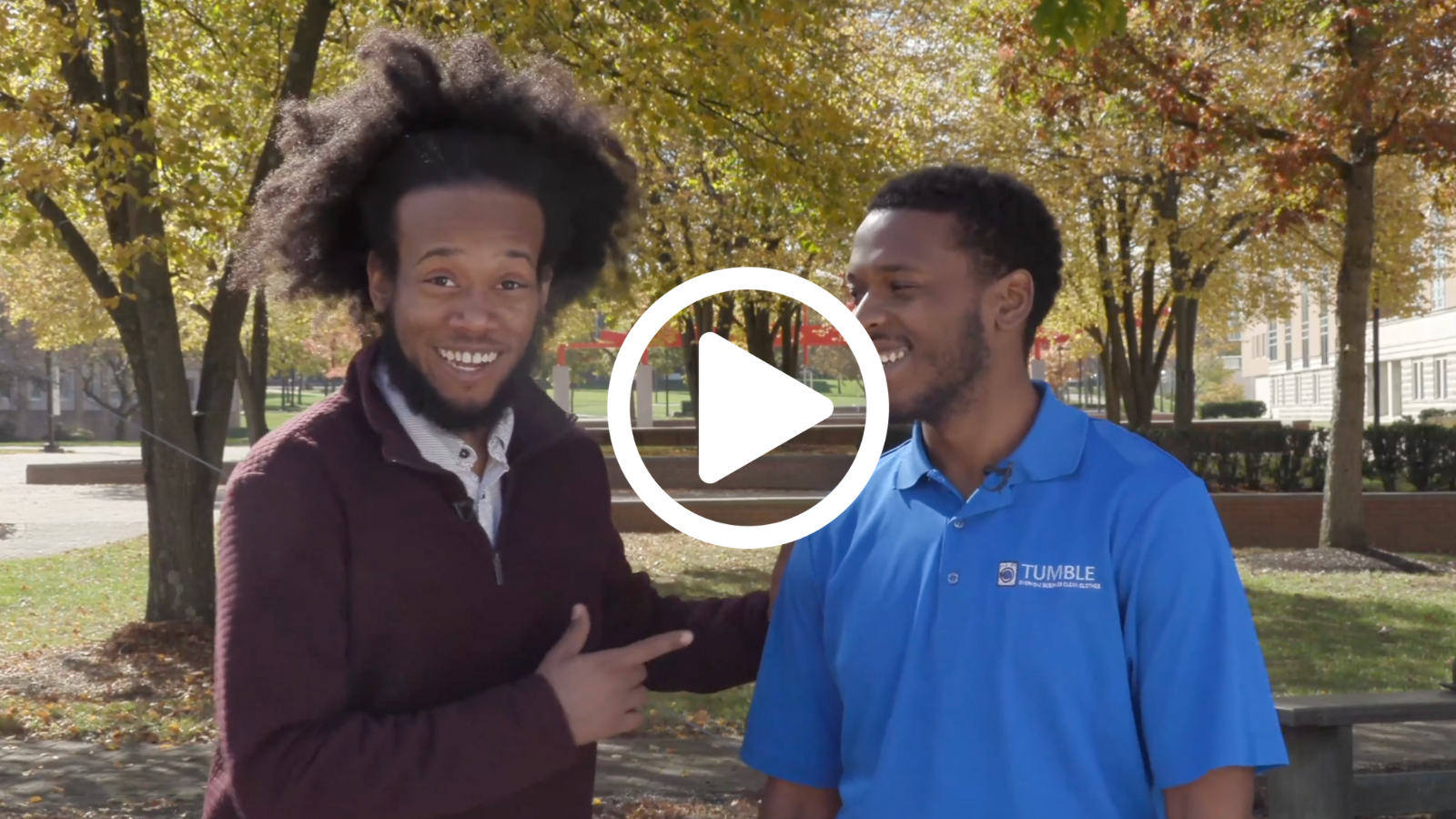 Meet Jeffrey & Charles, laundry gurus + big dreamers
November 17, 2022
There's no one way to be an entrepreneur.
You don't have to look a certain way, operate in a particular industry, pursue specific education, grow up in a particular household, or spend your free time nurturing any particular hobbies — entrepreneurs grow from all walks of life.
In a new video series we are excited to launch today, entrepreneurs, founders, and small business owners from across the Dayton Region share their individual stories in order to break down those pervading stereotypes about who can or can't be an entrepreneur.
They proudly declare, "I Am an Entrepreneur" — and you can be, too.
Save some time for family and friends this holiday season — let Tumble handle your laundry chores.
Founders Charles Wheeler III and Jeffrey Caldwell II started researching the idea for the on-demand laundry service while they were college roommates at Miami University.
"He'd just got off of work, still had a lot of laundry and a lot of other chores to do, and he was like, 'Jeffrey, what would it be like if there was actually a business that took care of all your laundry, your wash and fold, you know, and put it all in a nice, neat, packaged bag for you, and left it at your doorstep?'," Jeffrey recalled. "I was like, Charles, that could be us, that's a brilliant idea!"
As the pair begin researching, they discovered laundry was a multi-billion dollar industry, he said.
"That got us really sparked up and interested in the whole business," Jeffrey said.
After graduating from Miami University, both men returned home to Dayton and launched Tumble, offering wash, fold & dry-cleaning services, available via pickup and delivery.
"There's a lot more entrepreneurs here than people will believe there to be, and so it's good to be a part of a community full of entrepreneurs," Jeffrey said. "And it's a growing market. We have everything almost at our disposal, it's like our little playground to go ahead and get ideas worked out in real life."
'The sky is the limit'
Both Jeffrey and Charles dabbled in entrepreneurial endeavors as kids.
Charles cut grass, shoveled snow, washed cars, sold Kool-Aid at summer camp.
"I definitely knew I had the knack for finding ways to make money outside of a job to supplement myself," Charles said. "Being able to take the reins and freedoms into my own hand for how much I make each year and what my workload looks like for a day, that definitely made it more enticing to me."
Jeffrey also used to cut grass, as well as clean out garages to supply an Ebay shop.
"It's always been a really big passion of mine, owning my own business, and it's funny now to think like, at a younger age, this was my dream, and now my dream has come true to a certain extent," Jeffrey said.
Resiliency is key to that entrepreneur life, Charles said.
"That's part of the game, you're going to get knocked down a couple times, or things aren't going to work out the way that you exactly planned for them to work out," he said. "It has definitely pushed us out there to be more confident in our abilities and just tap into the resources and networking that we have. The earlier on in your life that you make mistakes — and figure out how to bounce back from those mistakes — the more wisdom and resilience you'll have down the line."
The sky is the limit, Jeffrey added.
"Only you stand in your way. Only you can dictate how far you'll go," he said. "There will definitely be haters and naysayers on the way, but they're not the ones putting in the work. Only you can lead you to your dreams."
"I'm Charles Wheeler III — and I'm Jeffrey Caldwell II — and we are entrepreneurs."
Popular Categories
Related Stories