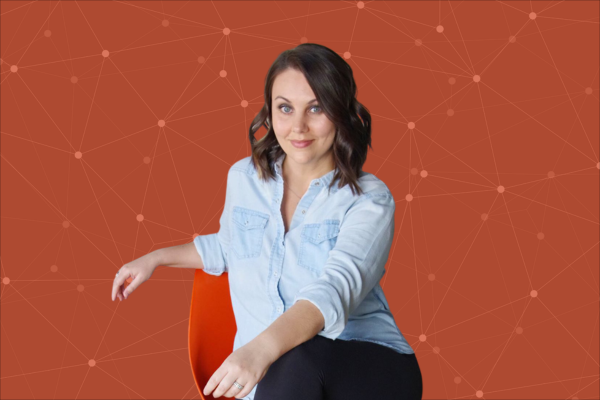 Leslie aims to bring Dayton's top brands under one roof
April 11, 2023
Serial entrepreneur Leslie Klenke was sitting at a bar with her husband a few months ago when she dreamt up her latest business endeavor.
LOCALHAUS is an artful retail concept that aims to curate multiple Dayton brands under one roof. And it's coming to Dayton this summer.
Leslie is a graduate of the winter 2023 cohort of Entrepreneur Rising Academy, a 10-week business-building bootcamp powered by Parallax Advanced Research. We recently caught up with her to learn more about her journey.
Introduce yourself — who are you and what is your company?
My name is Leslie, and I'm a serial entrepreneur. I operate a boutique design + marketing studio where I help solopreneurs and small businesses flourish through brand strategy and visual storytelling. My newest business venture, LOCALHAUS, is an artful and elevated retail concept curating multiple Dayton brands under one roof. We work hand-in-hand with local products-based businesses to create an artistic pop-up experience that evokes awe and childlike wonder in everyone who enters our space. It's our goal to make opening a physical store as easy (and affordable) for small business owners as it was to open their online shop.
How did your company start?
In classic serial entrepreneur fashion (just four short months ago), I was dreaming up new business ideas at a bar with my husband. I thought about how much fun it would be to open a brick-and-mortar, but the astronomical rent, long-term commitment, and high risk of failure immediately discouraged me from falling in love with the idea too much. Frustrated and full of FOMO, I thought about a hairdresser friend of mine who rents a salon suite, and I thought to myself—why don't they have "salon suites" for retail businesses?! And that's when the initial concept for LOCALHAUS was born!
Why this idea?
The more I explored the idea of LOCALHAUS, the more I realized how much something like this is needed in Dayton. I've connected with so many incredible small businesses and entrepreneurs who want to see more opportunities for their growing brands that I know I'm on the right track. The feedback and encouragement so far have been phenomenal.
Did you always want to be an entrepreneur?
The entrepreneurial gene is in my DNA, and I was lucky enough to witness my mom and countless family members run successful businesses growing up — one of which I worked for! Extra love goes to my mom, Teresa, who passed away in 2019. As a single mom of two, you took us from government-assisted housing to living a very blessed life. I'm everything I am because of you. I love and miss you dearly.
The Launch Dayton community values are: 1. Be Bold 2. All Are Welcome 3. People First 4. Give First 5. Remove Barriers. How do you embody one or more of these values?
I have two mottos I live by both personally and professionally: "Be generous with my time" and "Everyone has a place at the table." These values are in total alignment with "Give First" and "All Are Welcome." No wonder I love Launch Dayton so much!
What identities or life experiences do you bring to entrepreneurship that helped prepare you for this lifestyle?
Literally, EVERYTHING in my life has prepared me for this lifestyle. At 18, I started freelancing, designing graphics, and installing vinyl decals for local Dayton businesses. Then at 22, a few friends and I started a nationally distributed indie music magazine sold in Hot Topic, Barnes & Noble, and FYE. When I was 25, I moved to Los Angeles, where I worked as an Art Director for an apparel company. (My "claim to fame" as a designer was designing a shirt worn in the Justin Bieber "Baby" music video—which has seen 2.9 billion views!) At 30, I got a book deal and published my first book, Paleo Girl. (Check it out on
Amazon
) At 35, I started my marketing consulting business. I just turned 40 last month, and I'm so excited to see what the future holds for my entrepreneurial journey!
How did you get connected to the Launch Dayton community?
I found out about Launch Dayton through a friend, Casey Telger. I discovered that Casey had been a presenter at Startup Week, and I started following Launch Dayton on Instagram. From there, I learned about ERA, and the rest is history!
And how was your Academy experience?
I absolutely loved the program! It kept me accountable and provided me with the momentum and encouragement I needed to make things happen — fast! Plus, the connections I made with my peers were invaluable. These humans are truly friends for life! We've all stayed in touch and continue cheering each other on in our business ventures.
What is the biggest barrier you've faced on your entrepreneur journey?
I used to pride myself on being a one-woman show. I've worn A LOT of hats and have a wide array of skill sets. Now, I see "wanting to do it all" as a big barrier (hello burnout!), and I'm opening myself up to support and partners because as my business visions get bigger, it's going to take a village!
Why do you love what you do?
Let's get one thing straight — I don't ALWAYS love what I do! There have been many sleepless nights where I wish I could be content with a 9-to-5, but I'm just not wired that way. But what I love most is the abundant creativity, freedom to make choices, the time/location flexibility, and the feeling of accomplishment when a vision comes to fruition. Those moments make all of the sleepless nights worth it.
How can the Launch Dayton community support you?
I'm currently accepting applications for new branding + marketing clients. For more information about my services or to connect with me,
Instagram
is where I'm most active! And since I love the Launch Dayton community so much, I'd like to offer
10% off any of my branding packages.
No code is necessary. Simply tell me you found me through Launch Dayton!
Also, please spread the word about LOCALHAUS and
join our newsletter
to stay in touch and up-to-date!
What advice would you offer fellow or aspiring entrepreneurs?
Utilize the abundant FREE resources and opportunities available right here in Dayton! Sign up for Launch Dayton's newsletter and attend events like LaunchPad or apply for the next cohort of Entrepreneur Rising Academy. Sign up for a free SCORE mentor and get the 1:1 support you need in your business. Attend an SBDC webinar or network at one of the many events held at The Hub. There's a massive entrepreneurial community in Dayton that's here for you — including me! Feel free to reach out to me and say hi anytime. For realsies, I'd love to connect with you.
Popular Categories
Related Stories