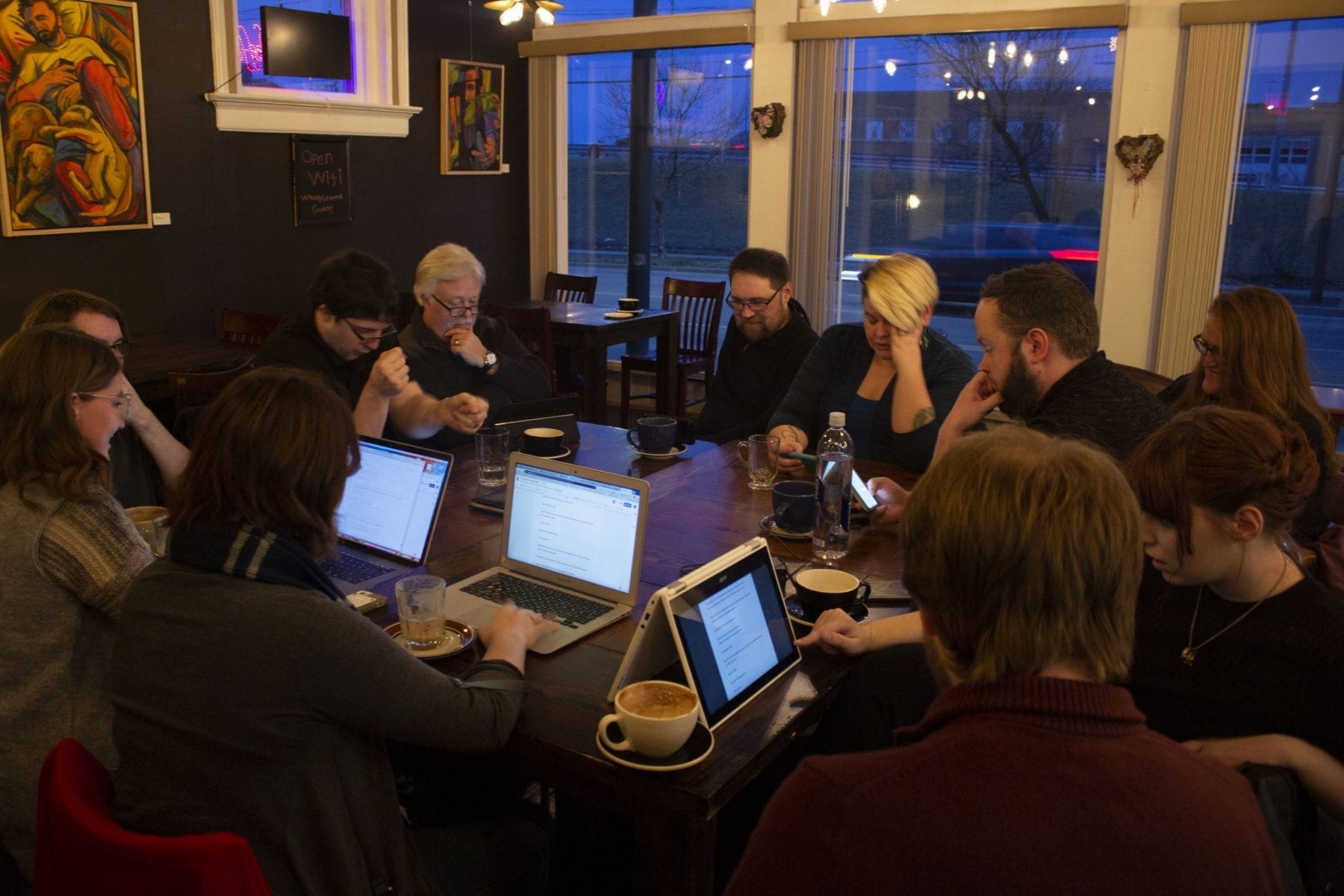 Kickstarter launching for Dayton startup's audio drama
March 10, 2020
In an alternate 1989, two mechanics show up for work at the doomsday bunker where they take care of 1100 people who were rich enough to be cryogenically frozen when the Cold War turned hot. But on this day, the mechanics discover that someone is awake.
Intrigued? Back Dayton startup Corvus Audio's Kickstarter campaign to record and launch the Cold Storage podcast.
Cold Storage is the brainchild of sibling pair Savannah & Harrison Webb. Savannah is freelance audio editor turned founder of podcast production co Corvus Audio. Her younger brother, Harrison, is a recent Ohio University grad & screenwriter with a handful of short films under his belt.
The idea for the podcast was born over margs to celebrate Harrison's 21st birthday; he tossed out ideas for his next screenplay, and one plot line stuck with Savannah, so when Harrison moved back to Dayton after graduation, she pitched the idea to produce it as an audio drama.
"We've never collaborated on this scale," Savannah said. "It's cool to have this opportunity at the beginning of our careers to do this project together and build our portfolios."
Cold Storage's first season will have 12 episodes, and feature a slew of local talent. The nine cast members are all from southwest Ohio, the podcast's music is composed by Dayton musician ISICLE, and the cover art was created by Dayton artists Tyler Mackey. The genre is part sci-fi mystery/suspense & part workplace humor.
The pair seeks to raise $12K to fund production of the first 6 episodes, with stretch goals up to $20K for all 12 episodes, plus two bonus mini-episodes. The campaign will launch Wednesday, March 11 and run for about a month.
Kickstarter tiers range from $5 for a thank you message to early access, to $2000+ to be a series sponsor. Between are levels that get you your own ARK 5 Resident Hibernation kit (everything you need to know before you're cryogenically frozen, $30), Cold Storage T-shirts ($45), and tickets to the Oct. 21st Cold Storage live premier & q&a with cast and crew at The Neon ($60).
The duo aims to record the podcast in late April/early May and release it in October.
Savannah has been editing audio for about two years. Currently, the bulk of her work is with business and organizations offering interview-style content. She hopes producing Cold Storage will open some new doors.
"This is closer to what I want to be doing," she said. "It's awesome to get to do something creative & fun. I hope it will lead to more projects like this in the future."
Her collaborators come from the network she has developed within the Launch Dayton community.
"They're people I kept seeing at events," she said. "I was impressed with their work, so I hired them."
For Harrison, the bulk of his work exists on paper — he's excited for this project to be out there, for others to listen to and engage with.
Click here to support Savannah & Harrison's Kickstarter, then head over to Facebook, Twitter & Instagram to keep up with Cold Storage.
Popular Categories
Related Stories