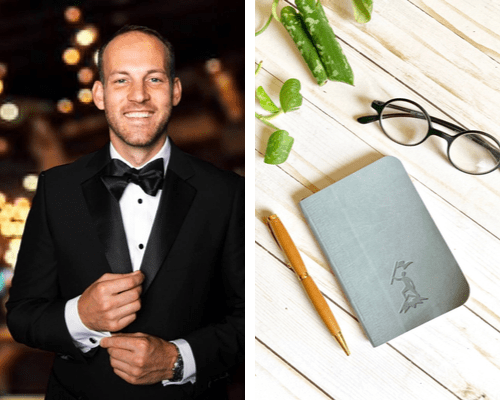 Kickstarter launch Sunday for goal-tackling pocket journal
October 15, 2019
Daniel Huiet has owned six different businesses & read 50 different books on building habits.
On Sunday, he'll launch business #7 with a Kickstarter launch party for the StartHere Challenge notebook, a vegan leather-bound pocket journal designed to enable the user to accomplish a new goal in 30 days.
Daniel developed the Challenger notebook in partnership with his sister, Heather Harrall & his mother, Kathy Kreis.
"I wanted to get my sister & mom involved in entrepreneurship," he said. "I don't want to work for anyone else, and I don't want them to, either."
Heather has a masters degree in mental health and stepped away from her career in nursing to raise her three children, Daniel said. She was deciding how to go back to work.
She loves bullet journals. Daniel is a self-described expert at tackling goals. So it was only natural to combine these two worlds, he said.
On the right page is a daily planner — the user must write out what obstacles they'll face and how they intend to handle those obstacles. On the left page is a technique or strategy to help the user create new habits in order to reach their goal. These tactics range from focusing on being grateful to shutting off digital notifications to learning how to say no — the most valuable tips & tricks he gleaned from those 50 books on habit-building he read while traveling the world last year, he said.
"The whole point of the Challenger is to help you start. You have to get up the hill to get that momentum," he said. "Even if you just master one technique, you're on your way."
There are over 100 different questions built into the Challenger notebook, which will be printed right here in Dayton, Daniel added.
Join Daniel Sunday, Oct. 20, at Wild Axe Throwing, 3251 Seajay Drive, Beavercreek, to help him kick off this new business. Doors open at 11:30a, and the Kickstarter will launch at 12:30p.
Daniel's goal is to get the pocket notebook in backers' hands by Jan. 1, 2020 to help them slay their New Year's goals, he said.
Popular Categories
Related Stories