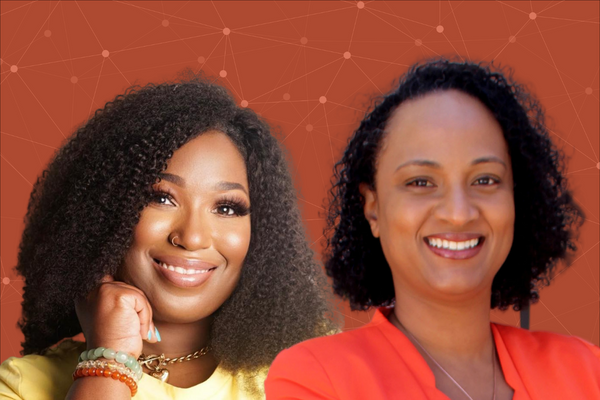 Jocelyn and Jasmin specialize in spiritual wellness
February 21, 2023
Childhood best friends Jocelyn Weaver and Jasmin Young were both planning wellness businesses when they decided to join forces. Urban Bliss is now a one-stop shop for spiritual and wellness tools.
Jocelyn tapped into the Launch Dayton community via the weekly e-newsletter, which led her to Parallax's Entrepreneur Rising Academy and Greater West Dayton Incubator's Urban Elevation Accelerator and Business Blitz series. We recently caught up with her to learn more about her journey.
Launch Dayton: Introduce yourself — who are you and what is your company?
Jocelyn: Hello, my name is Jocelyn Weaver, Registered Massage Therapist, and I am the founder and co-owner of Urban Bliss. Jasmin Young, Certified Nurse Practitioner, is the co-owner and manages the health and wellness side of Urban Bliss and our Dallas, Texas location. Urban Bliss is a modern metaphysical and wellness boutique designed to provide individuals with spiritual and physical wellness tools and education they need to bring balance into their lives.
How did your company start?
Initially it was just me — I wanted to create a spiritual bath house that just focused on spiritual bath salts and soap. As I continued on my spiritual journey, I began to have a love for crystals, sage, energetic healing, and more. I decided to share my knowledge and journey with my community, how important healing is, and how we could use it in our everyday lives. A few months later, I called Jasmin and told her I started a business. She mentioned she was thinking of starting a business specializing in sea moss and herbs. I suggested combining our businesses. By adding her expertise in herbs, health, and wellness, two childhood friends came together and created Urban Bliss to be a one-stop shop for our community to shop for their spiritual and wellness tools.
Why this idea?
During the pandemic, the world was faced with unprecedented challenges both individually and collectively. Even today, there is a very high level of daily stress that is constantly affecting our bodies, minds and emotions. Our daily lives are filled with intensity as we witness widespread social, political, and climate change, uncertainty about the future, and fear of the unknown. With this in mind, why not teach people how to stay balanced and grounded during times like this? Our goal is to help people on their journey to awaken, heal and evolve. We believe having a firm understanding of spiritual fundamentals is essential to our view of life and our spiritual growth. Understanding spiritual basics should not encourage us to "camp out" or rest in these basics, but to understand them and then move on to maturity.
Did you always want to be an entrepreneur?
Yes, Jasmin and I talked about entrepreneurship for years. Initially, we were uncertain on what direction we wanted to go, but we knew with our leadership skills and expertise, eventually it would happen.
What identities or life experiences do you bring to entrepreneurship that helped prepare you for this lifestyle?
Being an entrepreneur requires organization, taking risk, willingness to learn, flexibility, tenacity, passion, creativity, self-motivation, grit, and to not give up with things get rough.
How was your program experience?
Both Entrepreneur Rising Academy and the Urban Elevation Accelerator programs helped us fill in gaps that we were missing in our business, such as determining our revenue drivers, determining our pricing strategy, designing an operating model, and aligning us with the proper systems to run our business effectively. I would definitely recommend both programs to fellow business owners.
What is the biggest barrier you've faced on your entrepreneur journey?
The biggest barrier for us was getting in front of our target audience. Without being clear on who our audience was, we realized our marketing was not only a waste but not reaching the appropriate audience.
Why do you love what you do?
We love educating and servicing our customers! Without them, there would not be an Urban Bliss. We love when we follow up with our customer and they share how they saw a difference in their lives. It's so rewarding, it's like watching your baby grow up right in front of your eyes.
How can the Launch Dayton community support you?
We need assistance with funding and how to really get in front of our target audience.
What advice would you offer fellow or aspiring entrepreneurs?
The best advise that we would give is, don't give up! Keep improving yourself. If you want to become successful, strive for personal growth. Sign up for business courses, workshops, networking events, read a book, and follow someone in your niche on IG. Last, we are going to emphasize again, NETWORKING IS KEY. You never know who you will meet that will help you on your entrepreneurship journey.
Connect with Jocelyn and Jasmin online at www.shopurbanbliss.com and on social media @urbanblissdayton.
Popular Categories
Related Stories