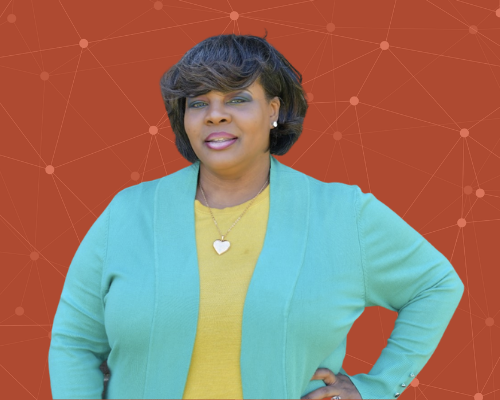 Golden Locket provides transitional services for people with disabilities
May 4, 2021
By Katie Aldridge
Kimberly Stevenson is mom, dog-mom, soon-to-be author, and founder of both the nonprofit Supportive Place of Transition (The SPOT) and Golden Locket LTD, a company that provides academic and social services for people with disabilities in the transition period of their lives.
She is a graduate of the most recent winter 2021 cohort of Early Risers Academy, a free, 10-week business-building bootcamp powered by Launch Dayton partner Parallax Advanced Research.
We recently caught up with Kimberly to learn more about her company. Our conversation has been lightly edited for clarity.
Launch Dayton: So why these companies?
Kimberly: My background is in education, and while working in that industry, I noticed that there was a lack of focus on transitional skills for people with disabilities, such as doing things in the community. I wanted to be that support for them, as far as teaching them how to be more independent and how to advocate for themselves and building their social and vocational skills.
I have been contracted to work as a Learning Provider for Learning Ohio. Due to the schooling situation last year during the pandemic, students with Individual Educational Plans didn't have the support they needed and struggled with their learning. I felt this path, as an independent provider, would take me to where I want to go in the future
And where is that?
I want to make Golden Locket a full agency, so I can employ others to provide services as well. I plan on having a life enrichment program within Golden Locket that will focus on how to have a healthy relationship, whether it be a friendship or a romantic or sexual relationship.
I also just recently submitted my information to the Ohio Department of Education (ODE) in hopes that Golden Locket can be a provider for the Jon Peterson Special Needs (JPSN) Scholarship.
Did you always want to be an entrepreneur?
I did not, but I knew there was something more I was supposed to do, and I wasn't sure what it was. When I found this, and learned that I can expand on this business by doing the services I want, it felt right.
What identities do you bring to entrepreneurship that helped prepare you for this lifestyle?
I bring the passion and the willingness to help. I bring the knowledge that I have from my previous experience as far as working with this group of individuals. I also think some of my experience as being a mother helps, and I think that helps more than a master's degree. If you don't have that nurturing quality about yourself, then you can't provide a service that shows compassion, love and care. Those identities are also extremely important for my non-profit.
Tell me more about The SPOT.
The SPOT provides transitional services, like Golden Locket. I will be providing services to individuals who are high-functioning on the autism spectrum. It will be like a social club. We will be focusing on building those social skills and ways to be independent through different workshops, such as cooking workshops or employment workshops. They will be able to come together and build relationships with others who are like them, with others who know their challenges.
Why do you love what do you?
I love being able to make people smile when they learn something that they struggled with. I love seeing them be so proud in that moment. I also do Homemaker Personal Care services, where we go out into the community, like going to the grocery store, to learn those social skills, so it's very rewarding to see them build those independent skills. It never feels like work; it always feels like I'm helping and making a difference.
How did Early Risers Academy fit into your growth journey?
They go over and beyond top help you and make sure you understand everything about being an entrepreneur. The connections they bring from former Early Risers Academy cohorts and their experiences are so helpful. It was good to learn what each step of starting your own business consists of. They also help you know your customer base so you can be successful. I really enjoyed it; it was so worth it. I've already recommended it to two people!
How can the Launch Dayton community support you?
I want to build relationships with the community as I grow. If you know anyone who could benefit from my services, please tell them about Golden Locket and send them my way!
Learn more about the Golden Locket and connect with Kimberly directly, here.
Wonder if Early Risers Academy would be a good fit for you? Learn more and apply here — there are two more cohorts running in 2021!
Popular Categories
Related Stories