GlobalFlyte, a Dayton, Ohio based company whose mission is to provide unparalleled service to first responders through innovative technology solutions has partnered with the City of Fairborn to install its communication, mapping and smart phone technologies in the City's Dispatch Center.
"The City of Fairborn is a City in Motion and we consistently seek innovative and strategic technology partners that can help us all do our jobs more efficiently while continuing to provide outstanding services to our constituents. We welcome the GlobalFlyte team and look forward to working with them", said Fairborn City Manager, Rob Anderson.
"With this new technology suite we can improve incident situational awareness and compliment real-world decision-making.  We look forward to running this suite of technologies through its paces to really see what it can do," said Terry Barlow, Fairborn Police Chief.
Globalflyte's team of seasoned public safety professionals bring a unique understanding of and passion for identifying solutions by developing and integrating communication comprehension technologies borne out of U.S. Air Force Research Laboratory (AFRL) with commercially developed mapping, imaging and smart phone technologies.  This integration creates a unique robust sit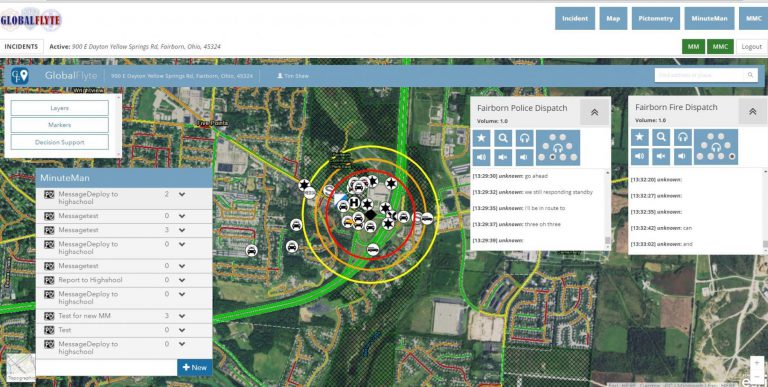 uational awareness solution for our local government public safety users responding to emergency and crisis incidents.  These technologies can also support public works and economic development departments through a tethered drone and unique imaging and mapping applications.
"We provide cloud-hosted and easily deployable solutions to first responders, to help clear the fog of chaos by giving the commander tools to make enhanced decisions to protect life and property.  We are extremely proud to be working with the city to find tools and solutions that fit the varied needs Fairborn's Police and Fire, Public Works and Economic Development Departments," said Tim Shaw, GlobalFlyte President and COO.
GlobalFlyte brings revolutionary capabilities to incident response management. Cost-effective, easy to deploy, and scalable to meet small and large departmental needs, this suite of services on a single platform will change the way your department responds to and manages emergency events. To find out more, please visit www.globalflyte.com.