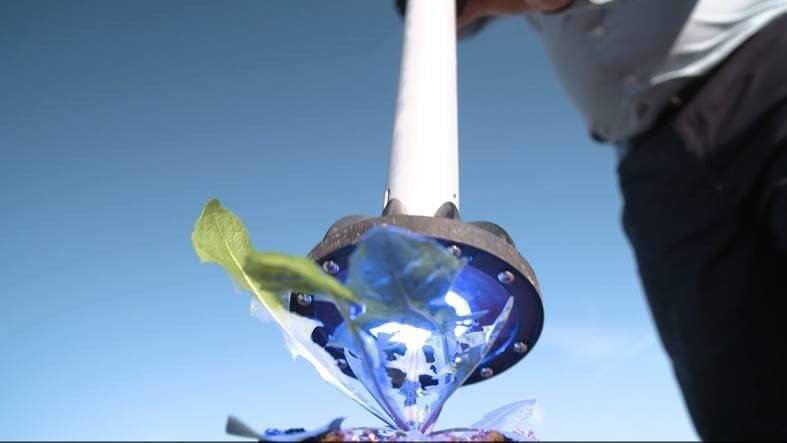 Global Neighbor's chemical-free device that uses light to kill weeds is perfect for the gardener in your life
December 8, 2020
A new environmentally-friendly garden product is harnessing the power of light to kill weeds.
Created by Dayton startup Global Neighbor, WeedErase uses proprietary technology to blend & direct specific lightwaves so homeowners can safely "erase" weeds without the use of harmful chemicals.
"With today's technology, there is no reason homeowners should have to continue using so many harmful herbicides to maintain their yard," founder Jon Jackson said. "WeedErase was created so home gardeners can easily and organically eliminate weeds around their house and in areas where they may be apprehensive to use chemicals."
WeedErase's patented technology utilizes a recipe of high intensity, short-duration light in a controlled area. When activated, WeedErase begins killing weeds in a matter of seconds, from the leaves to the roots. The weed immediately begins to decay and is fully eliminated in as little as 10 days.
Because the product is chemical-free, users can be comfortable using WeedErase in spaces where children and pets play, as well as in vegetable gardens, Jackson said. Unlike commonly-used herbicides, the device's blend of directed light cannot be over-applied or drift, making it pet- and wildlife-friendly.
"It's an extremely simple grab-and-go tool," Jon said. "Just point the light at any weed and zap! There's no need to worry about expiration dates, spillage, or wind affecting accuracy. WeedErase also doesn't stain or discolor concrete paver stones, like chemicals often do."
There are currently two versions of the product. The electric version weighs 2 pounds. The battery-powered device weighs 4.5 pounds. Both are shaped like a wand, so users don't have to get down or bend over to use them.
"It's extremely simple to use," WeedErase customer Ben Edwards said. "I'm located in Florida, so I am constantly working to control the weeds in my yard and paver bricks. I just grab the tool and go whenever the mood strikes."
Launch Dayton partner org The Entrepreneurs Center has been key to Global Neighbor's early success, Jon said.
"The Entrepreneurs Center has been involved in every stage of our development," he said. "They provide consistent expertise, meaningful connections, and have even helped us file our foreign patent. We are very thankful to have TEC as a partner and a mentor."
The Entrepreneurs Center runs the region's Entrepreneurial Services Provider (ESP) program. Backed by Ohio Third Frontier, ESP provides entrepreneurs with private and public funding, as well as assistance to grow their technology-based startup companies.
Jon has also pitched Global Neighbor products at Early Risers, a monthly pitch event for early-stage startup cos coordinated by Launch Dayton partner Parallax Advanced Research. Early Risers helps founders with scalable companies connect to key individuals who can help move their business forward.
The Global Neighbor team is currently developing a Weed Seed Destroyer system using the same proprietary light-directing tech. The Weed Seed Destroyer will attach to the back of a combine, and as the combine separates the cash crop from straw, weeds, and other waste, the Weed Seed Destroyer will blast the chaff with the appropriate lightwaves so the weed seeds that blow back into the fields are not viable.
"Every country's greatest GDP product is ag in some way, right? Everyone has to eat," Jon said. "Killing weeds in ag so the farming community doesn't have to use chemicals and all the problems associated with them, we think is just the most stunning & exciting application we could come up with."
Learn more about Global Neighbor and how you can support the work here.
Popular Categories
Related Stories