Galatune: How one 10-year-old's dream became a lifelong business journey
August 31, 2017
August 30th 2017, is an important date for me.
This day marked one year since Galatune, my startup gaming company, was brought to life thanks to fan support of over $20,000 on Kickstarter. August also represents two years since establishing my company and roughly 19 years of game development. Never in my wildest dreams would I have ever pictured myself in this moment, now out in the marketplace selling a card game that I created as a kid for so many people to enjoy.
It all started about 19 years ago, back when I was just 10 years old. Like many millennials, I grew up as a gamer. The Pokémon and Yugioh card games were exciting, new, and popular. The Nintendo64 and Playstation were blowing our minds with 3D gaming for the first time, and everyone who's anyone was a geek. I met all of my friends through gaming, and it was through gaming that I learned so much about friendship, competition, and imagination.
Eventually, 10-year-old me got the idea to start making my own Pokémon cards. At first, I started with sketching my favorite Pokémon onto index cards and making up my own attacks, but then it turned into making up my own Pokémon. As I was making up Pokémon to play with my younger brother and friends, more and more I'd get frustrated by little thing and started making up my own rules that were more fun to me. What began as creating my own Pokémon rules then sort of spiraled into creating a completely new game entirely.
The main inspiration behind Galatune started with 10-year-old me removing the things I didn't like about other popular card games. Then I started mixing in things that I really liked about the video games I played into the game as well. I wanted a card game that felt like Super Smash Brothers, something fast-paced, and full of chaotic free-for-all action that lots of people could play at the same time. Well, it was fairly messy at first, but sure enough, my family and friends really enjoyed the direction I was heading already. By the time I was 14, I had a game that my friends would actually pick over anything for sale in the game shops. That alone was pretty awesome. From that day on, all my geeky friends would pick my homemade card game as our go-to entertainment for hang out nights. We'd stay up late, playing the game until the early morning, eating pizza and having some of the realest, soul-searching conversations of a lifetime. I loved how my game was bringing everyone together, and I was always excited to share that experience with new friends.
Every now and then, I'd get friends who'd push me to sell my game idea to a big game company, but I never took any of that too seriously. Firstly, I had no idea how to actually make a REAL game, I was like 16 years old at this point. By the time I got to college, I had a rough idea of what'd it take to bring my game to stores, but there were still more questions than answers and most importantly no way to afford to take that leap.
Then came Wright Venture. Wright Venture is Wright State University's version of Shark Tank. It's a program created by the Raj Soin College of Business that's designed to connect entrepreneurial students with mentors and compete for a chance at some seed money. When I first heard about Wright Venture Iwas excited but terrified. Do I really want to take that leap? Do I even have what it takes? Well, in the end, I applied to Wright Venture as a sort of personal dare. I didn't know if their judges would take a card game that seriously, but I told myself that if these impressive business leaders thought I had potential, then I would take this thing as far as I could.
Wouldn't you know it? My card game concept actually won the grand prize! From there, I had what I needed to revamp the game I created over a lifetime into a shelf-ready product supported by a strategic business plan. Of course, there was still a long road ahead of me.
I used the Wright Venture funding to create a proof of concept for the market-ready game, and then spent about a year campaigning to raise awareness and build up a fan base in preparation for a Kickstarter campaign, all while working behind the scenes with my mentors in the community, the Small Business Development Center, the Entrepreneur Center, and anyone willing to give me advice. Kickstarter was my best bet at bridging the final funding gap to production, but I knew that even Kickstarter wasn't magical; it was going to take a lot of people to get the game into production.
I was out every chance I could get, running game demos at local game shops and gaming conventions, but in the end, it was worth every bead of sweat. People loved the game and together we were able to just barely scrape by what we needed to move into production.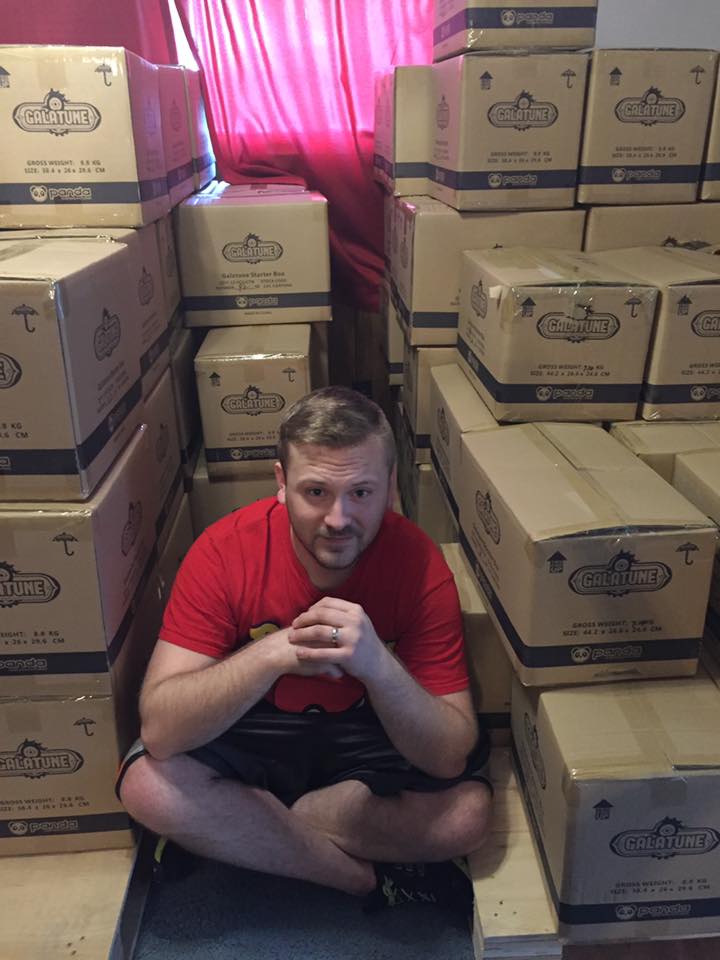 The story of the startup entrepreneur always has an element of comedy to it I think. In many ways, you fake it till you make it. I brought my A-game to every convention even though 99% of my business was kept in the back of my car and super 'bootstraps' for lack of a better word. Here I was just doing whatever it took to make things happen. Another symbolic and hilarious moment was when we had a shipping crew deliver our first set of inventory to my parents' basement. At that point, I was working at Wright State University and I had a small apartment with my wife, but no space of my own to store anything and certainly no warehouse or anything like that. So there we were on shipping day, with my family and friends helping us to load thousands of games into my parents' basement for temporary storage.
It's been a crazy journey since then too. Since our release party in April 2017, we've grossed about $10,000, and if you include Kickstarter orders that amount to a total of $30,000 in sales since the company began. We're putting 100% of that back into the company at this point and hope to have new merchandise and our first commercial ready in time for the 2017 holiday season. With any luck, we'll keep the brand growing beyond the Midwest, and even beyond card games into mobile games, videogames, comic books, and –well my ultimate dream of an animated series someday. We've set a strong enough foundation to take the brand as far as the community wants us to, but we'll need to keep innovating and also figure out some more financing options. Small business loans of any sort can be pretty difficult in this market, but hey, if you know somebody who might be able to help out, please let me know! I'm always looking for more mentors and funding opportunities, willing to do whatever it takes to share this game with more gamers and to keep on making great content for everyone to enjoy.
Follow Galatune on social media to join us as the journey continues. And if you're a hopeful entrepreneur on the cusp of taking that leap for yourself, well, I have this much to say: Do it because you love creating something out of nothing. Do it because you live for bringing smiles to people's faces. If I were in it for the money, I wouldn't have made it anywhere near this far, but I believe that if we stay focused on putting people first, this could very well evolve into the next Pokemon.
---
Adam Wik is the founder of Dayton-based startup Galatune. Galatune produces fantasy entertainment for the world through creative storytelling expressed through table top games, video games, books, comics, promotional merchandise and other media.
Head over to www.galatune.com to pick up your copy of Galatune and be sure to follow Galatune's journey on twitter, Facebook, and Instagram. You can contact Adam at [email protected].
Popular Categories
Related Stories