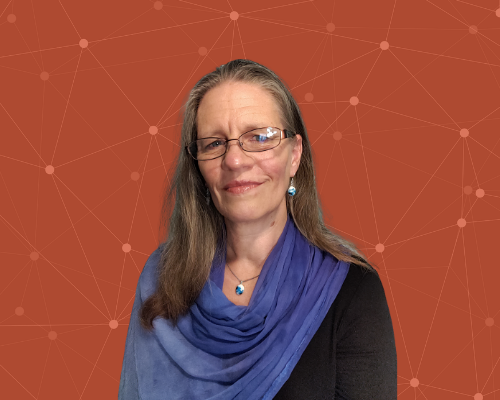 Functional glass artist inspired by nature
December 14, 2021
After 18 years in the classroom, Regina Emery took her love of art into the studio fulltime. At Studio Regina Glass, she aims to create not only admirable art, but also functional art. She also continues to teach workshops as a way to spread the empowerment she found in creating art out of glass.
Regina was a member of the 2021 cohort of the Downtown Dayton Retail Lab, powered by Launch Dayton partner Downtown Dayton Partnership. We caught up with her to learn more about her experience and her entrepreneurial journey.
Launch Dayton: How did your company start?
Regina: After I left a teaching position, I asked myself what I was going to do. I decided it was time to do what I love, which is art. I taught art for eighteen years, so now I am able to make a living with my art.
Why this idea?
My passion is drawing, but glass is what has empowered me. I took a class on how to fuse glass about five or six years before I quit teaching preschool through high school. It was a four-day workshop and I fell in love with it. When I learned how to cut glass, I thought it was the greatest thing in the world and being able to make art with that is really fun.
Did you always want to be an entrepreneur?
No, never. I wanted to be an artist. I didn't want to teach, and I taught. I wasn't going to have children, and I had lots. I did a lot of things I never thought I would do. I never expected to be an "artist." I took art in high school so I wouldn't have to take music. When I applied for college, I never thought I would go, but a college contacted me and asked for my portfolio.
What identities do you bring to entrepreneurship that helped prepare you for this lifestyle?
I have this belief that if you want something to happen, you can make it happen. I have to believe it will happen; I have to work for it, and somedays it doesn't feel like I will make it. Somehow, I find the strength inside myself to keep going. If something doesn't work, I have to figure out how to fix it. Every day I have a moment where I want to give up, but I am a fighter, and I am going to make it work.
What advice do you have for fellow or aspiring entrepreneurs?
When I started at market, they told me I needed smaller items to sell. Still, I would produce a piece that was a hundred dollars, and it would sit there for a little while, but then it would sell. I made a piece that was four hundred dollars, and I knew it was a show piece and probably wouldn't sell at market. It sat there for three years. A month ago, it sold.
I learned that sometimes it means just being patient. You have something there, but it might not happen in the time you want. It will happen if you keep setting the scenario and lay out the opportunity. You just have to be patient.
How did the Retail Lab help you on your journey?
I learned a lot and took advantage of a lot of the opportunities they had for us. Even if there wasn't prize money involved, I still would have done the pitch competition because I knew it would make my business grow. The Retail Lab was a way for me to take my business to the next level. I have shared it with other members at the market, and I tell them to keep trying even if they don't get in.
Why do you love what do you?
It is how I speak to the world about what is important to me. A lot of my work is a reaction to nature and how I relate to it; it is my equilibrium. Being in nature changes my whole attitude. I look at not only the inspiration it brings to me, but what it gives back to us in the form of life and energy. At the same time, it is about the relationships I form with others and how I affect the people that are in my life.
How can the Launch Dayton community support you?
The biggest thing is word of mouth, so let people know I am there. Honestly, my favorite support is when people come to the market and consider my art. They could come in for a year and never buy anything, but they still come in and consider my art.
Shop Studio Regina Glass online here or in-person at 2nd Street Market! Also find her on Facebook & Instagram @studioreginaglass.
Wonder if the Retail Lab might be a fit for you? Learn more here.
Popular Categories
Related Stories