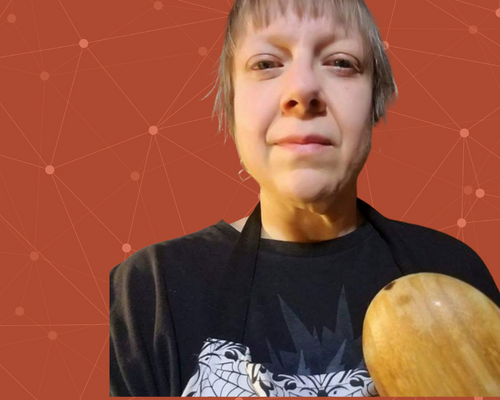 From Alaska to Dayton, Cabin Fever Confections builds community through cookies
September 27, 2022
By Katie Aldridge
With experimental flavors and locally sourced ingredients, Cabin Fever Confections creates a unique dessert within a cookie. Marty Watson is the founder of Cabin Fever Confections, an offshoot of her 25-yearlong passion for cooking. For those with dietary restrictions, vegan, gluten-free, and keto, Cabin Fever Confection has you covered.
Marty is a member of the current cohort of Early Risers Academy, a 10-week business-building bootcamp powered by Launch Dayton partner Parallax Advanced Research. We recently caught up with Marty to learn more about Cabin Fever Confections and her entrepreneurial journey.
Launch Dayton: How did your company start?
About five years ago, I was working in Alaska at a bakery/coffee shop, and I got really good at making cookies. When I realized how much I loved pushing the boundaries of standard recipes, it made sense to start my own business. Two years ago, I jumped into it and started at a farmer's market in Fairbanks, Alaska. Then I moved back to Dayton and started my business back up.
Why this industry?
What I love about the industry of food is that it is always changing. Food has an ability to evoke so many aesthetics, senses, and feelings. I am able to express myself through food, and I have so much passion for it. I love creating things that are unique to people. Food makes people happy.
Did you always want to be an entrepreneur?
I've had so many different professions. I like jobs that are fast-paced. I didn't know that I wanted to work for myself, particularly. It just kind of happened. In my early 40s, I started thinking that I maybe wanted to do something for myself. I took a lot of classes, had life experiences, and had a lot of odd jobs, so no, I didn't. Though, I think I was meant to be.
What identities do you bring to entrepreneurship that helped prepare you for this lifestyle?
I've had a crazy, wild life. I've been through so much, and I'm able to deal with the unpredictability of what life throws at me. I have a wealth in strength; I've tapped into it, and I know it's always there for me. I know I can get through anything, and I can make my business succeed.
What is the biggest barrier you've faced in entrepreneurship?
Myself. My insecurities, my self-doubts, my self-sabotage. Right now, I'm trying to push past those barriers. I hadn't thought about how long my business was going to be around, or what it was going to develop into. But in five years, I can see a vision for where I want it to be. I have the confidence now that what I have is good.
Why do you love what do you?
I'm quiet and reserved, but this is one way I can loudly get my passion across to people. If you've ever cooked for someone or made something you're proud of, and someone really enjoys it, what more could you want? You just made someone really happy. It's the same way for me — I love making special treats for people to indulge in.
How did you get connected to the Launch Dayton Community?
When I first started setting my business up in 2019, I looked into small-business resources. I checked in with the SBDC and someone from Launch Dayton. Lynda Suda from 2nd Street Market is very active with Launch Dayton, she emails vendors about applying for the Retail Lab or Early Risers Academy.
How can the Launch Dayton community support you?
Come see me at 2nd Street Market and follow me on Facebook and Instagram! And my Cabin Fever Confections website has updates about events I'll be at, so keep an eye out for those! I'll be at the Vegan Festival this September; I'll have a full line of vegan and gluten-free cookies available.
Also, I love to document my work, and I'd love to add a blog or videos to my website. If someone could help me make that a part of my website, that would help me to interact with customers without them actually coming down.
How has your experience been with Early Risers Academy?
It's intense but there are so many great people, and it is a really cool program. Everyone is really supportive. There is a lot of great energy. They are bringing in a variety of businesses, so you can have insight into other types of marketing and businesses. Even though they might not all work with my industry, I can still learn from it. There is so much information, but it's up to you to get things out of the course. I encourage other businesses to apply and join the program.
Curious if Early Risers Academy might be a fit for you? Learn more and apply by Sept. 30 for the final cohort of 2022!
Popular Categories
Related Stories