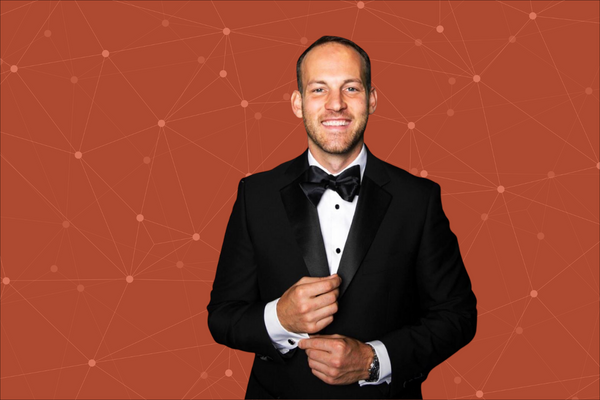 Daniel is building an entertainment empire
February 7, 2023
Daniel Huiet is on the precipice of launching his 10th business, an entertainment center that will bring together darts, duck pin bowling, mini golf and karaoke.
On Par Entertainment will be located across from The Greene in Beavercreek. The 33,000 square foot space will also house comfy nooks with couches and TVs for the introverts, three different bars featuring 100+ self-pour taps, 8-foot fireplace tables on an extended season patio, photo walls, giant Jenga, giant Connect Four, ping pong, and a 16-person fooseball table. Expect Edison bulbs, wood paneling, and an old English aesthetic when doors open Aug. 1.
Simultaneously, Daniel is expanding business #7, Wild Axe Throwing. He's taking over the space next door to launch Level Up, a pinball arcade with a kitchen and seating for 50 set to open mid-June.
"My inspiration comes from traveling a lot," Daniel said. "I see businesses that are successful on their own, then I bring them home and combine them."
The Covid monster
Daniel launched Wild Axe Throwing in 2019. In January 2020, he paid the year's rent in full, so when Covid hit in March, he didn't feel the immediate crunch as hard as some of his peers.
But as the venue shifted to private lanes, revenue took a hit. It will never return to pre-pandemic levels, he added.
But the changes Covid brought weren't all bad, he said.
On Par's 102 taps will be self-pour, controlled by RFID tags linked to a guest's card. Simply scan and pour a taste or a full pint, no need to wait for a bartender. (Coke will always be free, a courtesy for our DD friends, Daniel added.) The kitchen will take orders via QR code, then send a text when food is ready to pick up at the counter.
Four years ago, folks weren't comfortable with those technologies, but Covid brought us up to speed, he said.
A bold spirit
Though this undertaking is massive, Daniel encourages entrepreneurs just getting started not to be intimidated — his first business was a photo booth rental that he launched overnight with help from a couple friends and $500 borrowed from his dad.
But while launching happens fast, success doesn't, he cautioned.
"I worked hundred-hour weeks for a decade," he recalled. "That's how I got here."
Daniel's first four businesses were all in the wedding industry industry — photo booth rental, party bus rental, bartending, and eventually all-around wedding entertainment. Over the years, he worked more than 1,000 weddings. He learned the power of referrals and reviews on sales, lessons he still applies in his businesses today.
The Great Escape, business #6, was his first foray into a brick and mortar. It was terrifying, he recalled.
"I was responsible for bills, rent, employee wages — I didn't have any of that when it was just me working weddings," he said.
And during that first decade, he was running his businesses on nights and weekends, after putting in 40 hours at Wright Patt Air Force Base.
"In hindsight, I didn't need to do that. But it was safe, and it allowed me to put money back into the business," he said.
Daniel only decided to quit his day job when he failed an advancement test — one of the best things to ever happen, he said.
"I've made more mistakes than anyone I know — that's what I'm successful," he said. "Just do it, jump in. It's possible, whatever you dream is."
On Par is his biggest gamble yet — Daniel put his house up as collateral on the loan to build out the space.
"I put everything on the line for this," he said.
When those doors open this summer, you'll find him and his business partner in the back, in the kitchen, making sure they know how every piece of the operation runs.
And we'll be out front, tossing darts and cheering them on.
Popular Categories
Related Stories