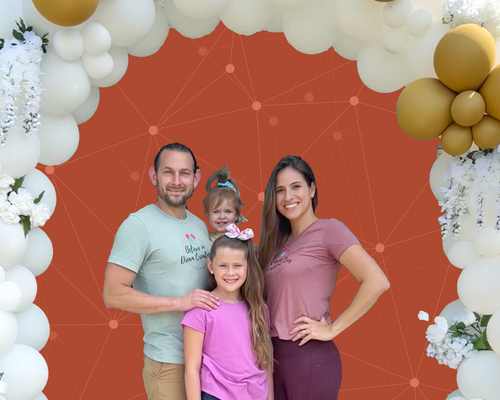 Believe in Dream Creations: Making Memorable Art for Memory-Making Events
November 8, 2022
By Meghann Naveau
Business owners Franchesca and Kyle Howe-Vachon started Believe in Dream Creations during the early days of the pandemic, and from the beginning, it's been a business running alongside (and throughout) their family life. The work and life partners participated in the Retail Lab Spring 2022 and won the program's pitch competition, earning additional funding for their dream and art. 
Launch Dayton: Tell us about your business and how you got started.
Franchesca: I grew up in Puerto Rico, and our family was always celebrating and eager to throw a party! Often, we used balloons as part of those celebrations, and creating art with the balloons became a fun hobby for me.
I moved to Ohio 10 years ago, and after helping a friend set up for her daughter's birthday party, I received so many compliments on the balloon decor. People saw it and started asking if I would do decor for their parties, and our business grew from there.
What does your business look like today? 
Franchesca: Kyle and I run all parts of the business, everything from the bookkeeping to ordering and filling the balloons and displays. He's a great partner and helps balance me out; we both know our strengths and weaknesses.
Kyle: It's definitely hard work and can be challenging to both the business and the marriage, along with managing our kids' activities and life. But, it's been really fun for us, too. This is the life we're choosing to build together.
How did you find out about the Retail Lab? 
Kyle: We saw it on social media. I follow the Downtown Dayton Partnership, and when they posted about, we saw it and knew it was something we should check out.
Franchesca: I was terrified when Kyle told me about the pitch competition. I get nervous that my English and Spanish will run together because English is my second language. But, I'm passionate about this work and know the meaning in it, and that's what we needed for the pitch: our passion and our purpose.
What did winning the Retail Lab pitch competition make happen for you? 
Franchesca: Equipment! Having the right tools for filling and storing balloons, as well as creating the backdrops we use for installations, makes a big difference in the labor involved in creating our art.
Kyle: This helps set us up to keep working toward a scalable business and bringing in other people to help with the work. We'd love to have a brick-and-mortar store one day and partner with other local businesses, host classes for other balloon artists and more. Each step forward helps us keep building toward those bigger visions.
What has surprised you about this journey of creating and running your business? 
Franchesca: I didn't know how persistent I can be until we started BDC. I believe so much in what we are and what our business can be, and I didn't realize how strong I've mentally had to become and how much I can do because of my determination.
Kyle: Running the business with our kids and having them see us, especially Franchesca, being a business owner is really powerful. Our daughter pretends to take balloon orders and do inventory. She's growing up confident in her ability to own a business because she sees us doing it — and that's deeply meaningful.
We've also been really impressed and grateful for all of the resources that exist for small businesses in Dayton. We learned so much as part of the Retail Lab, and there are so many free workshops available for business owners.
How can the Launch Dayton community support you? 
Franchesca: We're currently booking for holiday parties of all kinds (businesses, families, reunions, etc), so choosing BDC for your event is a great way to support us! We're also always looking to connect with other business owners and learn from each other, so please reach out and make an introduction. We want to connect and learn and keep growing, together.
Connect with Believe in Dreams on IG & Facebook @believeindreamcreations.
Curious if the Downtown Dayton Retail Lab is a fit for you? Learn more and apply for a future cohort here.
Popular Categories
Related Stories