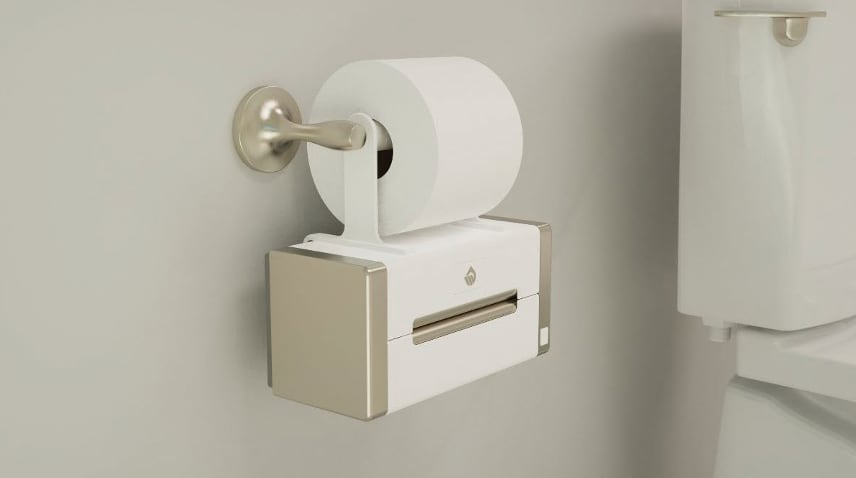 Back this Indiegogo for Dayton's Wet Wipe Wizard
March 1, 2022
Frantically searching high and low for a pack of wet wipes is now an issue of the past, thanks to the unique design of the Wet Wipe Wizard.
The wizard stores a cartridge of rolled wet wipes that it dispenses at the touch of a button. Dayton startup CJD Innovations launched a crowdfunding campaign on Indiegogo last week to boost production of the new device.
"Dispensing wet wipes in the bathroom or on the baby changing table can present a challenge," explains CJD Innovations founder Christopher Danis. "Either the wipes are too far away, or several are dispensed when only one is desired — we are pushing to end that."
The Wet Wipe Wizard can be attached to any toilet paper wall unit or can tastefully stand alone on a bathroom counter for maximum convenience. This patented device dispenses one wipe at a time, is fully automatic, and makes certain you are only getting the number of wipes you need for the job.
Whether you're changing a baby's diaper or getting messy in the kitchen, Wet Wipe Wizard promises to be your reliable and go-to personal wipe machine.
The wizard accepts sealed cartridges of baby wipes or flushable wipes in this initial phase. The team plans to expand into disinfecting wipes in the near future.
Chris is looking to raise $40,000 with the crowdfunding campaign. Backers will received the first products at discounted prices.
The funding will be used for
Tooling & Manufacturing
Engineering & Design
Shipping & Handling
Legal Consulting
Social Media Strategy
Website Maintenance
"We knew crowdfunding was the most efficient way for us to spread the word about the Wet Wipe Wizard, and we're excited to share it with the Indiegogo community first," Chris said.
The Indiegogo campaign will wrap up March 29. The company will immediately got to work to get the first products into backers' hands before the end of 2022.
Popular Categories
Related Stories