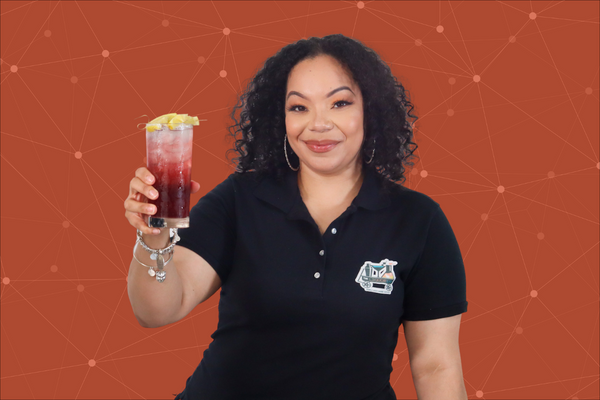 At The Liquor Lab, LaTasha brings the bar to you
January 17, 2023
LaTasha Coleman built her career in the bar & restaurant industry because she loved watching her customers make memories. When Covid temporarily closed those establishments in early 2020, she launched The Liquor Lab to bring that atmosphere to private events.
When she launched her business, LaTasha tapped into the Launch Dayton community — she subscribed to the newsletter, followed along on social media, and ultimately joined the first cohort of Launch Dayton partner Greater West Dayton Incubator's Urban Elevation Accelerator. We caught up with LaTasha recently to learn more about her business and her entrepreneurial journey.
Launch Dayton: Introduce yourself! Who are you and what is your company?
Hello!! My name is LaTasha Coleman and I own a mobile bartending service called The Liquor Lab. We provide services for all types of special occasions such as engagement parties, wedding receptions, birthdays, anniversaries, corporate events, mixology classes and more!
How did your company start?
I love to entertain, and bartending always came easy to me, so when the world was hit by a global pandemic in 2020, I knew I had to come up with a way to still do something I genuinely loved in a safe manner. The bars and restaurants were closed, so we were only allowed to gather in very small groups. I figured if we couldn't go to the bar, then I should bring a bar experience to you.
Why this idea?
In all honesty, the original idea was not mine. The seed was planted by my friends and family who would always put me to work when it came to creating a cocktail. I would always get asked if I wanted to own my own bar, but I preferred private events and special occasions, and that's how The Liquor Lab was born.
Did you always want to be an entrepreneur?
Throughout my career in the bar and restaurant industry I've had numerous management positions and knew I wanted to one day work for myself.
What identities or life experiences do you bring to entrepreneurship that helped prepare you for this lifestyle?
Throughout my career, I was always in management because of the good work ethic I showed. Those experiences and guidance most definitely helped prepare me for entrepreneurship. In this lifestyle, you have to be confident, persistent, innovative, resourceful, show leadership skills, work great with others, be determined, take risks, yet be decisive, all at the same time. It's a lot, but it's so rewarding.
What is the biggest barrier you've faced on your entrepreneur journey?
The biggest barrier I've faced was realizing that marketing means nothing if you are not marketing to your target audience.
Why do you love what you do?
I LOVE to entertain and watch people have a great time with people they love. Being able to provide a unique experience and help you create unforgettable memories is why I love what I do!
How was your experience with the Urban Elevation Accelerator?
The accelerator program was extremely helpful. Our class was full of all types of different businesses, but the speakers and mentors made sure that everyone walked away with knowledge specifically for their business. The 1-on-1 time and mentor groups gave us the opportunity to break things down even further and walked us through all the steps that every business should complete. It truly opened my eyes to scaling my business in ways that I've never thought about. I've suggested numerous GWDI programs to other entrepreneurs because the networking opportunities are literally endless.
What advice would you offer fellow or aspiring entrepreneurs?
The best advice I received that I always pass along is to just go for it. You will never know if it's gonna work unless you start. I was hesitant because of all the things I didn't know, but there will always be SOMETHING that you don't know. You will continue to learn and grow as time goes by, so just do it. Jump out on faith and go for it.
Want to book The Liquor Lab for your next private event? Connect with LaTasha on Facebook & Instagram @TheLiquorLab937 or email her at [email protected].
Curious if the Urban Elevation Accelerator might be a fit for your business? Learn more + apply here!
Popular Categories
Related Stories