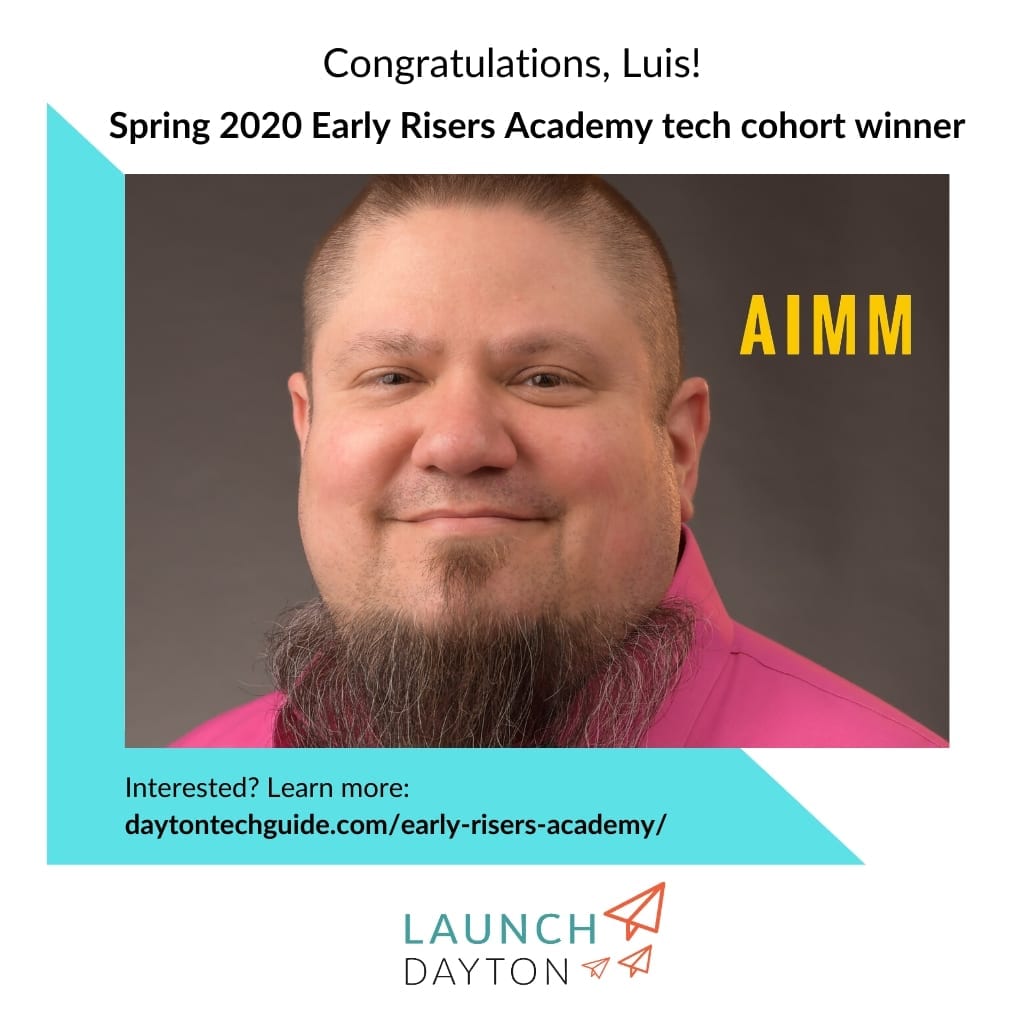 AIMM takes top spot in Early Risers Academy tech cohort pitch competition
June 12, 2020
Friday afternoon, Luis Estevez, founder of AIMM, won his Early Risers Academy tech cohort's virtual pitch competition, taking home $1K.
Luis has 10+ years of materials science expertise that he is funneling into his startup, AIMM, which specializes in antimicrobial coatings for porous materials that activate with simple water.
At the moment, the product he is developing is a self-disinfecting N95 respirator mask, an innovative upgrade to the masks that are vital to the fight against COVID19.
"The Early Risers Academy cohort  provided the expected excellent foundational education for an entrepreneur like myself with my early stage company, AIMM. What I found to be the biggest value for the program though, are the people that were involved — from the organizers, Eric and Ke,  to the excellent guest speakers,  and, especially, the fellow cohort members," he said. "The contacts, connections and friendships I made through this cohort will not only be invaluable to my startup, but to me personally."
We'll work to keep you connected with Luis and AIMM as he strives to bring simple, yet effective solutions to the masses through advanced science.
Early Risers Academy is a free, 10-week, pre-accelerator program designed to take participants from business idea to business launch. It is run by a team from Launch Dayton partner Wright State Applied Research Corporation.
Participants complete Kauffman FastTrac coursework from the nationally-renowned Kauffman Foundation, receive pitch coaching and hands-on mentoring, weekly discussions with successful entrepreneurs and experts, & access to Dayton's entrepreneurial ecosystem.
These workshops can also be valuable for founders early in their small business journey, or who jumped right into their business without formally developing the plans behind it and are now discovering they need some of that paperwork in place to grow.
Other spring tech cohort graduates included:
• Maria Perez & EzKin Company's Factory View Online solution, simplifying the manufacturing industry and giving a reachable option to get companies into the competitive digital world to make data driven decisions.
• Tyler Rupert & Seer, building a platform utilizing artificial intelligence to measure, communicate, and analyze operational data to inform business decisions and optimize operational efficiency. With opportunity in the $100B business productivity software market, we're providing insights into an organization or individual's operations, such as analyzing what activities our clients spend their time on and how much time they spend on them.
• Rise Huffman & CommTrans, a system that provides real-time medical information at the touch of a button, allowing emergency personnel and medical staff to interact with patients anywhere in the world, empowering patient freedoms and maintaining levels of patient care, wherever life happens to take them.
• Sarah Jordan & Skuld, an advanced materials company focused on developing new metal manufacturing processes. Our process innovations allow manufacturers to create new casting and additive manufacturing designs that are more cost effective and efficient.
• Greg Johnson & Delaney Center, tackling the problem of opioid addiction, which impacted 10 million people and their families in 2019 with 200 addicts dying every day, by using telepresence technology and non-narcotic medicinal treatment to break this dependence until it becomes clear that full recovery from addiction is possible for everyone.
• Gail Johnson & Pinch 2 Purchase, providing shoppable video in a pinch, designed for small screen mobile devices, providing monetization of retail transactions on a SaaS platform for digital video publishers and influencers.
"Early Risers Academy is designed for aspiring founders in any industry," Project Manager KeAnna Daniels said. "We're particularly excited to work with more women and minority founders."
Learn more & apply for an upcoming Early Risers Academy cohort here.
Popular Categories
Related Stories