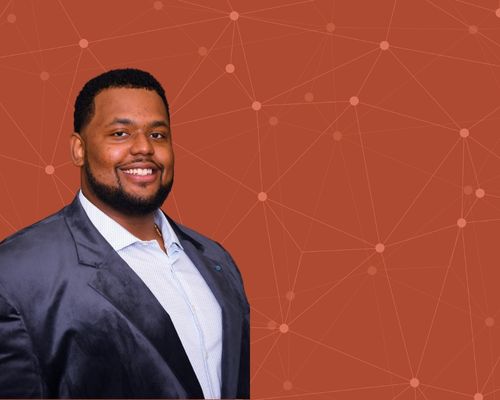 Academy pitch winner brings new cold treat to Dayton
November 1, 2022
By Katie Aldridge
Nearly a decade ago, Keenan Woods fell in love with a summertime treat that was silky-smooth like ice cream, flavorful like sorbet and refreshing like shave ice. As soon as he tried it, Keenan knew he wanted to bring it to Dayton.
Today, at Remarkable Ice, Keenan is using the names of his flavors to help people express their experiences, like Peaceful Lemon and Optimistic Mango.
Keenan is the pitch winner of the latest cohort of Early Risers Academy, a 10-week business-building bootcamp powered by Launch Dayton partner Parallax Advanced Research.
Taking the leap
In February, Keenan decided 2022 was the year to go for it, so he resigned from his day job to pursue entrepreneurship.
His wife, Roe Wallace, graduated from a prior Early Risers Academy cohort. He watched her growth through the program, so he signed up for the summer session.
"What I really liked about the program was the communication, the supportiveness, and the ability to apply the coursework to different industries," he said. "The one-day commitment is feasible for most people. There is a lot of love and compassion, and the feeling of camaraderie is definitely prominent."
Keenan launched Remarkable Ice in July. He is leveraging his background in finance and a bachelor's degree in business as he pursues business ownership.
"I've always been an entrepreneur, even before I knew what an entrepreneur was," he said.
Keenan's grandfather taught him how to understand finances from an early age. His first lemonade stand was with his grandfather, who also happened to be his only customer. In high school, Keenan was known as the candy man, selling items ranging from mixtapes and CDs to socks and clippers.
"Entrepreneurship is about connecting with people and helping them fill a need," he said.
Pushing through
Understanding that perspective is everything helped prepare him for life as an entrepreneur, Keenan said.
He spent his life preparing to play professional football until, after playing in a Regional Combine, Keenan was in a car accident and broke his neck. In a split second, 24 years of work was gone. Ever since, he has been trying to find the same passion that he felt for football.He believes he has found it in entrepreneurship.
His biggest challenge has been self-doubt along the journey, he said. But he keeps pushing through those mental roadblocks.
"What I do feels like bliss," he said. "It's me expressing myself."
Keenan's creative process for the names of his flavors stem from his favorite emotions and how the cadence of the words flow with one another. It's all about the way it sounds to Keenan and what positivity he wants his customers to say and hear.
"When someone says the name, the words create a feeling and remind them of a time they felt optimistic or joyful," he said.
Connect with Keenan on IG @remarkableice.
Curious if Early Risers Academy is fit your you? Learn more & apply for a 2023 cohort!
Popular Categories
Related Stories